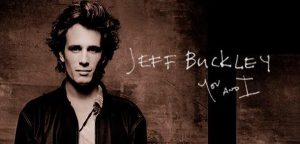 A quick fyi: Thanks to NPR, you can now stream You and I, a not-yet released album featuring long-lost recordings by Jeff Buckley, the singer-song writer who died in 1997, just as he seemed poised to be the heir apparent to Bob Dylan and Bruce Springsteen. Here's how NPR describes the album that will be officially released next week:
You And I collects 10 of his demos, which were recorded in February 1993, shortly after he'd signed to his label. For more than 20 years, they sat forgotten in the vaults — and, more to the point, were never bootlegged or otherwise circulated. Newly unearthed, they showcase a late-blooming 26-year-old artist who's still finding and harnessing his voice: learning how to manipulate its gale-force power, learning when and whether to hold back, and learning how to fully translate his influences into a sound of his own.
The songs are mostly covers of artists like The Smiths, Bob Dylan, Sly & The Family Stone, and Led Zeppelin. You can stream the album below, or hear it over at NPR. But hurry up, it will only be free for a limited time.


If you would like to sign up for Open Culture's free email newsletter, please find it here.
If you would like to support the mission of Open Culture, consider making a donation to our site. It's hard to rely 100% on ads, and your contributions will help us continue providing the best free cultural and educational materials to learners everywhere. You can contribute through PayPal, Patreon, and Venmo (@openculture). Thanks!