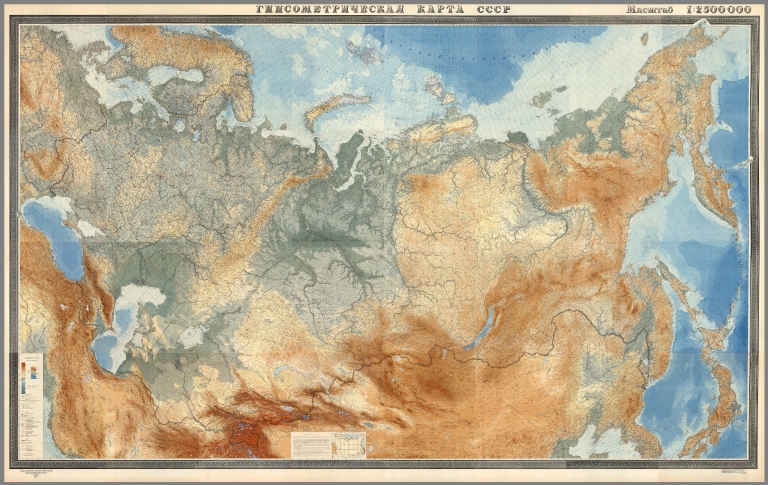 Stan­ford University's been in the news late­ly, what with expand­ing its tuition waiv­er last year and now fac­ing renewed scruti­ny over its ultra-low admis­sions rate. These sto­ries have per­haps over­shad­owed oth­er Stan­ford news of a more aca­d­e­m­ic nature: the arrival of the David Rum­sey Map Cen­ter, which cel­e­brat­ed its grand open­ing yes­ter­day and con­tin­ues the fes­tiv­i­ties today and tomor­row. While these kinds of uni­ver­si­ty improve­ments are rarely of much inter­est to the gen­er­al pub­lic, this one high­lights a col­lec­tion worth giv­ing full atten­tion. Well, for those of us, that is, who love maps.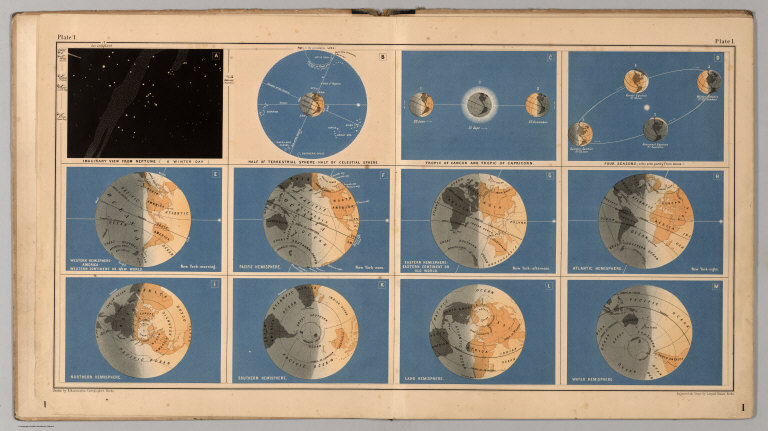 You do not need to be a Stan­ford stu­dent or fac­ul­ty or staff mem­ber to access the vast trea­sures of the Rum­sey Map col­lec­tion, nor do you need to vis­it the uni­ver­si­ty or its new Cen­ter. Since 1996, the Rum­sey collection's online data­base has been open to all, cur­rent­ly offer­ing any­one with an inter­net con­nec­tion access to 67,000 maps from all over the globe, span­ning five cen­turies of car­tog­ra­phy.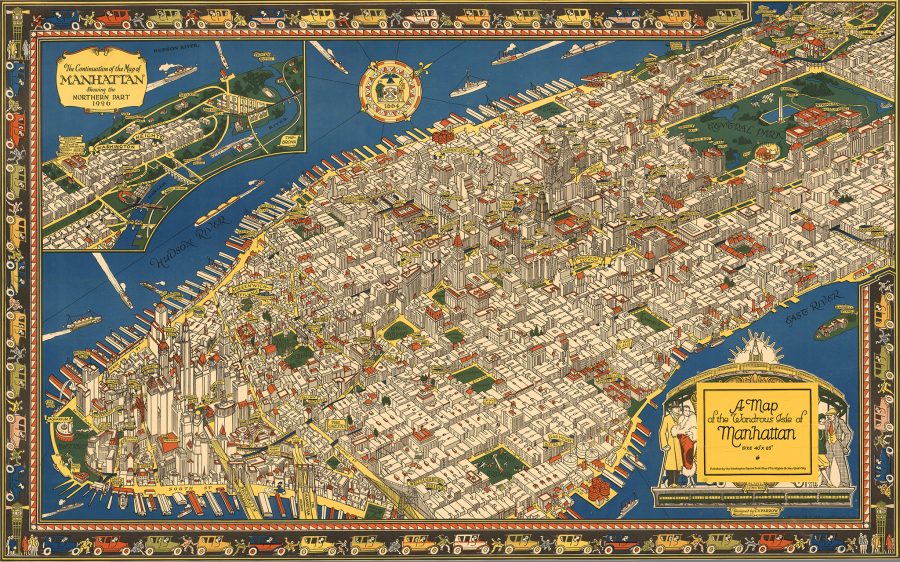 Rumsey's hold­ings con­sti­tute, writes Wired, "the dopest map col­lec­tion on Earth," and though its phys­i­cal hous­ing at Stan­ford is a huge boon to aca­d­e­m­ic researchers, its online archive is yours for the brows­ing, search­ing, and down­load­ing, who­ev­er and wher­ev­er you are.
Pages like the 1867 map "Twelve Per­spec­tives on the Earth in Orbit and Rota­tion," fur­ther up, con­tain detailed pub­li­ca­tion infor­ma­tion, the abil­i­ty to zoom in and exam­ine the tini­est details, and an "export" func­tion allow­ing users to down­load a vari­ety of res­o­lu­tions up to 12288 pix­els. (The same holds true for all oth­er maps.) There's also a new fea­ture for many maps called "Geo­ref­er­enc­ing" (see a short intro­duc­to­ry video above), which match­es the map's con­tours with oth­er his­toric maps or with more accu­rate, mod­ern satel­lite images.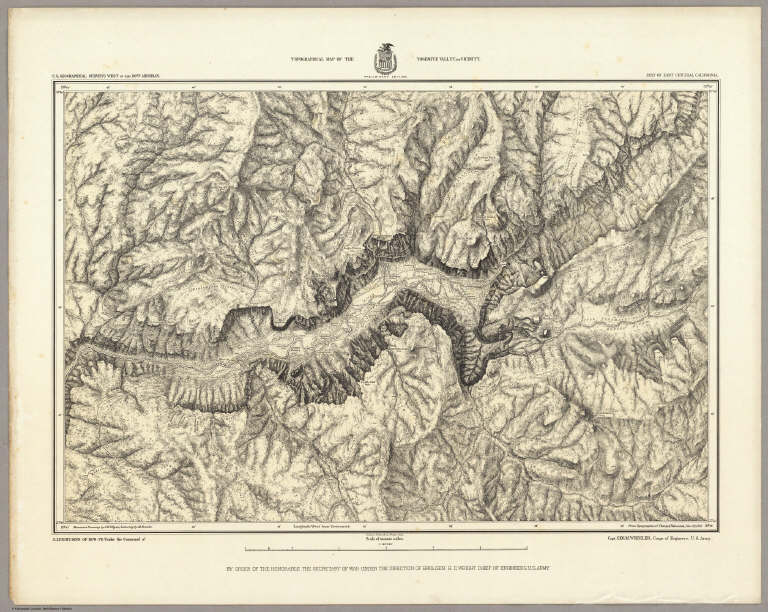 In the case of "Twelve Per­spec­tives on the Earth in Orbit and Rota­tion," the geo­ref­er­enc­ing func­tion returns an error mes­sage stat­ing "this is not a map." But in ter­res­tri­al images, like the topo­graph­i­cal map of the Yosemite Val­ley above, we can choose spe­cif­ic por­tions to geo­ref­er­ence, use the "visu­al­ize" func­tion to see how they match up to con­tem­po­rary views, and con­duct an accu­ra­cy analy­sis. (Geo­ref­er­enc­ing requires sign-in with a free account, or you can use your Google, Face­book, or Twit­ter log-ins.) Geo­ref­er­enc­ing is not avail­able for all maps, yet. You can help the Rum­sey col­lec­tion expand the fea­ture by vis­it­ing this page and click­ing the "Ran­dom Map" link.

The Rum­sey Col­lec­tion con­tains a seem­ing­ly inex­haustible sup­ply of car­to­graph­ic images, such as the col­or­ful aer­i­al view of New York City from 1900, above, and the 1949 com­pos­ite map of the Sovi­et Union, at the top of the post. In addi­tion to the maps themselves—most works of art in their own right—the data­base is full of oth­er beau­ti­ful images relat­ed to geog­ra­phy, such as the fab­u­lous, full-col­or title page below for the 1730 Atlas Novus sive Tab­u­lae Geo­graph­i­cae by Matthaeus Seut­ter.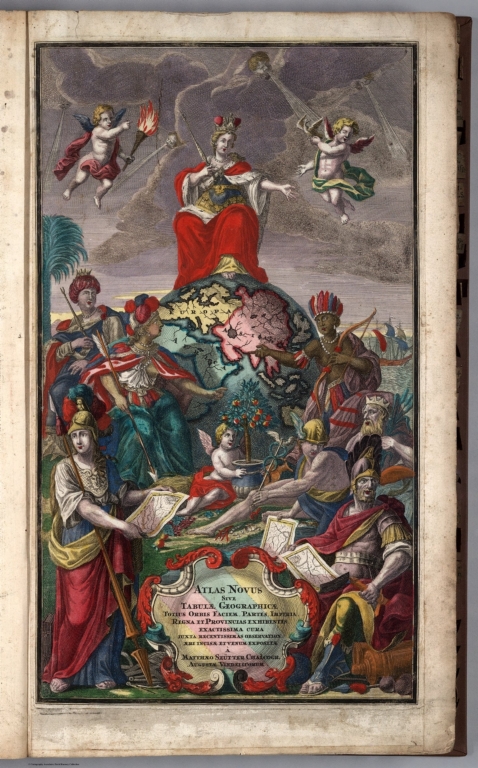 David Rum­sey—cur­rent­ly Pres­i­dent of the dig­i­tal pub­lish­ing com­pa­ny Car­tog­ra­phy Associates—began col­lect­ing maps and "relat­ed car­to­graph­ic mate­ri­als" in 1980. Since then, his phys­i­cal col­lec­tion has grown to include over 150,000 maps, to be housed at the Stan­ford Cen­ter that bears his name, and he has received sev­er­al awards for mak­ing his col­lec­tion avail­able online. The car­tog­ra­phy enthu­si­asts among us, and the hard­core schol­ars, can like­ly look for­ward to many more maps appear­ing in the web archive. For now, there's no short­age of fas­ci­nat­ing mate­r­i­al.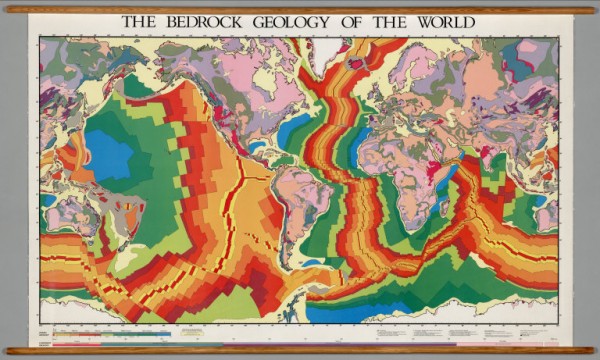 On the site's home­page, they high­light these areas worth explor­ing:
The his­tor­i­cal map col­lec­tion has over 67,000 maps and images online. The col­lec­tion includes rare 16th through 21st cen­tu­ry maps of Amer­i­ca, North Amer­i­ca, South Amer­i­ca, Europe, Asia, Africa, Pacif­ic and the World.

Pop­u­lar col­lec­tion cat­e­gories are celes­tial, antique atlas,globe, school geog­ra­phy, mar­itime chart, state, coun­ty, city, pock­et, wall & case, chil­dren's, and man­u­script maps. Search exam­ples: Pic­to­r­i­al maps, Unit­ed States maps, Geol­o­gy maps, Cal­i­for­nia map, Afghanistan map,Amer­i­ca map, New York City map, Chica­go map, andU.S. Civ­il War maps. Browse map cat­e­gories: What, Where, Who, When. The col­lec­tion is used to study his­to­ry, art, geneal­o­gy, explo­rations, and fam­i­ly his­to­ry.
Get to brows­ing… and geo­ref­er­enc­ing….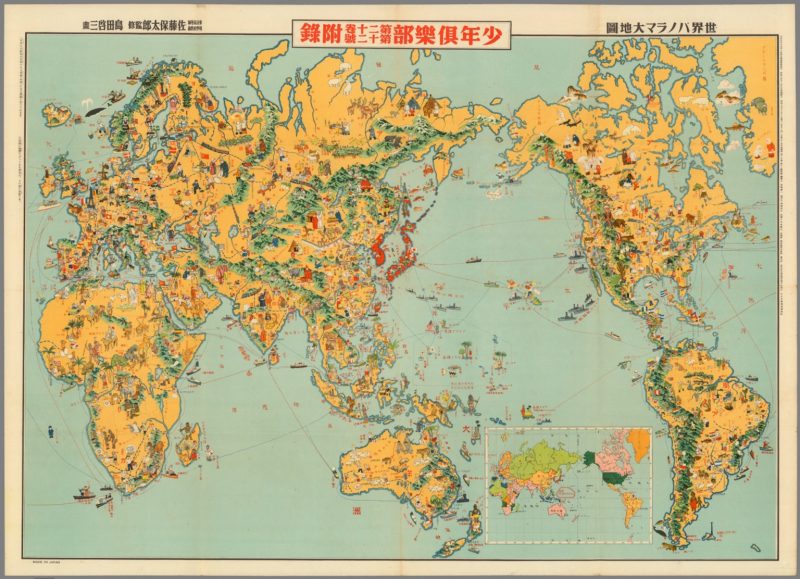 Relat­ed Con­tent:
New York Pub­lic Library Puts 20,000 Hi-Res Maps Online & Makes Them Free to Down­load and Use
The His­to­ry of Car­tog­ra­phy, the "Most Ambi­tious Overview of Map Mak­ing Ever," Now Free Online
A Plan­e­tary Per­spec­tive: Tril­lions of Pic­tures of the Earth Avail­able Through Google Earth Engine
19th Cen­tu­ry Maps Visu­al­ize Measles in Amer­i­ca Before the Mir­a­cle of Vac­cines
Josh Jones is a writer and musi­cian based in Durham, NC. Fol­low him at @jdmagness