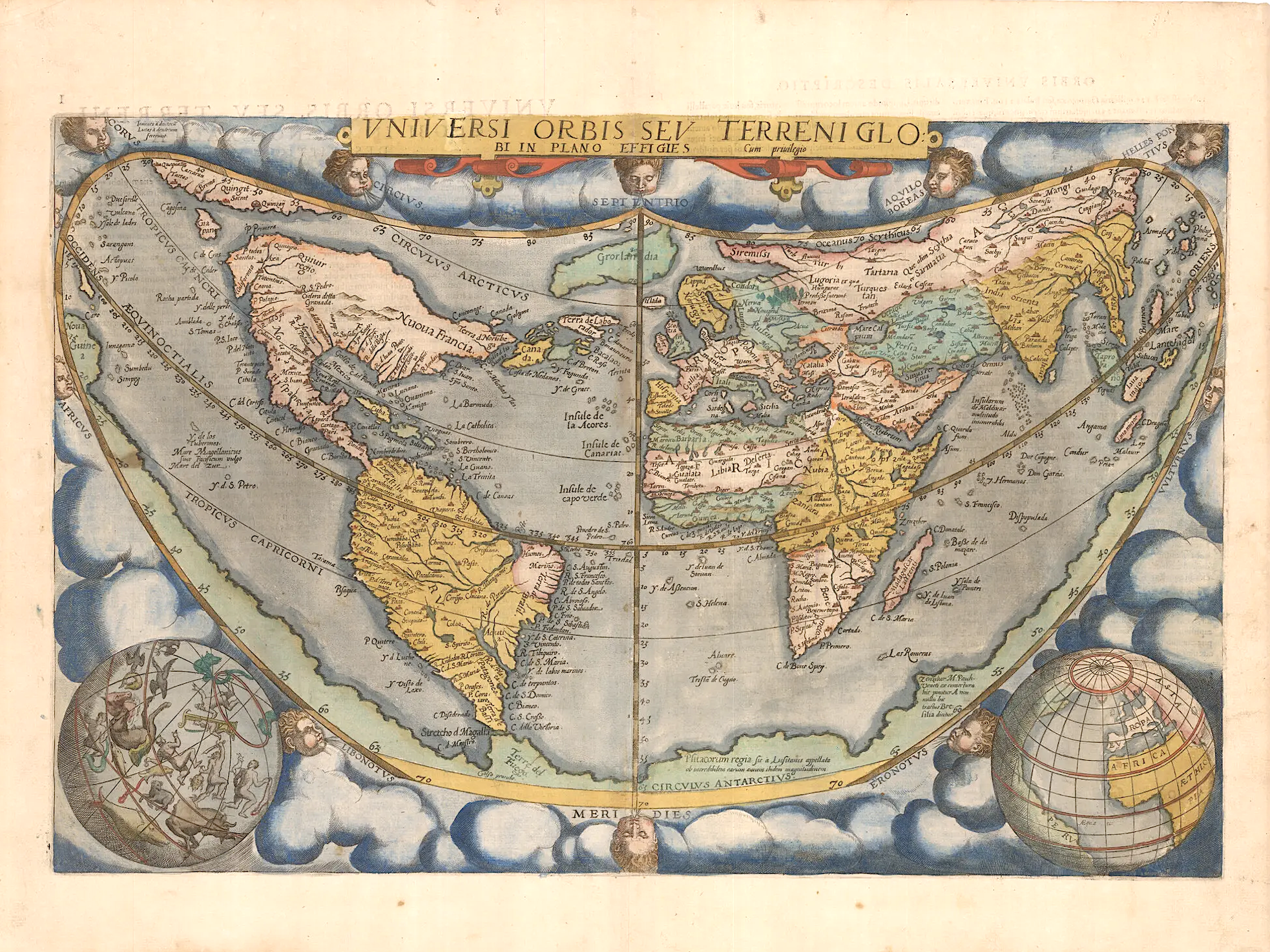 When it comes to maps, your first hit is always free. For you, maybe it was a Mer­ca­tor pro­jec­tion of the world hung on the wall of an ele­men­tary-school class­room; maybe it was a road atlas in the glove box of your par­ents' car. For Neil Sun­der­land, the ear­li­est car­to­graph­ic high seems to have come in child­hood, from a hum­ble map of Lan­cashire. When he found suc­cess in finance, his addic­tion grew in pro­por­tion to his means, and today his mul­ti-mil­lion-dol­lar map col­lec­tion includes the work of renowned six­teenth-cen­tu­ry artists like Albrecht Dür­er, Hans Hol­bein, and Gio­van­ni Cimer­li­no, who in 1566 depict­ed the known world in the shape of a heart.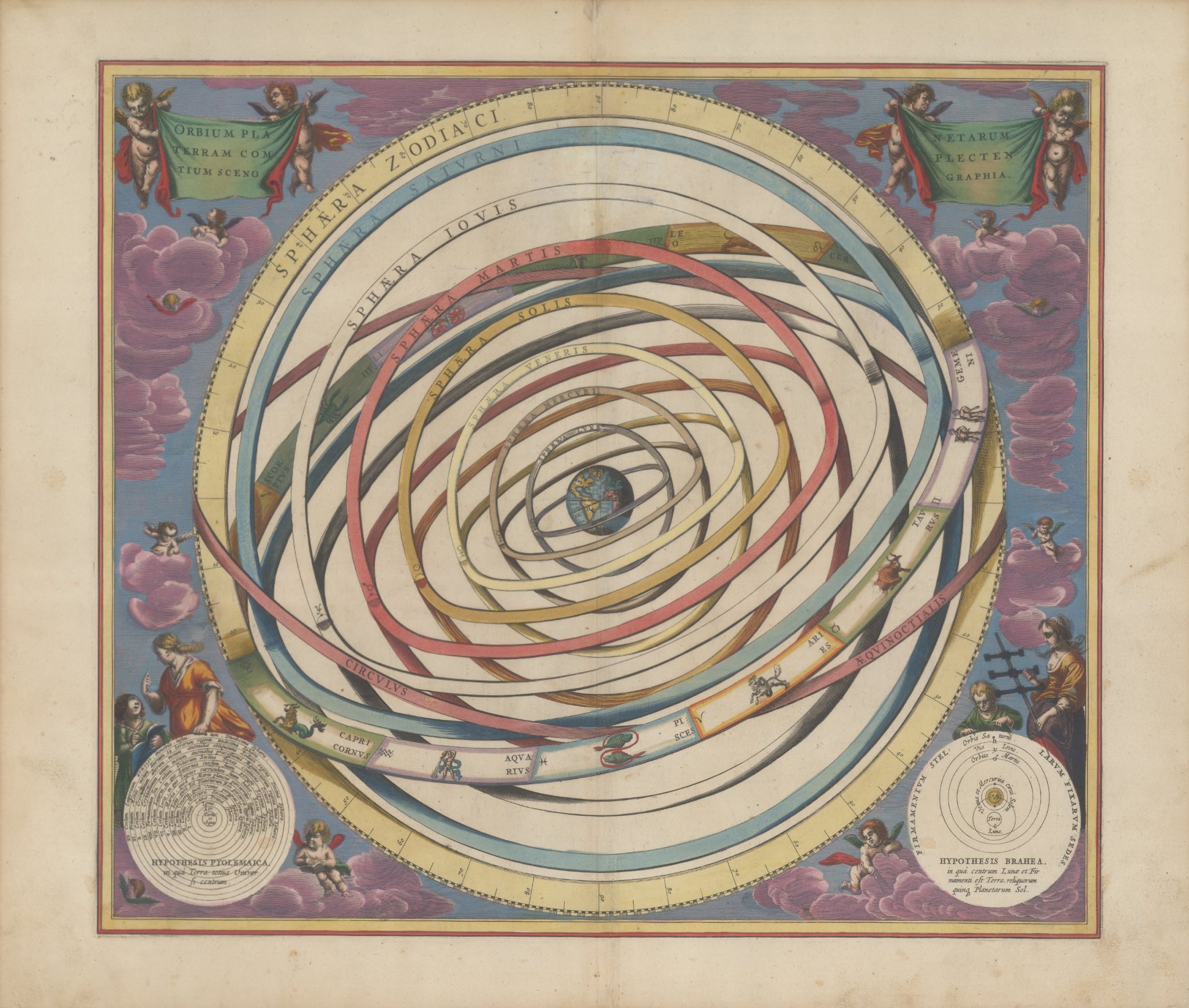 Cimer­li­no's cordi­form Earth (bot­tom) is just one of the 130 his­toric "world maps, celes­tial maps, atlases, books of knowl­edge and globes" now avail­able for your perusal at Oculi Mun­di, an elab­o­rate web site with the dig­i­tized hold­ings of the Sun­der­land Col­lec­tion. "A plat­form to explore high-res­o­lu­tion images of these beau­ti­ful objects, to peek inside the books, and to dis­cov­er infor­ma­tion and sto­ries," it offers both a chrono­log­i­cal­ly ordered "research" mode and a more free-form "explore" mode for brows­ing.
Either way, with its old­est arti­fact dat­ing to the ear­ly thir­teenth cen­tu­ry and its newest to the ear­ly nine­teenth, it con­tains a great swath of car­to­graph­ic his­to­ry to behold.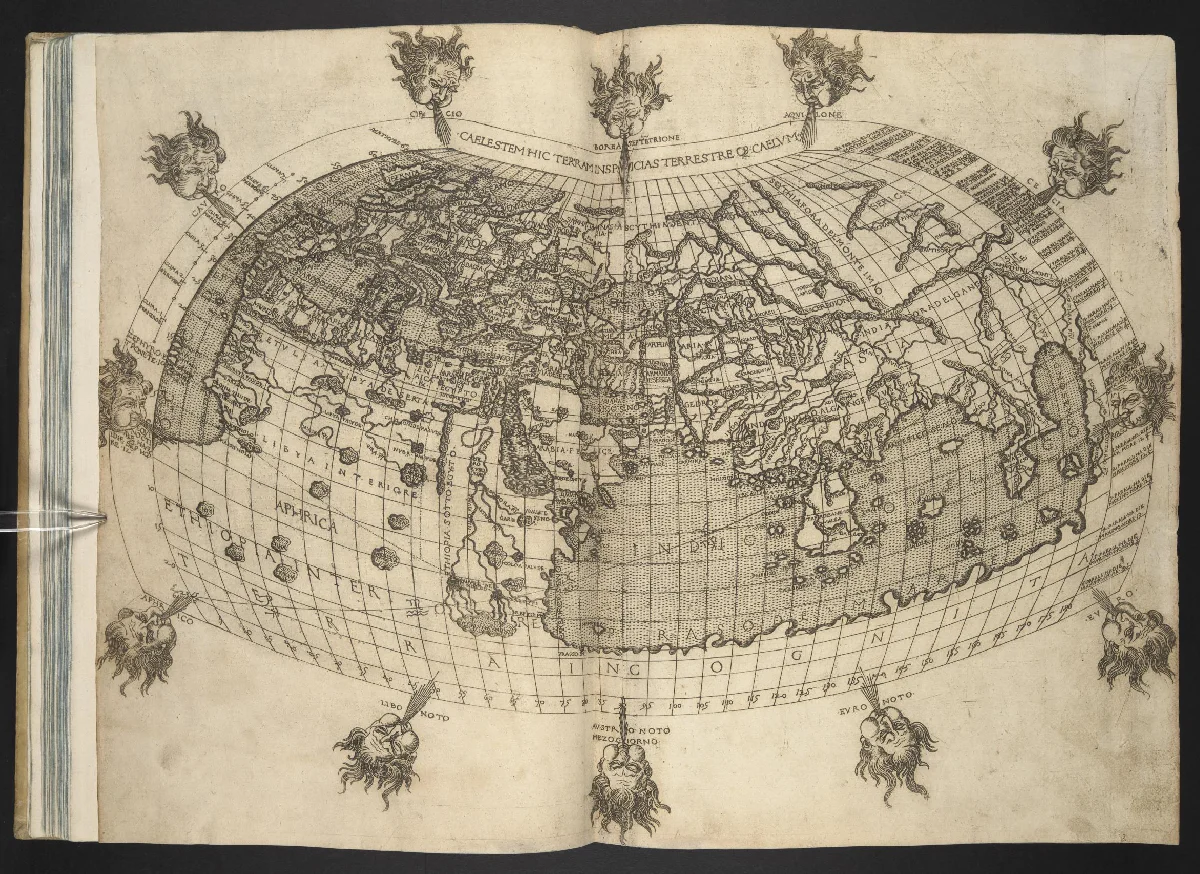 The New York Times' Susanne Fowler quotes Sun­der­land's daugh­ter Helen Sun­der­land-Cohen, who over­sees the Oculi Mun­di project, describ­ing a par­tic­u­lar­ly ven­er­a­ble atlas by fif­teenth-cen­tu­ry human­ist schol­ar Francesco Berlinghieri as "one of the ear­li­est uses of cop­per plate, in atlases and in print. You can see how fine­ly engraved the lines are, and how they're learn­ing to use cop­per plate." All art may be insep­a­ra­ble from the state of tech­nol­o­gy of its time, but maps — the mak­ers of which have always been dri­ven to visu­al­ize and orga­nize as much knowl­edge of the world as pos­si­ble — reflect it with a spe­cial clar­i­ty.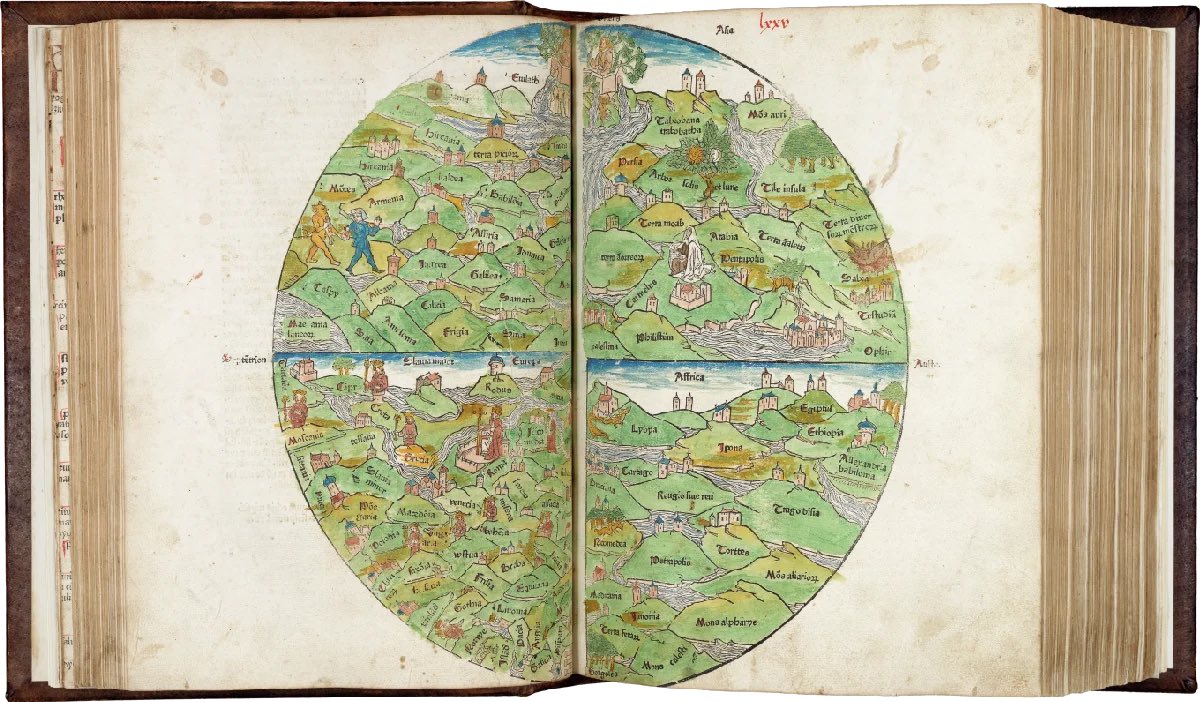 Explor­ing the Sun­der­land Col­lec­tion through Oculi Mun­di, you can also trace changes in what sort of knowl­edge belongs on maps in the first place. Sun­der­land-Cohen names as a per­son­al favorite the "Rudi­men­tum Novi­tio­rum" from 1475 (above), "an illus­trat­ed chron­i­cle in Latin used by monks as a teach­ing aid for novices." Besides maps, it includes "Bib­li­cal his­to­ry that is illus­trat­ed with lots of won­der­ful wood­block draw­ings, and everybody's wear­ing cloth­ing of the day, and in the hous­es of the day"; the con­nois­seur will notice tech­niques import­ed from illu­mi­nat­ed man­u­scripts. As for what such a work costs today, well, if you have to ask, you're not ful­ly hooked on maps yet. Enter Oculi Mun­di here.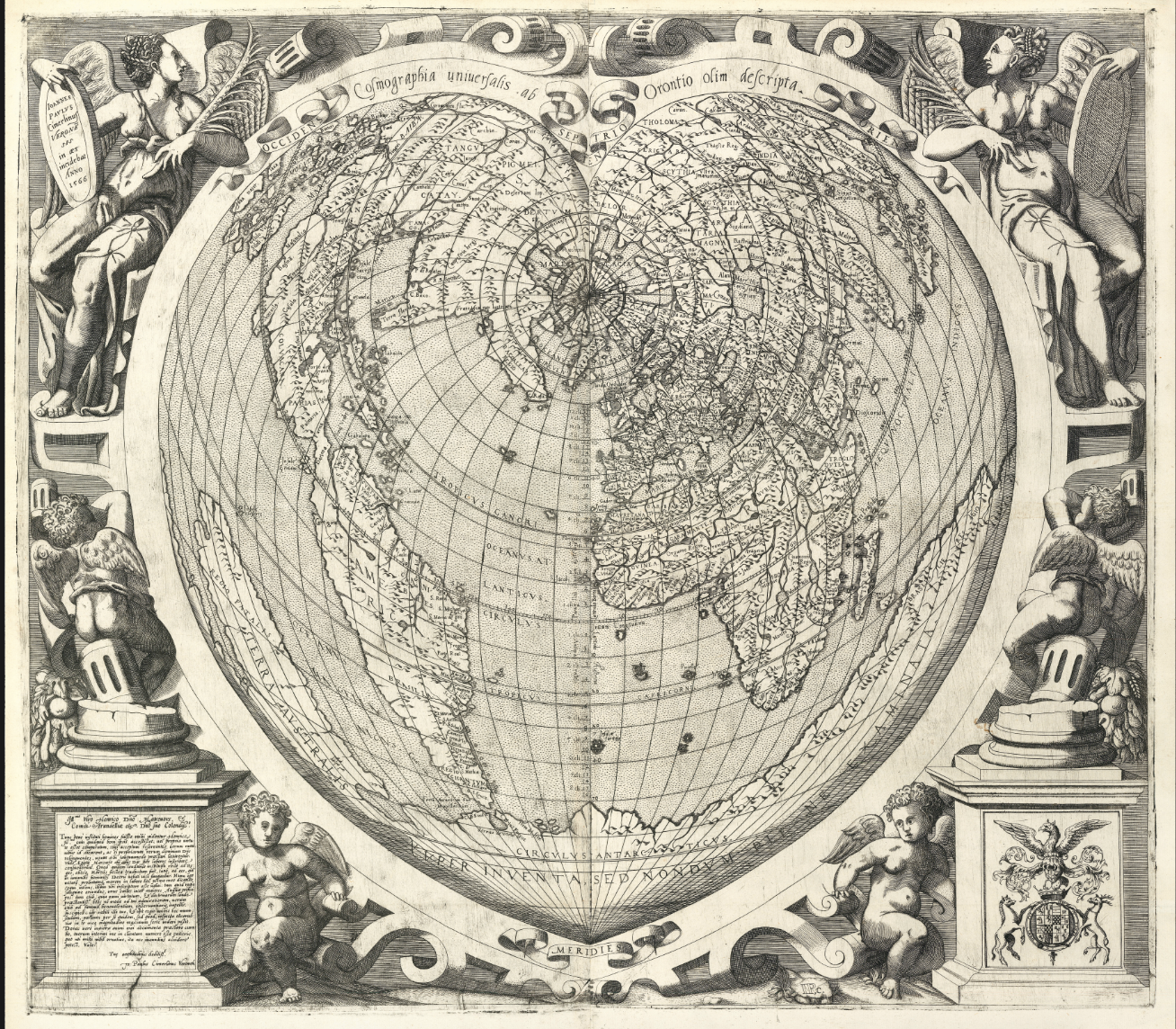 Relat­ed con­tent:
40,000 Ear­ly Mod­ern Maps Are Now Freely Avail­able Online (Cour­tesy of the British Library)
Ancient Maps that Changed the World: See World Maps from Ancient Greece, Baby­lon, Rome, and the Islam­ic World
Down­load 91,000 His­toric Maps from the Mas­sive David Rum­sey Map Col­lec­tion
The His­to­ry of Car­tog­ra­phy, "the Most Ambi­tious Overview of Map Mak­ing Ever Under­tak­en," Is Free Online
How Did Car­tog­ra­phers Cre­ate World Maps before Air­planes and Satel­lites? An Intro­duc­tion
An Archive of 800+ Imag­i­na­tive Pro­pa­gan­da Maps Designed to Shape Opin­ions & Beliefs: Enter Cornell's Per­sua­sive Maps Col­lec­tion
Based in Seoul, Col­in Marshall writes and broad­casts on cities, lan­guage, and cul­ture. His projects include the Sub­stack newslet­ter Books on Cities, the book The State­less City: a Walk through 21st-Cen­tu­ry Los Ange­les and the video series The City in Cin­e­ma. Fol­low him on Twit­ter at @colinmarshall or on Face­book.