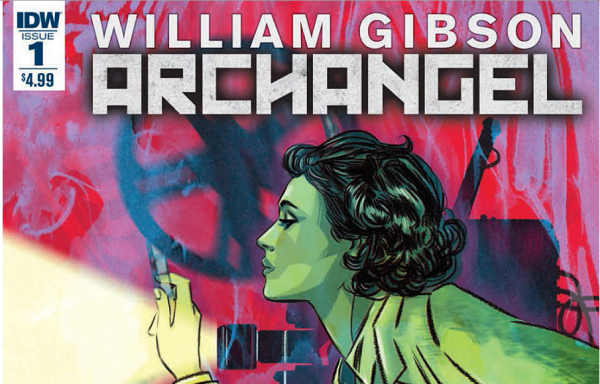 "The world is in ruins. The White House relocated to the ominous-sounding National Emergency Federal District in Montana. They have technology that far outstrips our own." A dystopian vision of the distant future? Nope, a dystopian vision of February 2016 — the February 2016 of Archangel, a new comic-book series from actor-writer Michael St. John Smith, artist Butch Guice, and none other than novelist William Gibson, author of such sui generis works of science fiction, pillars of cyberpunk, or prophecies of the present as Neuromancer, All Tomorrow's Parties, Pattern Recognition, and most recently The Peripheral, a predecessor, in a way, of Archangel's story that plays out on more than one timeline.
"A father and son occupy the new White House as President and Vice President," writes Ars Technica's Jonathan M. Gitlin. The younger overlord of America "has been surgically altered to resemble his grandfather, because Junior is about travel to an alternate Earth in 1945 to take grandpa's place, with the intent of remaking that world more to his liking." In response, "a pair of tattooed Marines go back in time to stop him, but things start to unravel when their stealth plane materializes in a formation of B-17s in the skies above Berlin." In that alternate 1945, "British intelligence officer Naomi Givens is tasked with finding out what just fell out of the skies of Berlin." If you feel your curiosity piqued — and how couldn't you? — you can read through (above) pages of Archangel's first issue, whose paper version quickly sold out. (You can also purchase the digital one here.)
As the series goes on, it will surely deliver more of the "alternate-history/cross-worlds story" that Gibson describes as "Band Of Brothers vs. Blackwater," not to mention plenty of heroics on the part of another one of his signature protagonists, the "over-the-top female character who just never gets killed." Enthusiasts of both comic books and William Gibson have long and patiently waited for those worlds to collide, and they'll presumably wait a little less patiently for Archangel's next issue, since its first one holds out enough promise to make them want to time-travel back to an alternate 1984, the year of Neuromancer's publication, and get its author writing comics right away.
via Ars Technica
Related Content:
William Gibson Reads Neuromancer, His Cyberpunk-Defining Novel (1994)
Take a Road Trip with Cyberspace Visionary William Gibson, Watch No Maps for These Territories (2000)
Timothy Leary Plans a Neuromancer Video Game, with Art by Keith Haring, Music by Devo & Cameos by David Byrne
How Chris Marker's Radical SciFi Film, La Jetée, Changed the Life of Cyberpunk Prophet, William Gibson
Based in Seoul, Colin Marshall writes and broadcasts on cities, language, and style. He's at work on a book about Los Angeles, A Los Angeles Primer, the video series The City in Cinema, the crowdfunded journalism project Where Is the City of the Future?, and the Los Angeles Review of Books' Korea Blog. Follow him on Twitter at @colinmarshall or on Facebook.