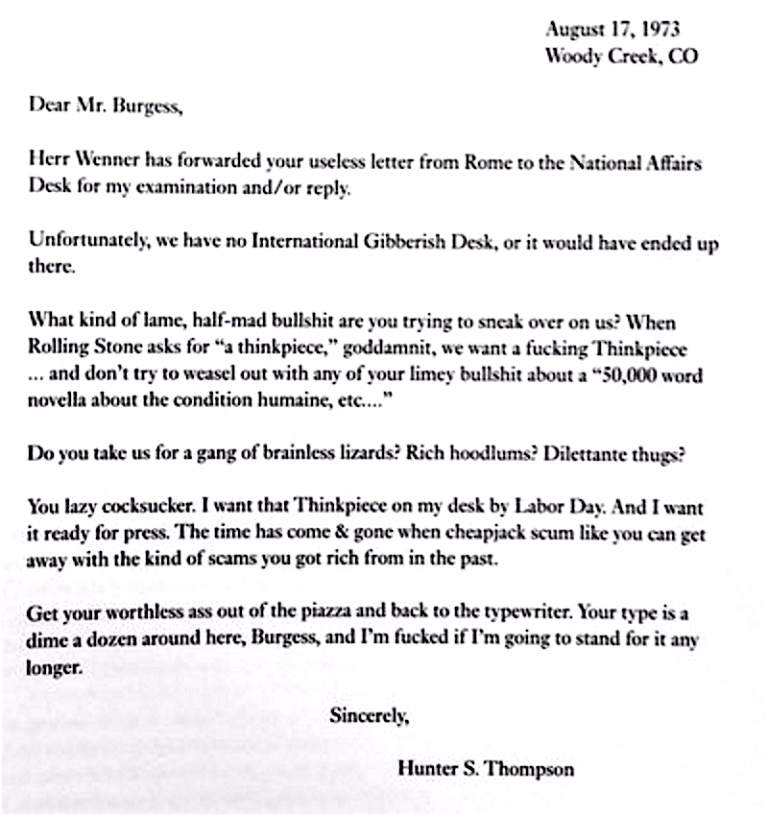 We know Anthony Burgess for having written A Clockwork Orange, but in total, according to Shaun Usher's More Letters of Note: Correspondence Deserving of a Wider Audience (a book based on the well-known blog), he "published 33 novels, 25 nonfiction titles, produced poetry, short stories and screenplays, composed three symphonies, wrote hundreds of musical pieces, and spoke nine languages fluently." Yet even such a "prolific, versatile, and highly intelligent" man of letters faces writer's block now and again.
Take the Rolling Stone thinkpiece Burgess couldn't manage to write in 1973. Conceding defeat — "things are hell here," he wrote of his life in Rome at the time — he offered the magazine "a 50,000-word novella I've just finished, all about the condition humaine, etc." in its place. Surely his editor would understand? Alas, unluckily for Burgess, his editor turned out to be one Hunter S. Thompson, who fired back the characteristically blunt but eloquently vitriolic reply you see here:
Dear Mr. Burgess,

Herr Wenner has forwarded your useless letter from Rome to the National Affairs Desk for my examination and/or reply.

Unfortunately, we have no International Gibberish Desk, or it would have ended up there.

What kind of lame, half-mad bullshit are you trying to sneak over on us? When Rolling Stone asks for "a thinkpiece", goddamnit, we want a fucking Thinkpiece… and don't try to weasel out with any of your limey bullshit about a "50,000 word novella about the condition humaine, etc…"

Do you take us for a gang of brainless lizards? Rich hoodlums? Dilettante thugs?

You lazy cocksucker. I want that Thinkpiece on my desk by Labor Day. And I want it ready for press. The time has come & gone when cheapjack scum like you can get away with the kind of scams you got rich from in the past.

Get your worthless ass out of the piazza and back to the typewriter. Your type is a dime a dozen around here, Burgess, and I'm fucked if I'm going to stand for it any longer.

Sincerely,

Hunter S Thompson
"The desired thinkpiece never appeared in the pages of Rolling Stone," writes the International Anthony Burgess Foundation's Graham Foster, "but the essay referred to in these letters, 'The Clockwork Condition', was eventually published in the New Yorker in 2012." In it, Burgess recalls the origins of his best-known novel and considers the causes of the societal conformity he took as one of his themes, arriving at the Orwellian notion that "the burden of making one's own choices is, for many people, intolerable. To be tied to the necessity of deciding for oneself is to be a slave to one's will."
That goes for "where to eat, whom to vote for, what to wear" — and, of course, for what to write a thinkpiece about as well as how to write it. "It is easier to be told," Burgess writes. "Smoke Hale — ninety per cent less tar; read this novel, seventy-five weeks on the best-seller list; don't see that movie, it's artsy-shmartsy." He even remembers, with a certain fondness, his time in the army: "At first I resented the discipline, the removal of even minimal liberty," but "soon my reduction to a piece of clockwork began to please me, soothe me." Fair to say, though, that no matter how demanding the officers above him, the experience didn't prepare Burgess for a superior like Thompson.
via More Letters of Note and Esquire
Related Content:
Read 10 Free Articles by Hunter S. Thompson That Span His Gonzo Journalist Career (1965-2005)
Read 18 Lost Stories From Hunter S. Thompson's Forgotten Stint As a Foreign Correspondent
Hunter S. Thompson, Existentialist Life Coach, Gives Tips for Finding Meaning in Life
Hunter S. Thompson's Ballsy & Hilarious Job Application Letter (1958)
Johnny Depp Reads Letters from Hunter S. Thompson
Based in Seoul, Colin Marshall writes and broadcasts on cities, language, and style. He's at work on a book about Los Angeles, A Los Angeles Primer, the video series The City in Cinema, the crowdfunded journalism project Where Is the City of the Future?, and the Los Angeles Review of Books' Korea Blog. Follow him on Twitter at @colinmarshall or on Facebook.