In 1900, Thomas Edi­son trav­eled to Paris to doc­u­ment the many won­ders of the Expo­si­tion Uni­verselle, and the city itself. Among the sights cap­tured with his kine­to­scope cam­eras were the Expo's mov­ing side­walks, the Champs-Élysées, and the pre­vi­ous Expo­si­tion Uni­verselle's crown jew­el, the Eif­fel Tow­er, now eleven years old.
It wasn't all so high-mind­ed. Edi­son and his kine­to­scope also caught a per­for­mance by for­mer Moulin Rouge star, Joseph Pujol, aka Le Pétomane, above. This ele­gant­ly attired gen­tle­men achieved fame and for­tune with a series of impres­sions, car­ried out by a rather eccen­tric ori­fice. He was not so much artiste as fartiste, a title he wore with pride.
Pujol claimed to have dis­cov­ered his unusu­al tal­ent as a child, and soon set about achiev­ing dif­fer­ent effects by using his abdom­i­nal mus­cles to expel not gas, but odor­less air. By vary­ing the pres­sure, he was able to play sim­ple tunes. By the time he turned 30, his act had expand­ed to include imper­son­ations of celebri­ties, musi­cal instru­ments, birds, a thun­der­storm and such stock char­ac­ters as a ner­vous bride. His grand finale includ­ed such feats as blow­ing out can­dles, smok­ing cig­a­rettes and play­ing an oca­ri­na (below), all with the aid of a rub­ber hose insert­ed into his anus via a mod­est trouser slit.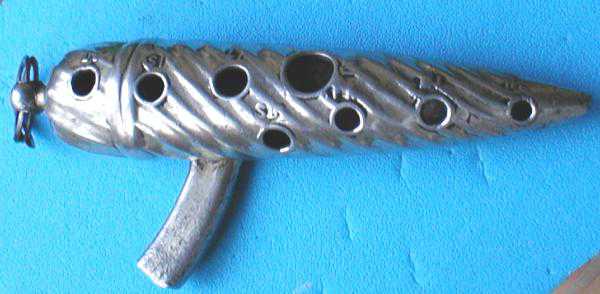 What a tragedy that Edison's short film is silent! No live piano accom­pa­ni­ment could do jus­tice to this mag­i­cal artis­tic fruit, and if there were oth­er record­ings of Pujol, they've been lost to his­to­ry.
He lives on in the imag­i­na­tions of artists who fol­lowed him.
Actor Ugo Tog­nazzi, below, assumed the title role in a 1983 Ital­ian lan­guage fea­ture.
Direc­tor Mel Brooks inject­ed a bit of sub­tle­ty into Blaz­ing Sad­dles' beans-around-the-camp­fire humor when he appeared as a char­ac­ter named Gov­er­nor William J. LeP­etomane.
Sad­ly, Pujol was left on the cut­ting room floor of direc­tor Baz Luhrmann's Moulin Rouge, but all is not lost. Report­ed­ly, John­ny Depp has indi­cat­ed inter­est in bring­ing this his­toric fig­ure back to life. (Gen­tle­men, start your screen­plays…)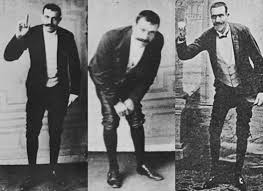 Then there is the half hour biopic, below, direct­ed by Mon­ty Python alum Ian McNaughton and star­ring Leonard Rossiter as Pujol. Pre­pare to hear the open­ing ses­sion of the Con­gress of Vien­na, a toad, and a four-part har­mo­ny.
via Messy Nessy Chic
Relat­ed Con­tent:
Hear Thomas Edison's Creepy Talk­ing Dolls: An Inven­tion That Scared Kids & Flopped on the Mar­ket
Thomas Edison's Box­ing Cats (1894), or Where the LOL­Cats All Began
Thomas Edi­son Recites "Mary Had a Lit­tle Lamb" in Ear­ly Voice Record­ing
Ayun Hal­l­i­day is an author, illus­tra­tor, and Chief Pri­ma­tol­o­gist of the East Vil­lage Inky zine. Fol­low her @AyunHalliday