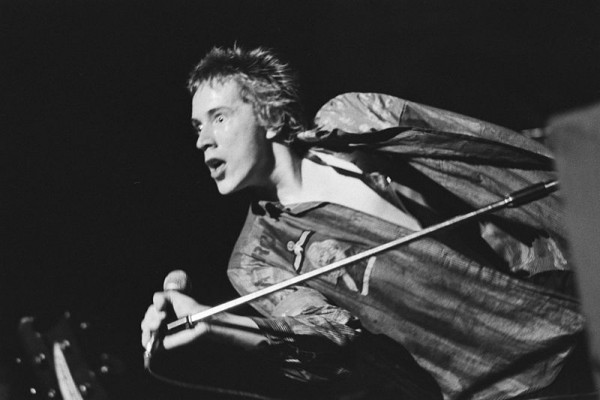 One of the initial impressions of the British punks–and one that impresario Malcolm McLaren tried to cultivate–was that they were dangerous, unschooled yobs creating rock music from primordial materials. That's why McLaren was unhappy about John Lydon aka Johnny Rotten's appearance on Capital Radio's Tommy Vance Show in the middle of the summer of punk, 1977.
"Anarchy in the U.K." and "God Save the Queen" had already been released as singles. The Pistols had made their infamous appearance on Bill Grundy's chat show, where goaded into doing something outrageous, they swore a bit and the British press melted down in paroxysms of panic. They had been dropped by both EMI and A&M, and had finished recording the bulk of Never Mind the Bollocks the month before. The band was in limbo.
DJ Tommy Vance was sixteen years older than Lydon, but Capital Radio was an independent station and offered an alternative to the BBC, which only a few months earlier banned outright "God Save the Queen" from the airwaves and refused to award it a number one single spot, even though the single had earned it, saleswise.
Lydon was asked to bring in records from his own collection and talk about them, and, in doing so, demonstrated that he wasn't a thug, but an eclectic young music fan with broad tastes. He liked a lot of reggae (Peter Tosh, Makka Bees, Dr. Alimantado) and dub, and says he grew up with it. It also explains the dub heavy outings he'd soon do with Public Image Ltd. And he chooses tracks by singer-songwriters like Tim Buckley, Kevin Coyne, and Neil Young; John Cale, Lou Reed, and Nico; and art rock like Can, a band introduced to him by Sid Vicious.
He's still abrupt, insulting and dismissive when he needs to be. He calls David Bowie a "real bad drag queen," doesn't think much of the Rolling Stones or most '60s bands ("terrible scratching sound" he says), and says most of his contemporary punk bands are "stagnant" and predictable. But it wouldn't be Johnny Rotten any other way, would it?
When asked about his record collection, Lydon says it's quite big:
I ain't got a record player at the moment, so I have to pass them around, because music's for listening to, not to store away in a bloody cupboard. Yeah, I love my music.
You can listen to the broadcast here:
And here's the full track listing:
Tim Buckley – Sweet Surrender
The Creation – Life Is Just Beginning
David Bowie – Rebel Rebel
Unknown Irish Folk Music / Jig
Augustus Pablo – King Tubby Meets The Rockers Uptown
Gary Glitter – Doing Alright With The Boys
Fred Locks – Walls
Vivian Jackson and the Prophets – Fire in a Kingston
Culture – I'm Not Ashamed
Dr Alimantado & The Rebels – Born For A Purpose
Bobby Byrd – Back From The Dead
Neil Young – Revolution Blues
Lou Reed – Men Of Good Fortune
Kevin Coyne – Eastbourne Ladies
Peter Hammill – The Institute Of Mental Health, Burning
Peter Hammill – Nobody's Business
Makka Bees – Nation Fiddler / Fire!
Captain Beefheart – The Blimp
Nico – Janitor Of Lunacy
Ken Boothe – Is It Because I'm Black
John Cale – Legs Larry At Television Centre
Third Ear Band – Fleance
Can – Halleluhwah
Peter Tosh – Legalise It
via That Eric Alper/WFMU
Related content:
John Lydon & Public Image Ltd. Sow Chaos on American Bandstand: The Show's Best and Worst Moment (1980)
The Sex Pistols' 1976 Manchester "Gig That Changed the World," and the Day the Punk Era Began
Never Mind the Bollocks, Here's . . . John Lydon in a Butter Commercial?
Ted Mills is a freelance writer on the arts who currently hosts the FunkZone Podcast. You can also follow him on Twitter at @tedmills, read his other arts writing at tedmills.com and/or watch his films here.