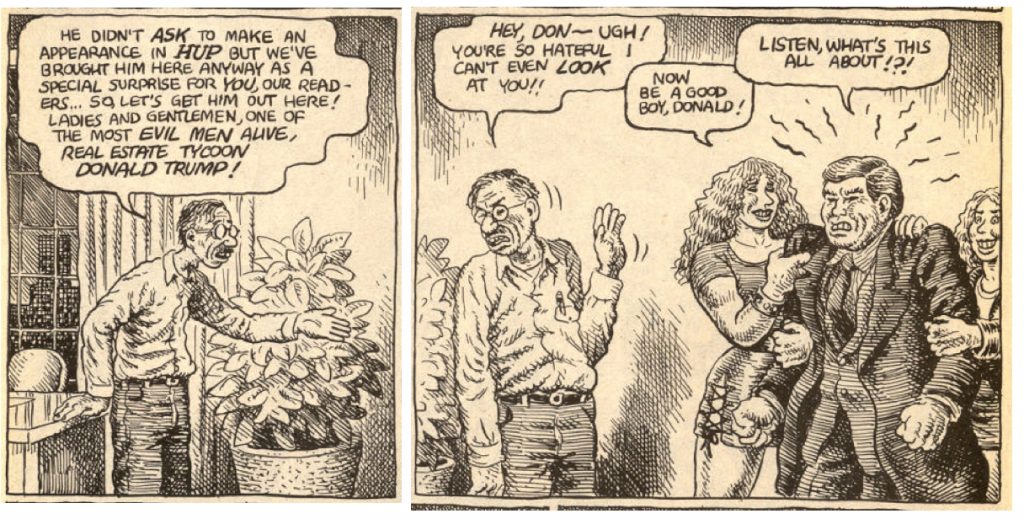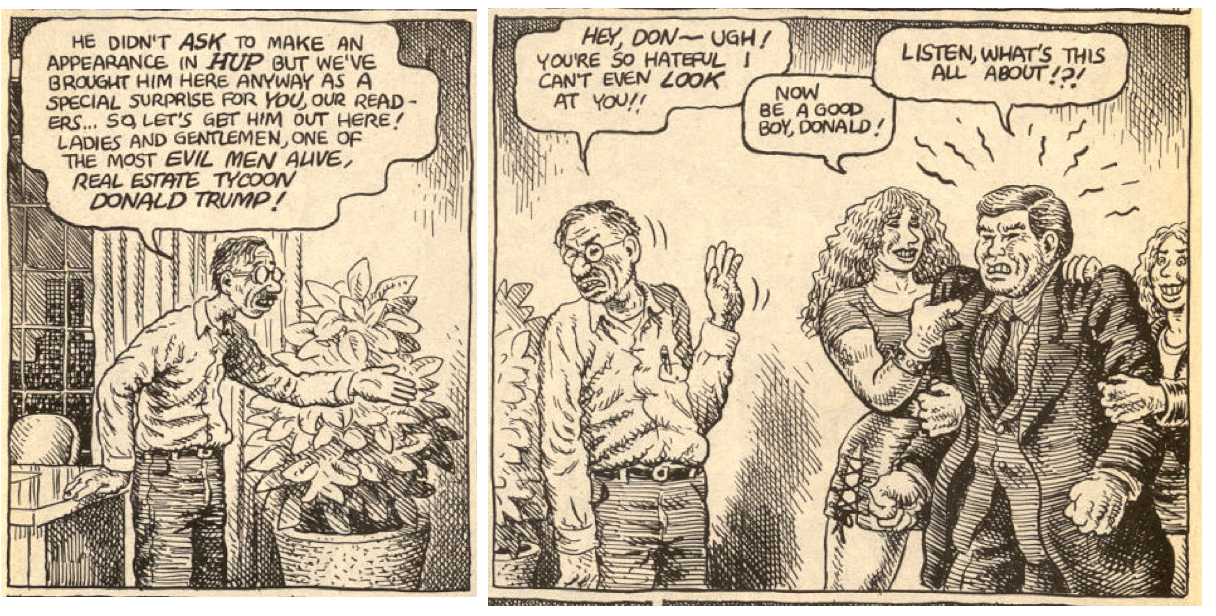 Nature's way is to take away from those that have too much and give to those that have too little. Man's way, on the contrary, is to take away from those who have too little to give more to those who already have too much. 
Lao Tzu, Tao Te Ching, circa 500 BC
Two and a half thousand years later, the ancient sage's quote continues to resonate, especially in this election year.
Lest we get too gloomy, there is another quote I would like to submit:
And isn't this a nutty kinda country where you can draw any irreverent, degrading thing about the most powerful people and nobody cares! You don't get jailed. You don't get persecuted. They just ice you out of the marketplace. 
– R Crumb, Hup, 1989
Crumb is to underground comix as Lao Tzu was to Taoism, but the fame Crumb achieved in the late 60s and early 70s did not protect him from the 80s, "an awful decade" as he told the Observer. His astonishing creative output never flagged, but he hated the culture and struggled to make ends meet:
…it all gradually fell apart through the 70s, and by the 80s with the rise of the yuppies, Reagan's election and the real estate boom. In California it was always about real estate ever since the Gold Rush, but the 80's saw a new explosion of it. They went crazy. Everybody was getting their real estate license. They kept on building these hideous housing developments where we lived. It used to be farmland there when we first arrived, then everything became a fight. Dow Chemical tried to come there, we fought that. Then the Super Collider, we fought that. It was this constant battle against these forces of development and business. 
In 1991, he fled America for a small village in Southern France, a prescient move, given "Point the Finger," a comic published two years earlier in his short-lived Hup series. The semi-fictional five-pager pits Crumb himself against real estate developer Donald Trump, billed as "one of the more visible big time predators who feed on society," as well as "one of the most evil men alive."
The then-42-year-old Trump is quick to take Crumb's bait, piling on some insults of his own. He may not be familiar with the cartoonist's work, but he knows how to mount an attack, with labels like "crass," "venal," "some kind of self-styled terrorist," "the picture of negativity," and "filled with hate." Had Crumb set this smack down on a beach, Trump would be the bully kicking sand in the scrawny nerd's face, as a couple of hot babes look on, admiringly.
In fact, the comic comes very close to ending on such a note. Two of Crumb's characteristically powerfully-thighed females are on hand, ostensibly as members of his camp. Their heads are quickly turned, however, by an invitation to Mar-a-Lago, Trump's lavish Palm Beach estate. The Donald starts looking pretty good to Tracy and Marny, bedazzled by the promise of banquets, manicures, world-class entertainment, and a hedonistic after-hours romp with Trump and his then-wife Ivana.
The cartoonist, defeated, compares the tycoon to Trimalchio, the vulgar but loaded host of Petronius' Satyricon, before preparing to take things out with the Lao Tzu quote at the top of this post.
It's here that things take a turn for the meta, as Stan "the Man" Shnooter, the self-assured fictional producer of Hup, rallies Crumb to assert authorial control.
Crumb rewinds to a pivotal moment. In this redo, Tracy and Marny remain steadfast. The bully is frogmarched to the toilet to be given a taste of his own medicine. The saga draws to a close with the sort of acrobatic, questionably consensual, NSFW sex that has rained feminist ire on Crumb for years, as the unlikely conquerer savors victory in his preferred style.
Is it fantasy? Reality? All just a dream?
(Any way you slice it, I'm pretty sure Tracy and Marny aren't the winners…)
You can check out Crumb's 1989 Trump comic in its extremely NSFW entirety here or buy Hup, Issue 3 to read it the old fashioned way. Some of the tamer panels can be sampled here.
Related Content:
R. Crumb Shows Us How He Illustrated Genesis: A Faithful, Idiosyncratic Illustration of All 50 Chapters
R. Crumb Describes How He Dropped LSD in the 60s & Instantly Discovered His Artistic Style
Noam Chomsky on Whether the Rise of Trump Resembles the Rise of Fascism in 1930s Germany
Ayun Halliday is an author, illustrator, and Chief Primatologist of the East Village Inky zine. Follow her @AyunHalliday