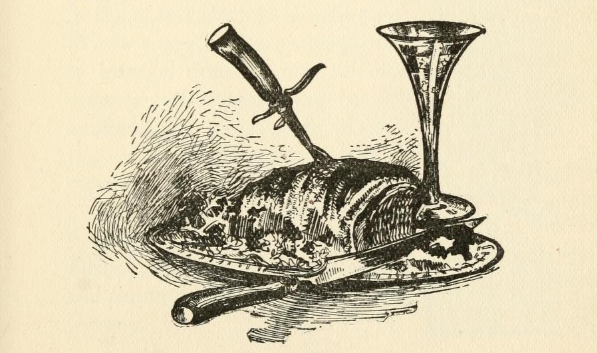 By the time I got to high school, home economics classes had fallen out of favor: the boys, of course, considered them too "girly," and the girls considered them enforcers of traditional gender roles wholly out of place in modern society. At that time, America's widespread obsession with food still had a few years before its full bloom, and now I imagine that learning to cook has regained a certain cachet even among teenagers. But what of "home economics" itself, that curious banner that combines a definition of economics nobody now quite recognizes with the less-than-fashionable concepts of domesticity, practicality, and necessity?
You can get a sense of the field's history with a visit to the Cookbook and Home Economics Collection at the Internet Archive. Its items, drawn from the Young Research Library Department of Special Collections at UCLA, the Bancroft Library at The University of California, Berkeley, and the Prelinger Library, "take us back to an America in the early decades of the 20th century covering topics on cookery, textiles, family and home, budgeting, domestic sciences, and many other delightful topics." Some will find them more inherently delightful than will others, but the historical value remains undeniable: each and every book in the collection takes us back to a different time and place with its own interests and priorities, in the kitchen as well as elsewhere in the home.
At the Internet Archive blog, Jeff Kaplan highlights such works as the Pilgrim Cook Book, published by Chicago's Pilgrim Evangelical Lutheran Church Ladies' Aid Society in 1921 and including recipes for Sausage in Potato Boxes, Blitz Torte, Cough Syrup, and Sauerkraut Candy; 1912's more subdued Food for the invalid and the convalescent, with its Beef Juice, Meat Jelly, Cracker Gruel, and advice that, "among other things, beer and pickles are bad for children"; and even older, 1906's A bachelors cupboard; containing crumbs culled from the cupboards of the great unwedded which, warning that "the day of of the 'dude' has passed and the weakling is relegated to his rightful sphere in short order," offers methods for the making of dishes with names like Bed-Spread For Two, Indian Devil Mixture, Hot Birds, and Finnan Haddie.
If we dismissed whatever they taught in high school Home Ec as old-fashioned, then boy, the wisdom preserved in this corner of the Internet Archive exists on a whole other plane. But it also contains more than laughs: the serious student of cuisine and its history will also find the likes of 1907's A Guide to Modern Cookery, the work of French "king of chefs and chef of kings" Auguste Escoffier, as well as — sticking, sensibly, to that most Epicurean of all nations — Le grand dictionnaire de cuisine, a 1200-page encyclopedia-cookbook published just after the death of its author, The Three Musketeers author Alexandre Dumas. As relevance goes, both of them of them surely hold up far better than, say, The whole duty of a woman, or, An infallible guide to the fair sex: containing rules, directions, and observations, for their conduct and behavior through all ages and circumstances of life, as virgins, wives, or widows.
Enter the archive of 3,000+ cookbooks and home ec texts here.
Related Content:
The New York Times Makes 17,000 Tasty Recipes Available Online: Japanese, Italian, Thai & Much More
Cookpad, the Largest Recipe Site in Japan, Launches New Site in English
53 New York Times Videos Teach Essential Cooking Techniques: From Poaching Eggs to Shucking Oysters
1967 Cookbook Features Recipes by the Rolling Stones, Simon & Garfunkel, Barbra Streisand & More
Archive of Handwritten Recipes (1600 – 1960) Will Teach You How to Stew a Calf's Head and More
Based in Seoul, Colin Marshall writes and broadcasts on cities and culture. He's at work on a book about Los Angeles, A Los Angeles Primer, the video series The City in Cinema, the crowdfunded journalism project Where Is the City of the Future?, and the Los Angeles Review of Books' Korea Blog. Follow him on Twitter at @colinmarshall or on Facebook.