Near­ly every West­ern youth sub­cul­ture in exis­tence even­tu­al­ly gets its own Hol­ly­wood film. Like most such films, 1993's Swing Kids—which tells the sto­ry of jazz-lov­ing Ger­man youth dur­ing the rise of the Third Reich—managed to be both inac­cu­rate and crit­i­cal­ly reviled. Roger Ebert hat­ed the film's cel­e­bra­tion of "a very small foot­note to a very large his­tor­i­cal event," and com­pared the Swing Kids to "Nero, who fid­dled while Rome burned." Ebert's reac­tion is unchar­ac­ter­is­tic of him; he writes crit­i­cal­ly of the film, but he also seemed to find its subject—the kids themselves—repellant.
The review prompts us to ask: Were these kids—dubbed Swingju­gend by the Nazis—participating in a rev­o­lu­tion­ary act of cul­tur­al resis­tance, or were they no more than typ­i­cal, naive teenagers who pre­ferred to "lis­ten to big bands than enlist in the mil­i­tary"? (After all, writes Ebert, "who wouldn't?") But the ques­tion about the Swing Kids' polit­i­cal moti­va­tions may be less rel­e­vant than one about whether their pur­suit of a care­free, jazz-scored lifestyle under Nazism con­sti­tutes a "small foot­note" in his­to­ry. Should we know and care about the Swing Kids, and if so, why?
A Ger­man site called Swingstyle com­piles infor­ma­tion about the sub­cul­ture and admits that "the real Swing Kids were polit­i­cal­ly unso­phis­ti­cat­ed." Despite being seen as a "youth prob­lem" by Nazi author­i­ties, they "actu­al­ly cared lit­tle for con­test­ing offi­cial poli­cies toward Jews or oth­er mat­ters. They just want­ed to have fun at a dark time in their country's his­to­ry, and avoid the war if pos­si­ble." Or, rather, most of them want­ed to avoid join­ing the Hitler Youth, man­dat­ed for all young peo­ple in 1939: "We must remem­ber the age of most swing kids was between 12 and 16 or 17."
But as you can see in the short doc­u­men­tary clip at the top, the Swing Kids' resis­tance to the by-now famil­iar­ly dis­turb­ing, para­mil­i­tary reg­i­men­ta­tion of Ger­man young peo­ple (see above), was in its way a rad­i­cal act. "Their casu­al, fun-lov­ing atti­tude made a mock­ery of Nazi con­trol," the doc­u­men­tary nar­ra­tor says. They embraced what was "con­sid­ered 'degen­er­ate music' by Nazi ide­ol­o­gy," writes Mes­syNChic, "because it was often per­formed by black and Jew­ish musi­cians and pro­mot­ed free love."
We can­not assume the Swing Kids' love of the music extend­ed to a love for the peo­ple who made it. It's more so the case that the Swing Kids "admired the British and Amer­i­can way of life," and the free-spirit­ed­ness uni­ver­sal­ly rep­re­sent­ed at the time by jazz in Amer­i­can and British films and records, to which Ger­man youth had some lim­it­ed access. But in their bat­tle for "self-deter­mi­na­tion and free­dom," infor­mal groups like the Edel­weiss Pirates, the Trav­el­ing Dudes, and the Nava­jos resist­ed sub­or­di­na­tion into a homog­e­nized Aryan mass—the mech­a­nism by which Hitler turned ordi­nary Ger­mans into loy­al abet­tors of mass mur­der.
Through fash­ion and music, the Swing Kid clubs—like the rock­ers or punks of the U.S. and U.K. in lat­er decades—formed in con­scious resis­tance to social and polit­i­cal con­for­mi­ty. The Nava­jos wrote the fol­low­ing song, for exam­ple:
Hitler's dic­tates make us small,
we're yet bound in chains.
But one day we'll again walk tall,
no chain can us restrain.
For hard are our fists,
Yes! And knives at our wrists,
for youth to be free,
Nava­jos lay siege.
The ref­er­ences to vio­lence weren't pure­ly sym­bol­ic. Swing Kid gangs fought Hitler Youth in the streets. Some Swing Kids, writes Mes­syNChic, became known for "tag­ging pub­lic walls with anti-Nazi slo­gans like 'Down with Hitler!' and 'Medals for Mur­der!'. Throw­ing bricks through win­dows and sab­o­tag­ing cars of Nazi offi­cials… raid­ing mil­i­tary bases… derail­ing trains… even plan­ning to blow up the Gestapo HQ in Cologne." And as the edu­ca­tion­al site Music and the Holo­caust doc­u­ments, the Gestapo fought back "with spe­cial cru­el­ty" against Swing Boys and Swing Girls.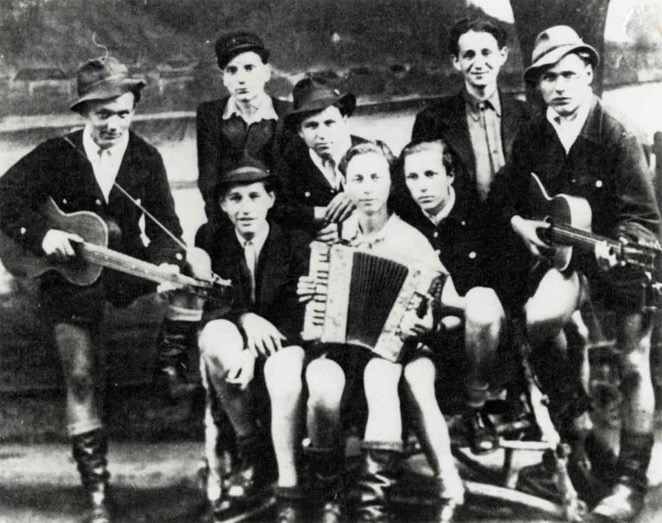 In Ham­burg, Swing Kids "had to endure dis­crim­i­nat­ing inter­ro­ga­tions, tor­ture and deten­tion." They land­ed in youth con­cen­tra­tion camps, and adult and Jew­ish "swing mem­bers… were deport­ed" to death camps in Bergen-Bel­son, Buchen­wald, Auschwitz, and else­where. Mes­syNChic claims that "a file com­piled by the Gestapo is said to have con­tained more than 3,000 names [of Swing Kids] already by the end of the 1930's in Cologne alone. In terms of num­bers, that would mean these youths rep­re­sent­ed a much larg­er resis­tance poten­tial than any oth­er oppo­si­tion group in Ger­many made up by adults."
Again, none of this orga­nized resis­tance con­sti­tut­ed an explic­it polit­i­cal pro­gram. "The Swing Kids them­selves nev­er intend­ed to have any polit­i­cal effects," writes Swingstyle, "they did not under­stand pol­i­tics" and "they turned their backs on the real­i­ty around them: the Jew­ish roundups, the death camps and the steady stream of man­pow­er reserves dis­ap­pear­ing into the caul­drons of Rus­sia and France." Swing was a means of escapism and iden­ti­fi­ca­tion with the more relaxed, per­mis­sive "par­adis­es" of Amer­i­ca and Britain.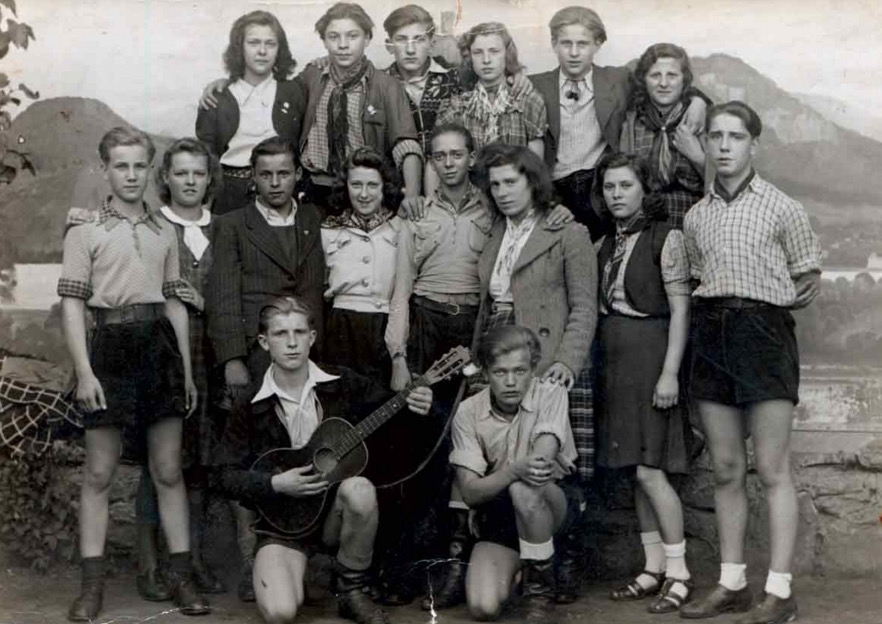 Like teenagers liv­ing under any regime, Swing Kids were main­ly moti­vat­ed by sex and the search for a good time. But per­haps the anar­chic strength of their most pri­mal instincts made these young peo­ple some of the most effec­tive resis­tance fight­ers against the Nazi obses­sion with puri­ty and order. Their lives—choreographed to the tunes of Count Basie and Ben­ny Goodman—were "in com­plete oppo­si­tion to the per­ceived Nation­al Social­ist con­cept of youth," con­cludes Swingstyle: "To the extent that the Swing Kids assumed Amer­i­can ideals of per­son­al free­dom, relaxed liv­ing, and appre­ci­a­tion of the 'low­er races'… they were a grave threat to the upside-down phi­los­o­phy of Nazism that sought to insu­late Ger­many from the rest of the world."
Their embrace of an inter­na­tion­al, racial­ly-mixed culture—jazz—was itself a rad­i­cal polit­i­cal act in Nazi Ger­many, even if they had no the­o­ret­i­cal con­cepts of what that embrace meant for the future of their coun­try. And their vio­lent rejec­tion of the Hitler Youth makes them even more com­pelling. It seems to me that the Swing Kids do indeed deserve a cel­e­bra­to­ry place in history—and maybe they deserve a bet­ter film as well.
Relat­ed Con­tent:
Hear the Nazi's Biz­zaro Pro­pa­gan­da Jazz Band, "Char­lie and His Orches­tra" (1940–1943)
The Nazis' 10 Con­trol-Freak Rules for Jazz Per­form­ers: A Strange List from World War II
Watch Lam­beth Walk—Nazi Style: The Ear­ly Pro­pa­gan­da Mash Up That Enraged Joseph Goebbels
Josh Jones is a writer and musi­cian based in Durham, NC. Fol­low him at @jdmagness