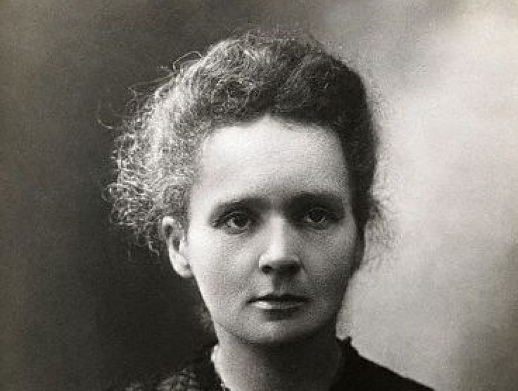 Marie Curie has long stood in the pantheon of scientists for her research on radioactivity — research so close to the subject that, as we posted about last year, her papers remain radioactive over a century later. She's also become the most prominent historical role model for female students with an interest in science, not least because of the obstacles she had to surmount to arrive at the position where she could do her research in the first place. Born in 19th-century Poland to a family financially humbled by their participation in political struggles for independence from Russia (whose authorities took laboratory instruction out of the country's schools), she hardly had a smooth road to follow, or even much of a road at all.
"I was only fifteen when I finished my high-school studies, always having held first rank in my class," Curie wrote of those years. "The fatigue of growth and study compelled me to take almost a year's rest in the country." But when she returned to the capital, she couldn't continue her formal learning there, given the University of Warsaw's refusal to admit women. So she continued her learning informally, getting involved with the "Flying University" (or "Floating University") that in the late 19th and early 20th century clandestinely offered an education in ever-changing locations, often private houses, throughout the city. (Over 5,000 Poles, male and female, benefited from its services, including the writer Zofia Nałkowska and doctor Janusz Korczak.)
Marie Curie and the Science of Radioactivity author Naomi Pasachoff writes that "the mission of the patriotic participants of the Floating University," as its name is also translated, "was to bring about Poland's eventual freedom by enlarging and strengthening its educated classes." Youngsters eager to read more about Curie's experience there might like to read Marie Curie and the Discovery of Radium, whose authors Ann E. Steinke and Roger Xavier write of Curie's experience listening to "lessons on anatomy, natural history, and sociology. In turn she gave lessons to women from poor families." She would later describe her time there as the origin of her interest in experimental scientific work.
With their sights set on Western Europe, Curie (then Maria Skłodowska) and her sister Bronislawa (known as Bronya) made a pact: "Maria would work as a governess to help pay for Bronya's medical studies in Paris. As soon as Bronya was trained and began to earn money, she would help cover the costs of Maria's university training." Curie earned two degrees in Paris in 1893 and 1894, and her first Nobel Prize in 1903. The Flying University lasted until 1905, and the operation would later return to activity in the late 1970s and early 80s with Poland under the thumb of communism. We now live in more enlightened times, with proper educations, scientific or otherwise, available to students male or female across most of the world — thanks to the will that drove unconventional institutions like the Flying University, and its unconventional students like Marie Curie.
Related Content:
Marie Curie's Research Papers Are Still Radioactive 100+ Years Later
New Archive Puts 1000s of Einstein's Papers Online, Including This Great Letter to Marie Curie
Free Online Physics Courses, a subset of our collection, 1,700 Free Online Courses from Top Universities
Based in Seoul, Colin Marshall writes and broadcasts on cities and culture. He's at work on a book about Los Angeles, A Los Angeles Primer, the video series The City in Cinema, the crowdfunded journalism project Where Is the City of the Future?, and the Los Angeles Review of Books' Korea Blog. Follow him on Twitter at @colinmarshall or on Facebook.