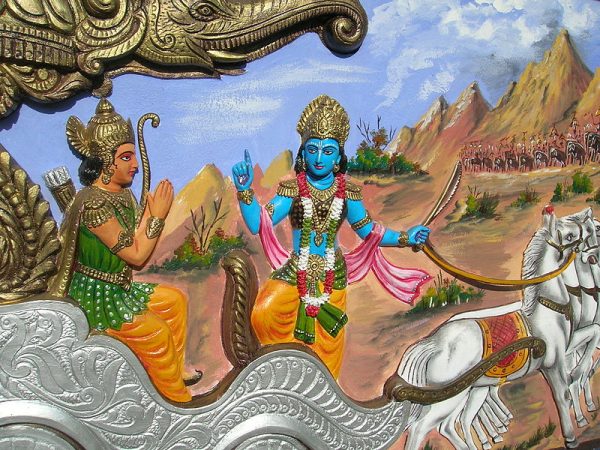 Krishna teaching Arjuna, from the Bhagavata Gita, by Arnab Dutta, via Wikimedia Commons
Opening with 19th century British Prime Minister Benjamin Disraeli's quote, "The East is a career," Edward Said's Orientalism traced the lineage of "the Orient" as "almost a European invention." Through discourses scientific, political, philosophical, cultural, and otherwise, European thinkers, artists, and statesmen, Said contended, "accepted the basic distinction between East and West as the starting point for elaborate theories, epics, novels, social descriptions and political accounts." But at the root of a long academic tradition of comparative analyses of "East" and "West,"—a relationship of dominance—there lay the recognition, however dim, that "The Orient is not only adjacent to Europe; it is also… the source of its civilizations and languages."
The cultural debts that Europe owed its colonies were not the kind of thing most politicians liked to discuss, but many European and U.S. writers and scholars fascinated with the East have long recognized religious and philosophical continuities between the two hemispheres. The number of conversations between so-called Western and Eastern traditions only increased as the 20th century wore on and European Empires crumbled, giving rise mid-century to a whole society of comparative East/West religionists and writers: D.T. Suzuki, Alan Watts, Herman Hesse, Aldous Huxley, Allen Ginsberg…. Although many Western scholars' pronouncements may have overgeneralized or distorted, interest in a dialogue has only grown since the 50s and 60s, and sympathetic presentations of Buddhism, Taoism, Hinduism, and other "Eastern religions" proliferated.
From this atmosphere emerged the work of Joseph Campbell, famous for The Hero with a Thousand Faces, published in 1949, a work of comparative religion that adopted a philological approach to myth like that of Campbell's own hero, Nietzsche. Campbell may have seen East and West as distinct cultural entities—titling one lecture "The Eastern Way" and another "The Western Quest"—but his theory did not allow for a strict cultural hierarchy. In his many recorded lectures, Campbell stresses the similarities and common origins of world traditions, which inhabit, he says, a "single constellation." We have a few of those talks in full in the 12 hour Spotify playlist on Eastern Spirituality above, including lectures on "Imagery of Rebirth Yoga" and "Hinduism," delivered in the late sixties.
We also have Christopher Isherwood reading selections from his translation with Swami Prabhavananda of the Bhagavad-Gita. Isherwood's famed embrace of Vedanta did much to foster inter-religious dialogue, and he left behind a "tremendous cache of self-revelatory works," writes American Vedantist, "including essays, lectures, novels, his diaries, and the autobiographical My Guru and His Disciple." Next to Campbell and Isherwood, we have Tibetan Buddhist authority the Dalai Lama giving an introductory lecture on Buddhism and a talk on "Cultivating Happiness." Rounding out the playlist is another introduction to Buddhism by Emma Hignett, a reading of the Tao te Ching, and a reading by Robert Hamilton of his fascinating comparative study of world religions, Caduceus.
While each of us could, of course, take it upon ourselves to learn Sanskrit, or Pali, or Chinese, translate ancient religious literature and draw our own conclusions, we can also partake of the work of scholars and writers who have invested deeply in their subject, personally and professionally, and returned with a great deal of wisdom about global spiritual traditions. The lectures on this playlist (if you need Spotify's free software, download it here) offer an excellent sampling of that wisdom and scholarship. You'll find much more on our site in work by Jorge Luis Borges, Alan Watts, Robert Thurman, the Dalai Lama, Herbie Hancock, Sonny Rollins, Leonard Cohen, and many more.
Related Content:
Martin Heidegger Talks Philosophy with a Buddhist Monk on German Television (1963)
The Wisdom of Alan Watts in Four Thought-Provoking Animations
The Dalai Lama's Introduction to Buddhism
48 Hours of Joseph Campbell Lectures Free Online: The Power of Myth & Storytelling
Josh Jones is a writer and musician based in Durham, NC. Follow him at @jdmagness.