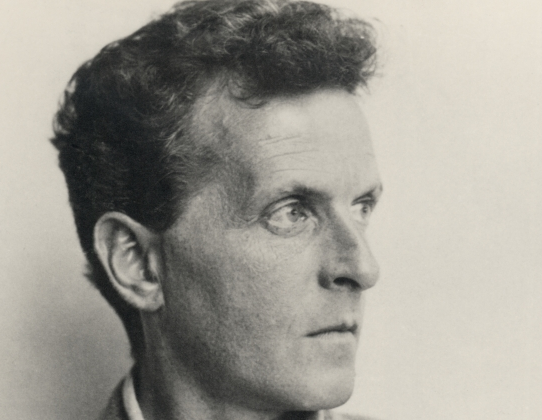 Image by Aus­tri­an Nation­al Library, via Wiki­me­dia Com­mons
What is it about Aus­tri­an philo­soph­i­cal prodi­gy Lud­wig Wittgen­stein's Trac­ta­tus Logi­co-Philo­soph­i­cus that so inspires artists? Jasper Johns, the Coen Broth­ers, Derek Jar­man…. Per­haps it's easy to see his appeal to writ­ers. His suc­cinct phi­los­o­phy of lan­guage con­tains a ground­break­ing claim, for its time, wrote Bertrand Rus­sell in his 1922 intro­duc­tion: "In order that a cer­tain sen­tence should assert a cer­tain fact there must… be some­thing in com­mon between the struc­ture of the sen­tence and the struc­ture of the fact."
There may be no high­er praise for care­ful, pre­cise lan­guage. Recall­ing the stock advice to "show, don't tell," Wittgen­stein assert­ed that what­ev­er bonds togeth­er the struc­ture of sen­tences and the struc­ture of the world, it is only some­thing we can show, not some­thing we can say. In this regard, Wittgen­stein also ele­vat­ed images, and he him­self had a keen eye for pho­tog­ra­phy and archi­tec­ture. Of course, the imag­i­na­tive, mys­ti­cal aspect of Wittgenstein's lit­tle book of apho­risms and sym­bols appeals to musi­cians and com­posers as well.
John Cage drew heav­i­ly on Wittgenstein's work and the Trac­ta­tus has been adapt­ed by oth­ers in musi­cal pieces rang­ing from the under­stat­ed and med­i­ta­tive to the com­i­cal­ly ridicu­lous. The adap­ta­tion above takes a stark oper­at­ic approach. Com­posed by Bal­duin Sulz­er, the "one woman opera," as the singer Anna Maria Pammer's site describes it (in Google trans­la­tion from Ger­man), "dri­ves the metic­u­lous­ness and insis­tence of the text on the top." Draw­ing on the work of the Sec­ond Vien­nese School, "the basic musi­cal idea comes from the music of the time of ori­gin of the Trac­ta­tus, i.e. the time of World War I."
Wittgen­stein has long been asso­ci­at­ed with Arnold Schoen­berg and the Trac­ta­tus has been called a "tone poem." The chill­i­ness, alter­nat­ing with rapid crescen­dos, with which Pam­mer deliv­ers the philo­soph­i­cal libret­to recalls the book's tenor, as well as Wittgenstein's tem­pera­ment more gen­er­al­ly. Giv­en to vio­lent out­bursts and fits of deri­sion, Wittgen­stein spent the first part of his life attempt­ing to cre­ate per­fect sys­tems— "a log­i­cal­ly per­fect lan­guage," wrote Rus­sell. In between this aus­tere pur­suit, he lived just as aus­tere­ly and some­times vio­lent­ly. John Cage's enact­ment of Wittgenstein's the­o­ries comes clos­er to the intent of "show don't tell," but Sulzer's adap­ta­tion per­haps best dra­ma­tizes the mys­ti­cal ellipses of Wittgenstein's first major work. If you need Spo­ti­fy's free soft­ware, down­load it here.
Relat­ed Con­tent:
Wittgenstein's Mas­ter­piece, the Trac­ta­tus Logi­co-Philo­soph­i­cus, Gets Turned into Beau­ti­ful, Med­i­ta­tive Music
Lud­wig Wittgenstein's Trac­ta­tus Gets Adapt­ed Into an Avant-Garde Com­ic Opera
In Search of Lud­wig Wittgenstein's Seclud­ed Hut in Nor­way: A Short Trav­el Film
The Pho­tog­ra­phy of Lud­wig Wittgen­stein
Free Online Phi­los­o­phy Cours­es
Down­load 135 Free Phi­los­o­phy eBooks: From Aris­to­tle to Niet­zsche & Wittgen­stein
Josh Jones is a writer and musi­cian based in Durham, NC. Fol­low him at @jdmagness