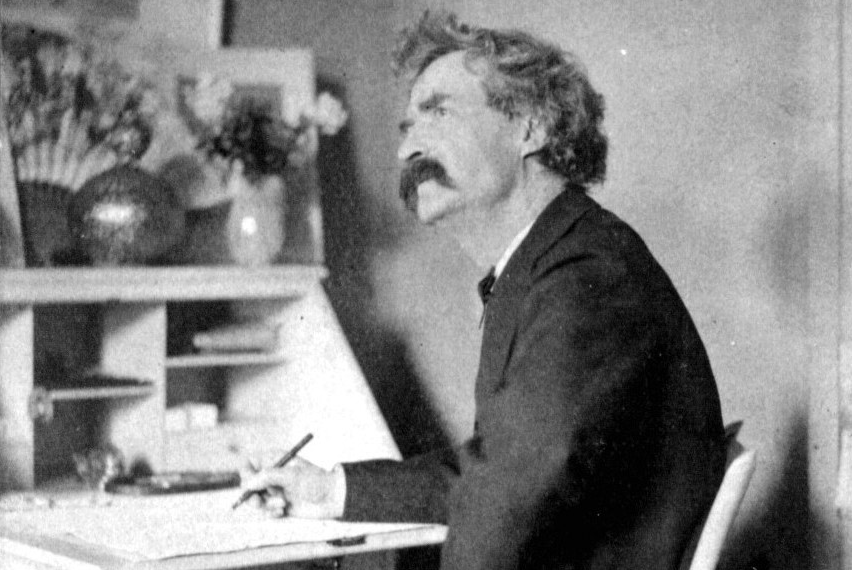 Thinking of taking a trip abroad? Or maybe relocating for good? Americans would do well, even 150 years hence, to attend to Mark Twain's satirical account of U.S. travelers journeying through Europe and Palestine, The Innocents Abroad. The "Americans who are painted to peculiar advantage by Mr. Clements" (sic), as fellow American satirist William Dean Howells wrote at the time, still roam the Earth—-including travelers like one who "told the English officers that a couple of our gunboats could come and knock Gibraltar into the Mediterranean Sea." The tactlessness and belligerence Twain skewered do not feel historically so far from home.
Twain's portraits—"somewhat caricatured… or carefully and exactly done"—proved so popular with readers that he followed up with an unofficial sequel, 1880's A Tramp Abroad, a somewhat more serious fictionalized travelogue of Americans journeying through Europe; this time but two, Twain and his friend "Harris." In the previous book, complained Howells, the reader learns "next to nothing about the population of the cities and the character of the rocks in the different localities." Here, without his comedy troupe of traveling companions, Twain directs his focus outward with minute descriptions of his surroundings. He is, as usual, supremely curious, often perplexed, but mostly delighted by his experiences. Except when it comes to the food.
Growing "increasingly tired of an abundance of what he described as 'fair-to-middling' food," writes Lists of Note, Twain comments: "The number of dishes is sufficient; but then it is such a monotonous variety of UNSTRIKING dishes […] Three or four months of this weary sameness will kill the robustest appetite." Having never spent so long a time away, I cannot speak to Twain's gustatory ennui, but I can relate, as no doubt can you, reader, to missing one or two familiar comfort foods (as well as "sincere and capable" ice water). Twain, perhaps not as adventurous an eater as he was a traveler—and in that sense also very much a modern American—made "an enormous list of the foods he'd missed the most, of which were to be consumed when he arrived home."
The list, below, is itself a kind of travelogue, through the varieties of 19th century American cuisine, East, West, North, and South, including such delicacies as "'Possum" "Canvas-back-duck from Baltimore," "Virginia bacon, broiled," "Prairie liens, from Illinois," and "Brook trout, from Sierra Nevadas." While we might pine for a regional delicacy or favorite processed food, Twain conjured up in his mind's gut a whole continent of food to come home to. What kinds of food do you find yourself missing when you travel? And how long a list might you find yourself making after several months tramping around in foreign lands? Tell us in the comments section below. For now, here's is Twain's list:
Radishes. Baked apples, with cream
Fried oysters; stewed oysters. Frogs.
American coffee, with real cream.
American butter.
Fried chicken, Southern style.
Porter-house steak.
Saratoga potatoes.
Broiled chicken, American style.
Hot biscuits, Southern style.
Hot wheat-bread, Southern style.
Hot buckwheat cakes.
American toast. Clear maple syrup.
Virginia bacon, broiled.
Blue points, on the half shell.
Cherry-stone clams.
San Francisco mussels, steamed.
Oyster soup. Clam Soup.
Philadelphia Terapin soup.
Oysters roasted in shell-Northern style.
Soft-shell crabs. Connecticut shad.
Baltimore perch.
Brook trout, from Sierra Nevadas.
Lake trout, from Tahoe.
Sheep-head and croakers, from New Orleans.
Black bass from the Mississippi.
American roast beef.
Roast turkey, Thanksgiving style.
Cranberry sauce. Celery.
Roast wild turkey. Woodcock.
Canvas-back-duck, from Baltimore.
Prairie liens, from Illinois.
Missouri partridges, broiled.
'Possum. Coon.
Boston bacon and beans.
Bacon and greens, Southern style.
Hominy. Boiled onions. Turnips.
Pumpkin. Squash. Asparagus.
Butter beans. Sweet potatoes.
Lettuce. Succotash. String beans.
Mashed potatoes. Catsup.
Boiled potatoes, in their skins.
New potatoes, minus the skins.
Early rose potatoes, roasted in the ashes, Southern style, served hot.
Sliced tomatoes, with sugar or vinegar. Stewed tomatoes.
Green corn, cut from the ear and served with butter and pepper.
Green corn, on the ear.
Hot corn-pone, with chitlings, Southern style.
Hot hoe-cake, Southern style.
Hot egg-bread, Southern style.
Hot light-bread, Southern style.
Buttermilk. Iced sweet milk.
Apple dumplings, with real cream.
Apple pie. Apple fritters.
Apple puffs, Southern style.
Peach cobbler, Southern style
Peach pie. American mince pie.
Pumpkin pie. Squash pie.
All sorts of American pastry.
Fresh American fruits of all sorts, including strawberries which are not to be doled out as if they were jewelry, but in a more liberal way. 
Ice-water—not prepared in the ineffectual goblet, but in the sincere and capable refrigerator.
Related Content:
Mark Twain Drafts the Ultimate Letter of Complaint (1905)
Mark Twain Creates a List of His Favorite Books For Adults & Kids (1887)
Foodie Alert: New York Public Library Presents an Archive of 17,000 Restaurant Menus (1851-2008)
Josh Jones is a writer and musician based in Durham, NC. Follow him at @jdmagness