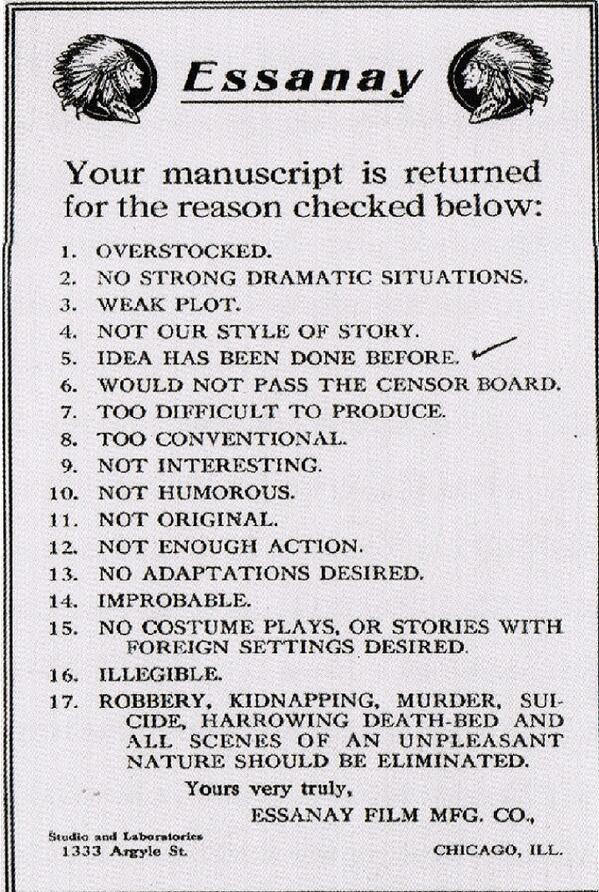 Born during the era of silent movies, the Essanay Film Manufacturing Company produced a series of Charlie Chaplin films in 1915, most notably including The Tramp. The Essanay document above shows us one thing: It didn't take long for the film industry to master the cold rejection letter. Filmmakers could pour their heart and soul into writing a script. And what did they get in return? A list of 17 possible reasons to reject a manuscript, with a deflating check mark next to a particular item. That's it. No further explanation offered.
Essanay closed in 1925, probably to the delight of some. You can still find some of Essanay's films in our collection of 65 Free Charlie Chaplin Films Online.
Would you like to support the mission of Open Culture? Please consider making a donation to our site. It's hard to rely 100% on ads, and your contributions will help us continue providing the best free cultural and educational materials to learners everywhere.
Also consider following Open Culture on Facebook and Twitter and sharing intelligent media with your friends. Or sign up for our daily email and get a daily dose of Open Culture in your inbox. 
Related Content:
Gertrude Stein Gets a Snarky Rejection Letter from Publisher (1912)
Read Rejection Letters Sent to Three Famous Artists: Sylvia Plath, Kurt Vonnegut & Andy Warhol
No Women Need Apply: A Disheartening 1938 Rejection Letter from Disney Animation
T.S. Eliot, as Faber & Faber Editor, Rejects George Orwell's "Trotskyite" Novel Animal Farm (1944)