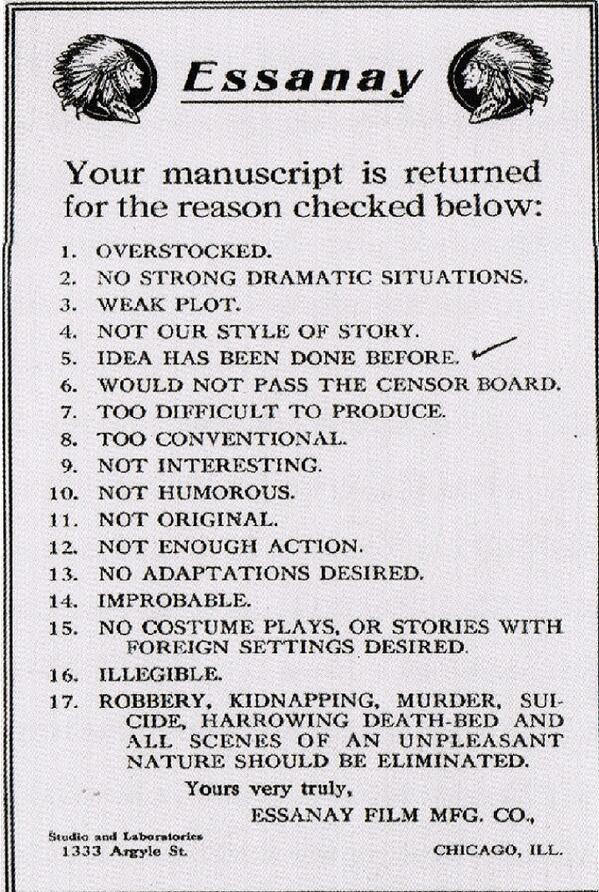 Born dur­ing the era of silent movies, the Essanay Film Man­u­fac­tur­ing Com­pa­ny pro­duced a series of Char­lie Chap­lin films in 1915, most notably includ­ing The Tramp. The Essanay doc­u­ment above shows us one thing: It did­n't take long for the film indus­try to mas­ter the cold rejec­tion let­ter. Film­mak­ers could pour their heart and soul into writ­ing a script. And what did they get in return? A list of 17 pos­si­ble rea­sons to reject a man­u­script, with a deflat­ing check mark next to a par­tic­u­lar item. That's it. No fur­ther expla­na­tion offered.
Essanay closed in 1925, prob­a­bly to the delight of some. You can still find some of Essanay's films in our col­lec­tion of 65 Free Char­lie Chap­lin Films Online.
If you would like to sign up for Open Culture's free email newslet­ter, please find it here.
If you would like to sup­port the mis­sion of Open Cul­ture, con­sid­er mak­ing a dona­tion to our site. It's hard to rely 100% on ads, and your con­tri­bu­tions will help us con­tin­ue pro­vid­ing the best free cul­tur­al and edu­ca­tion­al mate­ri­als to learn­ers every­where. You can con­tribute through Pay­Pal, Patre­on, and Ven­mo (@openculture). Thanks!
Relat­ed Con­tent:
Gertrude Stein Gets a Snarky Rejec­tion Let­ter from Pub­lish­er (1912)
Read Rejec­tion Let­ters Sent to Three Famous Artists: Sylvia Plath, Kurt Von­negut & Andy Warhol
No Women Need Apply: A Dis­heart­en­ing 1938 Rejec­tion Let­ter from Dis­ney Ani­ma­tion
T.S. Eliot, as Faber & Faber Edi­tor, Rejects George Orwell's "Trot­skyite" Nov­el Ani­mal Farm (1944)