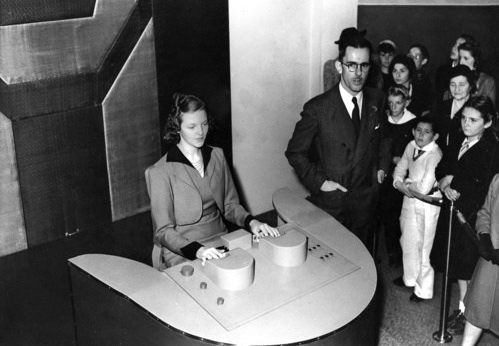 Whether from Stephen Hawking, Siri, or anyone in between, we've all heard quite a lot of electronically synthesized speech by now. But less than eighty years ago, the very idea of a human-sounding voice produced in a mechanical manner inspired wonder and disturbance in equal measure. The everyman and everywoman got their first chance to hear such a technology at the 1939 New York World's Fair, during its hourly demonstrations of the very first speech synthesizer, the "Voder." Who, they must have imagined as they stood before its booming square-jawed-Art-Deco-hero logo, could have invented such a thing?
Homer Dudley, an electronic and acoustic engineer at Bell Labs, had in the 1920s invented the "Vocoder" (or "Voice Operated reCorDER"), a device that could convert human speech into an electronic signal and then, somewhere else down the like, turn that signal back into speech again.
For the Voder (or "Voice Operation DEmonstratoR") he took the initial voice out of the signal, creating a kind of synthesizer dedicated to the sounds of speech that one could operate manually, through an interface somewhat resembling that of an organ. Its controls (which you can see diagrammed at 120 Years of Electonic Music) presented a steep enough learning curve that fewer than thirty people, mostly the "girls" employed for the Voder's demonstrations, ever learned to play it.
Though impressive for the time (the other feat of artificial humanity at that World's Fair being Electro the Smoking Robot), "the Voder's speech came out a little hard to understand, and even a bit unsettling," according to Atlas Obscura. "The Voder was shown again during San Francisco's Golden Gate International Exposition in late 1939, but after that, the machine disappeared almost instantly." Speech synthesis itself, by contrast, had come to stay, though progress would remain relatively slow for the next four or five decades. Now, in the 21st century, it exists all around us, and despite considerable improvements in realism, its voices still retain a bit of the unearthly awkwardness of the Voder — and we probably wouldn't have it any other way.
Related Content:
Download the Software That Provides Stephen Hawking's Voice
Monty Python's "Argument Clinic" Sketch Reenacted by Two Vintage Voice Synthesizers (One Is Stephen Hawking's Voice)
Soviet Inventor Léon Theremin Shows Off the Theremin, the Early Electronic Instrument That Could Be Played Without Being Touched (1954)
Based in Seoul, Colin Marshall writes and broadcasts on cities and culture. He's at work on a book about Los Angeles, A Los Angeles Primer, the video series The City in Cinema, the crowdfunded journalism project Where Is the City of the Future?, and the Los Angeles Review of Books' Korea Blog. Follow him on Twitter at @colinmarshall or on Facebook.