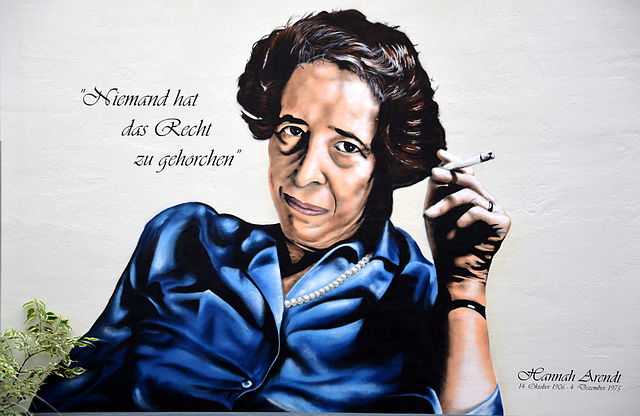 Image by Bernd Schwabe, via Wikimedia Commons
At least when I was in grade school, we learned the very basics of how the Third Reich came to power in the early 1930s. Paramilitary gangs terrorizing the opposition, the incompetence and opportunism of German conservatives, the Reichstag Fire. And we learned about the critical importance of propaganda, the deliberate misinforming of the public in order to sway opinions en masse and achieve popular support (or at least the appearance of it). While Minister of Propaganda Joseph Goebbels purged Jewish and leftist artists and writers, he built a massive media infrastructure that played, writes PBS, "probably the most important role in creating an atmosphere in Germany that made it possible for the Nazis to commit terrible atrocities against Jews, homosexuals, and other minorities."
How did the minority party of Hitler and Goebbels take over and break the will of the German people so thoroughly that they would allow and participate in mass murder? Post-war scholars of totalitarianism like Theodor Adorno and Hannah Arendt asked that question over and over, for several decades afterward. Their earliest studies on the subject looked at two sides of the equation. Adorno contributed to a massive volume of social psychology called The Authoritarian Personality, which studied individuals predisposed to the appeals of totalitarianism. He invented what he called the F-Scale ("F" for "fascism"), one of several measures he used to theorize the Authoritarian Personality Type.
Arendt, on the other hand, looked closely at the regimes of Hitler and Stalin and their functionaries, at the ideology of scientific racism, and at the mechanism of propaganda in fostering "a curiously varying mixture of gullibility and cynicism with which each member… is expected to react to the changing lying statements of the leaders." So she wrote in her 1951 Origins of Totalitarianism, going on to elaborate that this "mixture of gullibility and cynicism… is prevalent in all ranks of totalitarian movements":
In an ever-changing, incomprehensible world the masses had reached the point where they would, at the same time, believe everything and nothing, think that everything was possible and nothing was true… The totalitarian mass leaders based their propaganda on the correct psychological assumption that, under such conditions, one could make people believe the most fantastic statements one day, and trust that if the next day they were given irrefutable proof of their falsehood, they would take refuge in cynicism; instead of deserting the leaders who had lied to them, they would protest that they had known all along that the statement was a lie and would admire the leaders for their superior tactical cleverness.
Why the constant, often blatant lying? For one thing, it functioned as a means of fully dominating subordinates, who would have to cast aside all their integrity to repeat outrageous falsehoods and would then be bound to the leader by shame and complicity. "The great analysts of truth and language in politics"—writes McGill University political philosophy professor Jacob T. Levy—including "George Orwell, Hannah Arendt, Vaclav Havel—can help us recognize this kind of lie for what it is…. Saying something obviously untrue, and making your subordinates repeat it with a straight face in their own voice, is a particularly startling display of power over them. It's something that was endemic to totalitarianism."
Arendt and others recognized, writes Levy, that "being made to repeat an obvious lie makes it clear that you're powerless." She also recognized the function of an avalanche of lies to render a populace powerless to resist, the phenomenon we now refer to as "gaslighting":
The result of a consistent and total substitution of lies for factual truth is not that the lie will now be accepted as truth and truth be defamed as a lie, but that the sense by which we take our bearings in the real world—and the category of truth versus falsehood is among the mental means to this end—is being destroyed.
The epistemological ground thus pulled out from under them, most would depend on whatever the leader said, no matter its relation to truth. "The essential conviction shared by all ranks," Arendt concluded, "from fellow traveler to leader, is that politics is a game of cheating and that the 'first commandment' of the movement: 'The Fuehrer is always right,' is as necessary for the purposes of world politics, i.e., world-wide cheating, as the rules of military discipline are for the purposes of war."
"We too," writes Jeffrey Isaacs at The Washington Post, "live in dark times"—an allusion to another of Arendt's sobering analyses—"even if they are different and perhaps less dark." Arendt wrote Origins of Totalitarianism from research and observations gathered during the 1940s, a very specific historical period. Nonetheless the book, Isaacs remarks, "raises a set of fundamental questions about how tyranny can arise and the dangerous forms of inhumanity to which it can lead." Arendt's analysis of propaganda and the function of lies seems particularly relevant at this moment. The kinds of blatant lies she wrote of might become so commonplace as to become banal. We might begin to think they are an irrelevant sideshow. This, she suggests, would be a mistake.
via Michiko Kakutani
Related Content:
Hannah Arendt's Original Articles on "the Banality of Evil" in the New Yorker Archive
Enter the Hannah Arendt Archives & Discover Rare Audio Lectures, Manuscripts, Marginalia, Letters, Postcards & More
Hannah Arendt Discusses Philosophy, Politics & Eichmann in Rare 1964 TV Interview
Josh Jones is a writer and musician based in Durham, NC. Follow him at @jdmagness