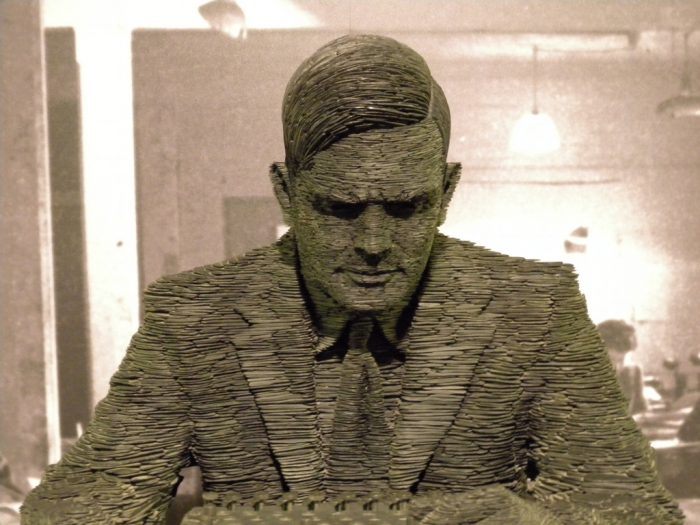 Creative Commons image by Steve Parker
It can seem like a cruel irony that some of the most celebrated people of our day didn't receive the same acclaim during their sometimes troubled lives. Van Gogh may have been on the cusp of fame when he died despairing and broke, but few could have imagined then that he would be the universally beloved and admired artist he became in the following decades. (A recent Doctor Who episode poignantly imagined Van Gogh traveling to our time to witness his legacy.) In a more recent example in the sciences, the book—now film—Hidden Figures celebrates three previously unsung African-American women: mathematicians, or "human computers," whose calculations were instrumental to NASA's success but whose accomplishments were obscured by prejudice.
The same could not quite be said for Alan Turing, another genius recently celebrated in a multiple-award-winning Hollywood film, award-winning documentary, and spate of articles, essays, and books. Turing was viciously persecuted for his homosexuality by the state, and he has often been unfairly characterized in many portrayals since.
In 1952, he was convicted of "gross indecency" for a relationship with another man and given the choice between prison and chemical castration. The brilliant English mathematician, codebreaker, and father of modern computing and artificial intelligence chose the latter, and the physical and psychological effects were so demoralizing that he took his own life two years later—perhaps grimly inspiring the Apple logo as he enacted his favorite scene from Snow White (a matter in some dispute, it should be noted).
Turing "left behind a lasting legacy," note the makers of the docu-drama Codebreakers, "and lingering questions about what else he might have accomplished if society had embraced his unique genius instead of rejecting it." It's not fair to say that society rejected his genius—perhaps even more tragically, it rejected his full humanity. Turing's genius, though cut short at 41, received its due, inspiring, since 1966, the highest award in computer science. His famed "Turing test" became the standard by which nearly all attempts at artificial intelligence have been measured. In addition to those films, books, and essays, Turing has been much lauded in musical productions, namely the Pet Shop Boys "orchestral pop biography" A Man From the Future and a 30-minute oratorio by Adam Gopnik and composer Nico Muhly called Sentences.
And now, a new two-act opera, The Life and Death(s) of Alan Turing, was presented to the public for the first time, in its entirety, on January 12th at New York's American Lyric Theater (ALT). Commissioned in 2012, and written by composer Justine Chen with a libretto by David Simpatico, the opera is "a historic-fantasia on Turing's life" that does not obscure the man as it acknowledges his genius. Many critics felt that 2014's The Imitation Game "obfuscated his sexuality and desexualized him in an attempt to make the story more mainstream," remarks Shawn Milnes at The Daily Beast. "He was not a sexual creature in this movie," agrees Simpatico. "He was in the closet." That impression of Turing's personal life has almost become commonplace. And yet the truth "couldn't be more opposite," Simpatico argues.
He was completely out. He was out upon meeting people. He would say, 'How are you doing? I'm a homosexual. Will you have a problem with that? No.' He was out to everybody. The movie makes it feel like he had something to hide.
Fully acknowledging all of the dimensions of Turing's life allows the opera–The Life and Death(s) of Alan Turing— to draw deeply moving arias from his biography like "Cave of Wonders," above, in which Turing expresses "his grief over the loss of his first love," Christopher Morcom, a fellow grade school student who died young in 1930. Turing was "openly devastated" by the event, writes L.V. Anderson at Slate, "and he subsequently developed a relationship with Morcom's family, going on vacations with them and maintaining a correspondence with Morcom's mother for years. In The Imitation Game, by contrast, he "denies having known Christopher very well" in a flashback scene.
The music of the opera's Prologue, above, owes a debt to composers like Steve Reich and John Adams, with its pulsing piano and cacophony of voices, simulating, perhaps, the rush of thought in Turing's brilliant mind. At the ALT site, you can hear a further excerpt from the opera, "The Social Contract," which dramatizes the pressure Turing's mother put on him to marry, and his subsequent consideration of a marriage of convenience to his colleague in cryptoanalysis, Joan Clarke. In the opera, writes Milnes, Simpatico had the idea of "fusing sex and intellect on stage" in order to balance Turing's portrayal and "see who the person was," as he puts it. As Simpatico says, the tragically persecuted genius "had no division between his sexual, sensual, physical carnal self and his intellectual, cerebral, interior self." Only people who couldn't take them both together seemed to have found it necessary to separate the two, and thus do terrible damage to the man as a whole.
Related Content:
The Books on Young Alan Turing's Reading List: From Lewis Carroll to Modern Chromatics
Hear the First Recording of Computer Music: Researchers Restore Three Melodies Programmed on Alan Turing's Computer (1951)
Benedict Cumberbatch Reads a Letter Alan Turing Wrote in "Distress" Before His Conviction For "Gross Indecency"
Vincent van Gogh Visits a Modern Museum & Gets to See His Artistic Legacy: A Touching Scene from Doctor Who
Josh Jones is a writer and musician based in Durham, NC. Follow him at @jdmagness