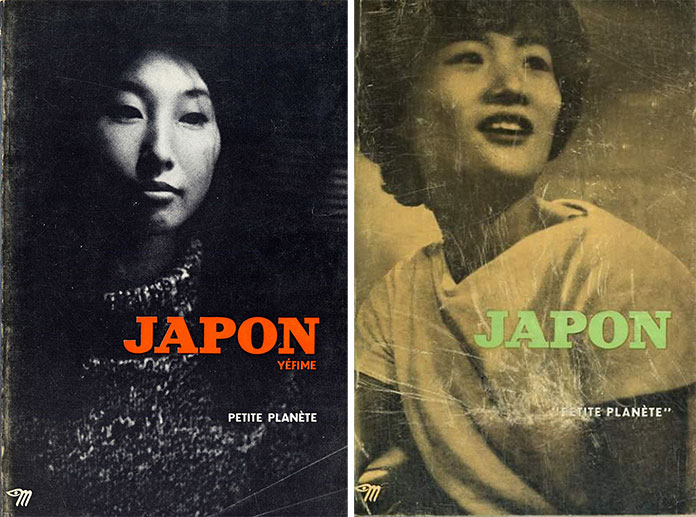 "In another time I guess I would have been content with filming girls and cats," said Chris Marker. "But you don't choose your time." Though the inimitable filmmaker, writer, and media artist couldn't choose his time, he did enjoy a decently sized slice of it, passing away in 2012 on his 91st birthday. His six-decade career's best-known achievements include the innovative science-fiction short La Jetée and the semi-fictional travelogue essay-film masterpiece Sans Soleil, but Marker's vast body of work, most all of it deeply concerned with the combination of words and images, covers a much wider territory — aesthetic territory, of course, but given Marker's peripatetic tendencies, also physical territory, scattered all across the globe.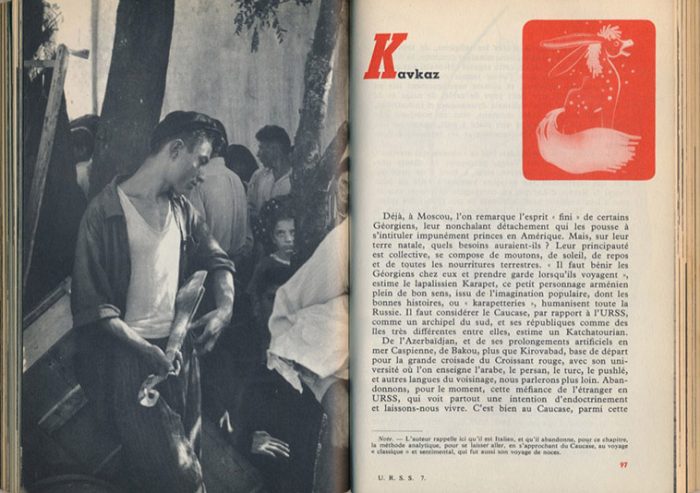 Perhaps that sensibility landed Marker, 33 years old and with his most famous work ahead of him, a job as an editor at Paris' Editions de Seuil, where he conceived and designed a series of travel guides called Petite Planète. He considered each volume "not a guidebook, not a history book, not a propaganda brochure, not a traveller's impressions, but instead equivalent to the conversation we would like to have with someone intelligent and well versed in the country that interests us." Launched "nearly a decade after World War II," writes Isabel Stevens at Aperture," the first time when "foreign locales seemed tantalizingly within reach, Éditions du Seuil introduced the books rather charmingly as 'the world for everyone.'"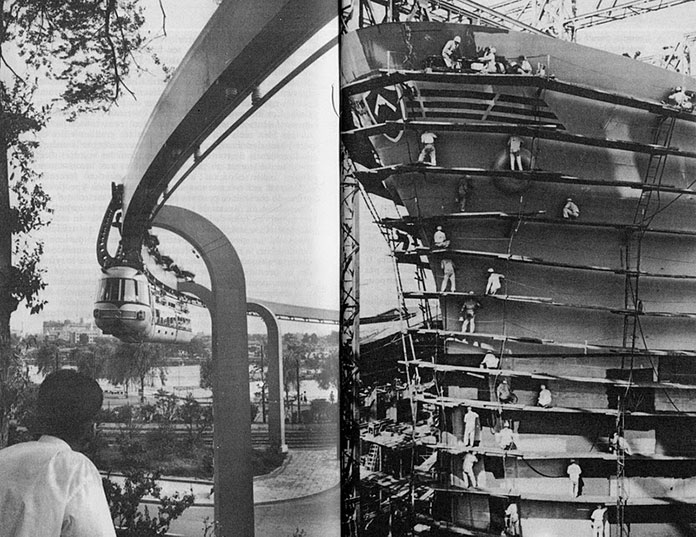 "Apart from the ambition to provide something different from run-of-the-mill guidebooks, histories, or travelers' tales," writes Catherine Lupton in Chris Marker: Memories of the Future, "the most innovative aspect of the Petite Planète guides was their lavish use of illustrations, which were displayed not merely as support to the text but in dynamic layouts that established an unprecedented visual and cognitive relay between text and images." Though Marker contributed some of his own photographs (as did his French New Wave colleague Agnès Varda), his chief creative contribution came in blending these and a variety of "engravings, miniatures, popular graphic illustrations, picture postcards, maps, cartoons, postage stamps, posters, and advertisements" into "a heady and heterogenous mix of high cultural and mass-market scenes," all arranged with the words in "a manner that engages knowingly and playfully with the parameters of the book."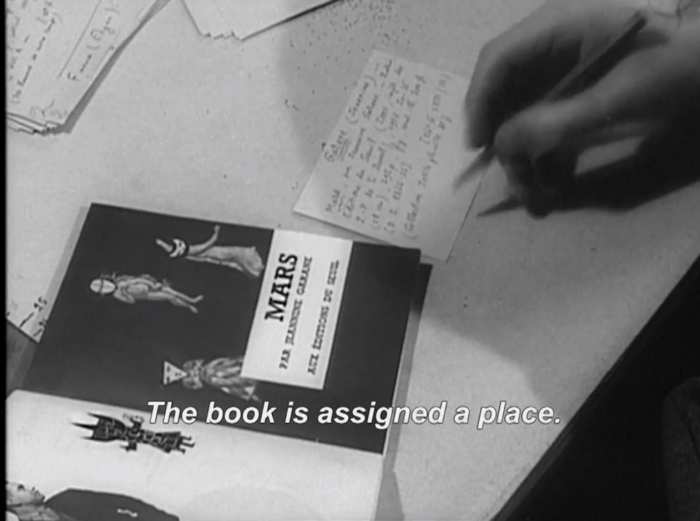 True Marker exegetes will find plenty of connections between Petite Planète and the rest of his oeuvre. Though no cats ever made the covers, plenty of girls did — or rather, plenty of women did, since a local female face fronted every title he oversaw. One of those faces, gazing statue-like from one volume on Japan, will look awfully familiar to anyone who's seen Le mystère Koumiko, Marker's documentary on a young lady he met in the street while in Tokyo for the 1964 Olympics. And in Toute la mémoire du monde, Alain Resnais' short on France's Bibliothèque Nationale made in collaboration with a certain "Chris and Magic Marker," we witness the cataloging and shelving of a Petite Planète never written — and one that actually departs from the planet at that.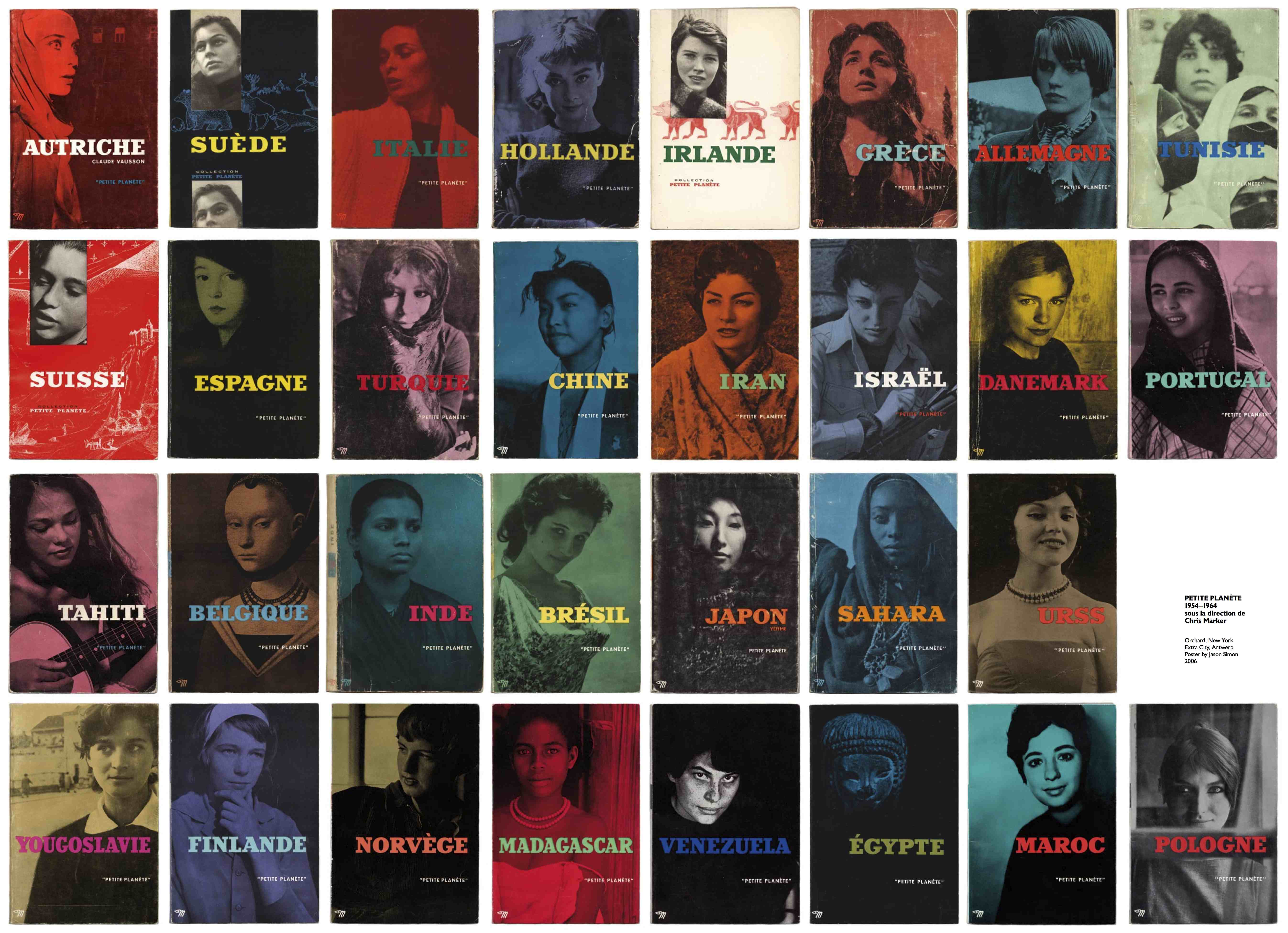 Around the same time, Marker published Coréennes, a highly Markeresque visual travelogue of war-torn North Korea. I recently wrote about its Korean edition for the Los Angeles Review of Books, though the long-out-of-print English version remains hard to come by. The same goes for the Marker-designed Petite Planète books, translations of which London's Vista Books put out in the 1950s and 60s, and about which Adam Davis at Division Leap has begun a series of posts with a look at Germany. You can examine more of the originals at Let's Get Lost, Index Grafix, SÜRKRÜT, and this slide show from The Ressiabator. Our hyperconnected era, at a distance of sixty years, places us well to understand the meaning of Marker's statement on his travel-guide project: "We see the world escape us at the same time as we become more aware of our links with it."
Related Content:
The Owl's Legacy: Chris Marker's 13-Part Search for Western Culture's Foundations in Ancient Greece
How Chris Marker's Radical SciFi Film, La Jetée, Changed the Life of Cyberpunk Prophet, William Gibson
Vintage 1930s Japanese Posters Artistically Market the Wonders of Travel
Based in Seoul, Colin Marshall writes and broadcasts on cities and culture. He's at work on a book about Los Angeles, A Los Angeles Primer, the video series The City in Cinema, the crowdfunded journalism project Where Is the City of the Future?, and the Los Angeles Review of Books' Korea Blog. Follow him on Twitter at @colinmarshall or on Facebook.