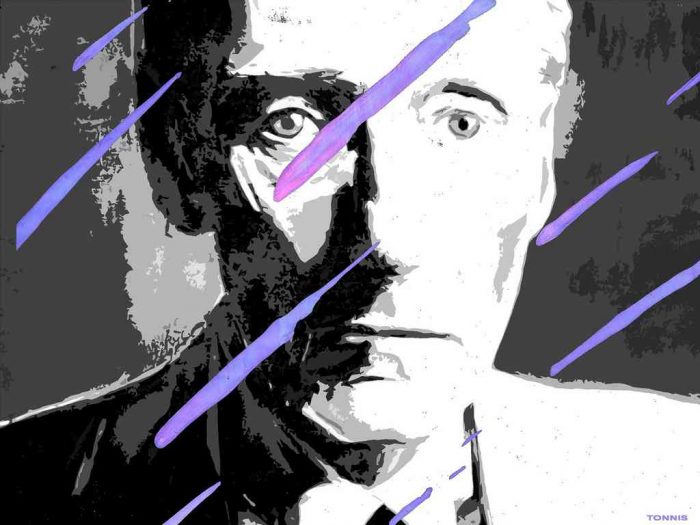 Image via Chris­ti­aan Ton­nis
Amer­i­cans can be quite igno­rant of the rich­ness of our coun­try's cul­tur­al his­to­ry. Part of this igno­rance, I sus­pect, comes down to prej­u­dice. Inno­v­a­tive Amer­i­can artists through­out his­to­ry have come from groups often demo­nized and mar­gin­al­ized by the wider soci­ety. The dom­i­nance of cor­po­rate com­merce also impov­er­ish­es the cul­tur­al land­scape. Poet­ry and exper­i­men­tal art don't sell much, so some peo­ple think they have lit­tle val­ue.
Imag­ine if we were to invert these atti­tudes in pub­lic opin­ion: Amer­i­can poet­ry and art allow us to gain new per­spec­tives from peo­ple and parts of the coun­try we don't know well; to enlarge and chal­lenge our reli­gious and polit­i­cal under­stand­ing; to expe­ri­ence a very dif­fer­ent kind of econ­o­my, built on aes­thet­ic inven­tion and free intel­lec­tu­al enter­prise rather than sup­ply, demand, and prof­it. Cre­ativ­i­ty and finance are not, of course, mutu­al­ly exclu­sive. But to con­sis­tent­ly favor one at the expense of the oth­er seems to me a great loss to every­one.
We find our­selves now in such a sit­u­a­tion, as pub­lic uni­ver­si­ties, the Nation­al Endow­ment for the Arts, the Nation­al Endow­ment for the Human­i­ties, and the Cor­po­ra­tion for Pub­lic Broad­cast­ing face severe cuts or pos­si­ble de-fund­ing.
Such a polit­i­cal move would dev­as­tate many of the insti­tu­tions that fos­ter and pre­serve the country's art and cul­ture, and rel­e­gate the arts to the pri­vate sphere, where only sums of pri­vate mon­ey deter­mine whose voic­es get heard. We can, how­ev­er, be very appre­cia­tive of pri­vate insti­tu­tions who make their col­lec­tions pub­lic through open access libraries like the Inter­net Archive.
One such col­lec­tion comes from the Dig­i­tal Ini­tia­tives Unit of Deck­er Library at the Mary­land Insti­tute Col­lege of Art (MICA), one of the old­est art col­leges in the U.S., and one of the most high­ly regard­ed. They have dig­i­tal­ly donat­ed to Archive.org "a num­ber of rare and pre­vi­ous­ly unre­leased audio record­ings," they write in a press release, "span­ning the 1960s through the late 1990s" and con­sist­ing of "over 700 audio­cas­sette tapes" doc­u­ment­ing "lit­er­a­ture and poet­ry read­ings, fine art and design lec­tures, race and cul­ture dis­cus­sions" and col­lege events.
These include (enter the archive here) a two hour poet­ry read­ing from Allen Gins­berg in 1978, at the top, with sev­er­al oth­er read­ings and talks from Gins­berg in the archive, the read­ing below it from Eileen Myles in 1992, and read­ings and talks above and below from Amiri Bara­ka, Anne Wald­man, and William S. Bur­roughs. The col­lec­tion rep­re­sents a "strong focus on lit­er­a­ture and poet­ry," and fea­tures "a sym­po­sium on the Black Moun­tain poets." Giv­en the school's mis­sion, you'll also find in the archive "a large selec­tion of talks and lec­tures by visu­al artists, such as Elaine de Koon­ing, Alice Neel, Gor­don Parks, Ad Rhine­hart and Ben Shahn."
Col­lec­tions like this one from MICA and the Inter­net Archive allow any­one with inter­net access to expe­ri­ence in some part the breadth and range of Amer­i­can art and poet­ry, no mat­ter their lev­el of access to pri­vate insti­tu­tions and sources of wealth. But the inter­net can­not ful­ly replace or sup­plant the need for pub­licly fund­ed arts ini­tia­tives in com­mu­ni­ties nation­wide.
Relat­ed Con­tent:
An 18-Hour Playlist of Read­ings by the Beats: Ker­ouac, Gins­berg & Even Bukows­ki Too
13 Lec­tures from Allen Ginsberg's "His­to­ry of Poet­ry" Course (1975)
Hear Allen Gins­berg Teach "Lit­er­ary His­to­ry of the Beats": Audio Lec­tures from His 1977 & 1981 Naropa Cours­es
Josh Jones is a writer and musi­cian based in Durham, NC. Fol­low him at @jdmagness