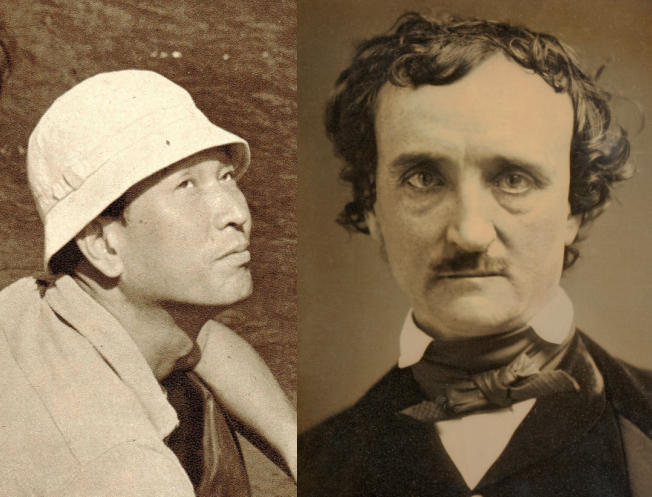 The filmmakers we most respect tend not to stop working until the very end, and so almost always leave pieces of incomplete projects behind. Stanley Kubrick did, giving Steven Spielberg the chance to pick up where his elder colleague left off on the sci-fi drama A.I.: Artificial Intelligence. That film began in the late 1970s as an adaptation of Brian Aldiss' short story "Supertoys Last All Summer Long," but over the decades became something more technically complex, and — given Spielberg's involvement — more emotional. What, now, will emerge from the resurrection of Akira Kurosawa's The Mask of the Black Death, a similarly unmade adaptation of Edgar Allan Poe's "The Masque of the Red Death"?
"Chinese studios Huayi Brothers and CKF Pictures will produce the film based on the late Japanese filmmaker's screenplay," reported Indiewire's Yoselin Acevedo last week. "He started penning the film right after his 1975's Dersu Uzala.
Originally, the project was supposed to be filmed in 1998, but was shelved after Kurosawa suffered a stroke, and later died that same year." Kurosawa intended to set his version of "The Masque of the Red Death" in Russia, where he'd made Dersu Uzala, and in an early twentieth century when, according to a Cinephilia & Beyond post featuring an English translation of the screenplay, "humanity is faced with a deadly contagion, and people's characters, resilience and survival are being tested as the society is pushed well into the brinks of despair and possible annihilation."
"The 'Red Death,'" wrote Poe, "had long devastated the country. No pestilence had ever been so fatal, or so hideous." A prince of this unnamed land summoned "a thousand hale and light-hearted friends from among the knights and dames of his court, and with these retired to the deep seclusion of one of his castellated abbeys," lavishly supplied behind its tightly barred doors. "With such precautions the courtiers might bid defiance to contagion. The external world could take care of itself. In the meantime it was folly to grieve, or to think." But months later, at the stroke of midnight during one of the prince's masquerade balls, a "masked figure which had arrested the attention of no single individual before" makes itself seen, provoking "a buzz, or murmur, expressive of disapprobation and surprise — then, finally, of terror, of horror, and of disgust."
One imagines that such a milieu, as anyone who's seen the ominous revelry on display in Eyes Wide Shut, might have appealed to Kubrick as well. It certainly appealed to prolific "B-movie" producer Roger Corman, the man responsible for a 1964 adaptation starring Vincent Price and another 25 years later starring Adrian Paul from Highlander. But Kurosawa, a filmmaker who showed a strong thematic interest in the upper classes' disregard for the rest of society in everything from katana-and-topknots period pieces like Seven Samurai to modern-day crime stories like High and Low, could have done Poe's chilling Gothic tale special justice. As for whether Huayi Brothers and CKF Pictures can do justice to Kurosawa's vision, his fans will find out in 2020 — perhaps walled tightly up in their home theaters with his classic pictures until then.
Related Content:
Akira Kurosawa's Advice to Aspiring Filmmakers: Write, Write, Write and Read
Akira Kurosawa & Gabriel García Márquez Talk About Filmmaking (and Nuclear Bombs) in Six Hour Interview
When Akira Kurosawa Watched Solaris with Andrei Tarkovsky: I Was "Very Happy to Find Myself Living on Earth"
William S. Burroughs Reads Edgar Allan Poe's "The Masque of the Red Death"
Download The Complete Works of Edgar Allan Poe: Macabre Stories as Free eBooks & Audio Books
Based in Seoul, Colin Marshall writes and broadcasts on cities and culture. He's at work on a book about Los Angeles, A Los Angeles Primer, the video series The City in Cinema, the crowdfunded journalism project Where Is the City of the Future?, and the Los Angeles Review of Books' Korea Blog. Follow him on Twitter at @colinmarshall or on Facebook.