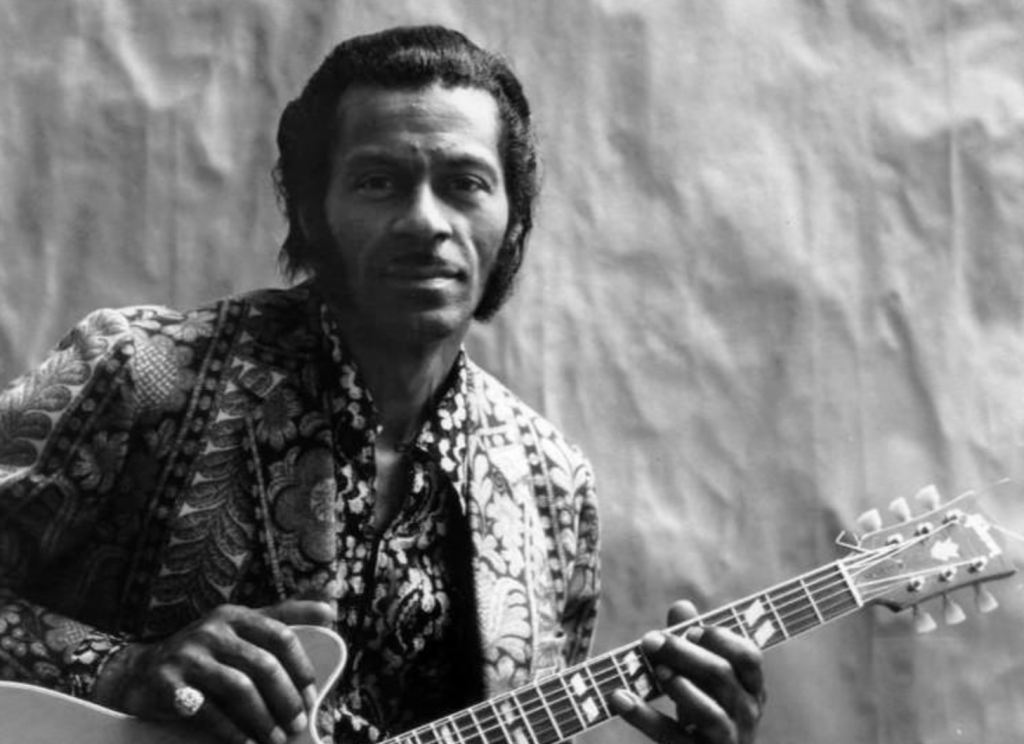 Image via Wiki­me­dia Com­mons
When the punk wave broke in the UK and the States in the mid-1970s, it threat­ened to leave behind the estab­lished rock bands that once seemed so rebel­lious. Pete Town­shend, the gui­tar-smash­ing song­writer of The Who, said: "I kind of wel­comed [the arrival of punk], chal­lenged it, and want­ed it to hap­pen, and then I real­ized that the per­son they want­ed to shoot was me." And indeed Sid Vicious, of the Sex Pis­tols, would say, "I don't have any heroes. They're all use­less to me."
And yet despite the pos­tur­ing, punk remained root­ed in the rock tra­di­tion, pay­ing trib­ute, whether they knew it or not, to their musi­cal fathers (The Bea­t­les, The Who, The Stones) and even the grand­fa­thers (Chuck Berry and Bud­dy Hol­ly). In Please Kill Me: The Uncen­sored Oral His­to­ry of Punk (a book I com­plete­ly rec­om­mend) edi­tor Legs McNeil writes:
Then the Ramones came back, and count­ed off again, and played their best eigh­teen min­utes of rock n roll that I had ever heard. You could hear the Chuck Berry in it, which was all I lis­tened to, that and the Bea­t­les sec­ond album with all the Chuck Berry cov­ers on it.
It all goes back to Chuck Berry, and Berry knew it. In a 1980 inter­view with the zin Jet Lag, Berry shared his thoughts on the punk anthems of the day and spot­ted his influ­ence in many of them.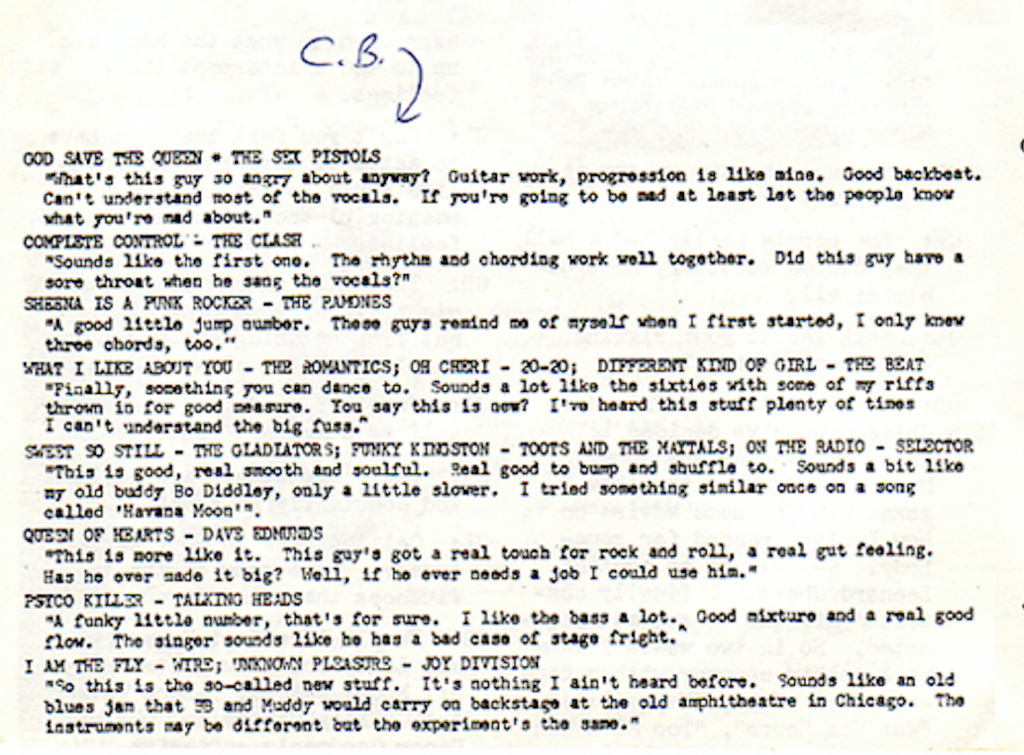 The Sex Pis­tols' "God Save the Queen":
"What's this guy so angry about any­way? Gui­tar work and pro­gres­sion is like mine. Good back­beat. Can't under­stand most of the vocals. If you're going to be mad at least let the peo­ple know what you're mad about."
The Clash's "Com­plete Con­trol":
"Sounds like the first one. The rhythm and chord­ing work well togeth­er. Did this guy have a sore throat when he sang the vocals?"
The Ramones' "Sheena is a Punk Rock­er":
"A good lit­tle jump num­ber. These guys remind me of myself when I first start­ed, I only knew three chords too."
The Roman­tics' "What I Like About You":
"Final­ly some­thing you can dance to. Sounds a lot like the six­ties with some of my riffs thrown in for good mea­sure. You say this is new? I've heard this stuff plen­ty of times. I can't under­stand the big fuss."
Talk­ing Heads' "Psy­cho Killer":
"A funky lit­tle num­ber, that's for sure. I like the bass a lot. Good mix­ture and a real good flow. The singer sounds like he has a bad case of stage fright."
Wire's "I Am the Fly" and Joy Divi­sion's Unknown Plea­sures:
"So this is the so-called new stuff. It's noth­ing I ain't heard before. It sounds like an old blues jam that BB and Mud­dy would car­ry on back­stage at the old amphithe­atre in Chica­go. The instru­ments may be dif­fer­ent but the exper­i­men­t's the same."
Chuck Berry passed away today, still unsur­passed, at age 90. Long live Chuck.
via Dan­ger­ous Minds and h/t @alyssamilano and @austinkleon
Relat­ed Con­tent:
Bruce Spring­steen and the E Street Band Impro­vis­es and Plays, Com­plete­ly Unre­hearsed, Chuck Berry's "You Nev­er Can Tell," Live Onstage (2013)
Chuck Berry Takes Kei­th Richards to School, Shows Him How to Rock (1987)
Down­load 50+ Issues of Leg­endary West Coast Punk Music Zines from the 1970–80s: Dam­age, Slash & No Mag
Four Female Punk Bands That Changed Women's Role in Rock