Like dig­ging for fos­sils or pan­ning for gold, the research process can be a tedious affair. But for any researcher, long days of search­ing and read­ing will even­tu­al­ly result in dis­cov­ery. These are the moments schol­ars cher­ish. It's the chance dis­cov­ery, how­ev­er rare, that makes the long hours and bleary late nights worth­while. And some finds can change an entire field. Such was the dis­cov­ery of St. John's Col­lege PhD stu­dent Gio­van­ni Varel­li, who, in 2014, found what is now believed to be, writes Cam­bridge Uni­ver­si­ty, "the ear­li­est known prac­ti­cal exam­ple of poly­phon­ic music," that is, music con­sist­ing of two or more melod­ic lines work­ing togeth­er simul­ta­ne­ous­ly.
You can hear the short composition—written in praise of the patron saint of Ger­many, Saint Boniface—performed above by St. John's under­grad­u­ates Quintin Beer and John Clapham. Pri­or to Varelli's dis­cov­ery of this piece of music, the ear­li­est poly­phon­ic music was thought to date to the year 1000, from a col­lec­tion called The Win­ches­ter Trop­er. Varelli's dis­cov­ery may date to 100 years ear­li­er, around the year 900, and was found at the end of a man­u­script of the Life of Bish­op Mater­ni­anus of Reims. One rea­son musi­col­o­gists had so far over­looked the piece, Varel­li says, is that "we are not see­ing what we expect­ed."
Typ­i­cal­ly, poly­phon­ic music is seen as hav­ing devel­oped from a set of fixed rules and almost mechan­i­cal prac­tice. This changes how we under­stand that devel­op­ment pre­cise­ly because who­ev­er wrote it was break­ing those rules. It shows that music at this time was in a state of flux and devel­op­ment.
Varelli's spe­cial­iza­tion in ear­ly music nota­tion also pro­vid­ed him with the train­ing need­ed to rec­og­nize the piece, which was writ­ten using "an ear­ly form of nota­tion that pre­dates the inven­tion of the stave" (see the piece below). Accord­ing to British Library cura­tor Nico­las Bell, "when this man­u­script was first cat­a­logued in the eigh­teenth cen­tu­ry, nobody was able to under­stand these unusu­al sym­bols." Varelli's dis­cov­ery shows a devi­a­tion from "the con­ven­tion laid out in trea­tis­es at the time" and points toward the devel­op­ment of a musi­cal tech­nique that "defined most Euro­pean music up until the 20th cen­tu­ry."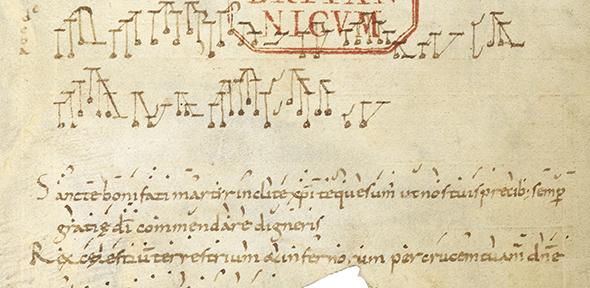 Varel­li gives us a sense of how impor­tant this dis­cov­ery is to schol­ars of ear­ly music: "the rules being applied here laid the foun­da­tions for those that devel­oped and gov­erned the major­i­ty of west­ern music his­to­ry for the next thou­sand years. This dis­cov­ery shows how they were evolv­ing, and how they exist­ed in a con­stant state of trans­for­ma­tion, around the year 900."
So there you have it. If you're stuck in the dol­drums of a research project, wait­ing for the wind to pick up, don't despair. The next rare arti­fact, trea­tise, or man­u­script may be wait­ing for some­one with exact­ly your spe­cial­ized insights to deci­pher its secrets.
Relat­ed Con­tent:
Hear a 9,000 Year Old Flute—the World's Old­est Playable Instrument—Get Played Again
Lis­ten to the Old­est Song in the World: A Sumer­ian Hymn Writ­ten 3,400 Years Ago
Hear the World's Old­est Instru­ment, the "Nean­derthal Flute," Dat­ing Back Over 43,000 Years
Josh Jones is a writer and musi­cian based in Durham, NC. Fol­low him at @jdmagness