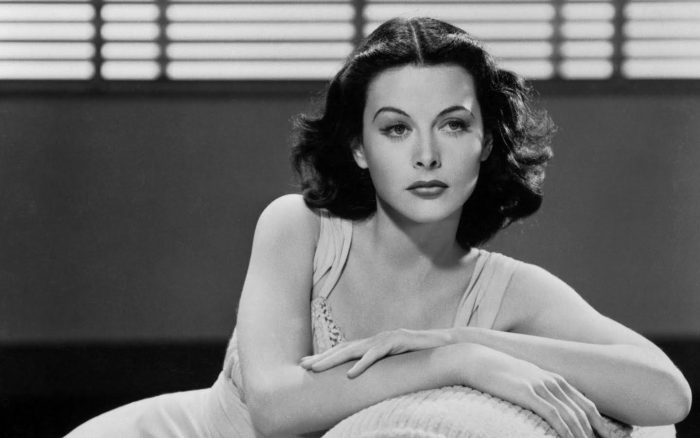 A certain ideal of America holds that an immigrant who arrives in that land of opportunity can, with hard work and luck, completely remake themselves, even into an A-list movie star or an inventor of heretofore unimagined new things. Hedy Lamarr, by this reckoning, ranks among the ideal Americans: born Hedwig Eva Maria Kiesler in Vienna, she arrived in Hollywood in 1938 and reigned, under her new name granted by movie mogul Louis B. Mayer, as perhaps the most beautiful face on the silver screen for the next dozen years.
A reluctant star since her early role in the scandalous Czech film Ekstase and in America never quite able to escape typecasting as the mysterious, exotic beauty opposite a "real" actor, the bored Lamarr occupied her mind by turning to invention.
Working away at her drafting table instead of making the nightly Hollywood party rounds, Lamarr came up with everything from dissolving soda tablets to improved traffic signals and tissue boxes to a "skin-tautening technique based on the principles of the accordion."
But her place in the canon of American inventors rests on an idea that came out of a conversation with composer George Antheil. Married back in Austria to arms dealer Friedrich Mandl, she'd overheard conversations, according to her New York Times obituary, between her then-husband and many Nazi-higher ups "who seemed to place great value on creating some sort of device that would permit the radio control of airborne torpedoes and reduce the danger of jamming. She and Antheil got to discussing all this. The idea, they decided, was to defeat jamming efforts by sending synchronized radio signals on various wavelengths to missiles, which could then be directed to hit their mark."
Lamarr filed this ingenious patent for a "frequency-hopping" communication system in 1942, but it raised no military interest until the Cuban Missile Crisis twenty years later, when the Navy started using the technology on their ships. It evolved in the decades thereafter, ultimately becoming an indispensable element of such technologies in widespread use today as wi-fi and Bluetooth. Having signed her invention over to the military, Lamarr never made a dime from it herself, but in 1996, four years before she died, she did receive the Electronic Future Foundation's Pioneer Award. "It's about time," she said when she heard the news.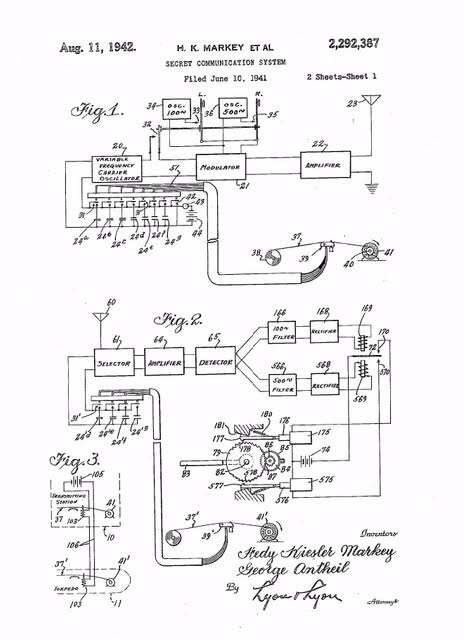 More recently, historian Richard Rhodes told the story of Lamarr's inventing life in full with the book Hedy's Folly: The Life and Breakthrough Inventions of Hedy Lamarr, the Most Beautiful Woman in the World. "Hedy realized that what she came up with was important but I don't think she knew how important it was going to be," said her son Anthony Loder. "The definition of importance is the more people that it affects over the longer period of time. The longer this goes on and the more people it affects the more important she will be." Lamarr herself, in response to praise for her contribution to communication technology received in her lifetime, explained it as merely the result of following her instincts: "Improving things comes naturally to me."
Related Content:
Watch The Strange Woman, the 1946 Noir Film Starring Hedy Lamarr
Gustav Machatý's Erotikon (1929) & Ekstase (1933): Cinema's Earliest Explorations of Women's Sensuality
Mark Twain's Patented Inventions for Bra Straps and Other Everyday Items
Percussionist Marlon Brando Patented His Invention for Tuning Conga Drums
Based in Seoul, Colin Marshall writes and broadcasts on cities and culture. He's at work on a book about Los Angeles, A Los Angeles Primer, the video series The City in Cinema, the crowdfunded journalism project Where Is the City of the Future?, and the Los Angeles Review of Books' Korea Blog. Follow him on Twitter at @colinmarshall or on Facebook.