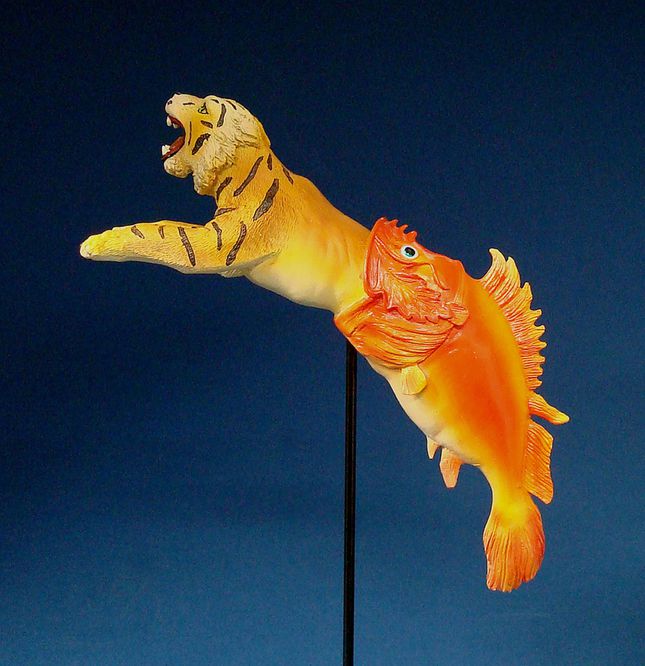 Whether at the Museum of Modern Art, a dorm-room wall, or anywhere in between, we've all seen Salvador Dalí's 1931 canvas The Persistence of Memory, and who among us wouldn't want to own one of the "melting watches" it famously depicts? Alas, technology hasn't quite caught up to that flamboyant Spanish surrealist's vivid imagination: though clocks now come as flat as you like, no artistically minded entrepreneur has yet put such a Camembertishly malleable one into production. But that doesn't mean you can't surround yourself with the other stuff of Dalí's paintings, thanks to this set of collectable figurines.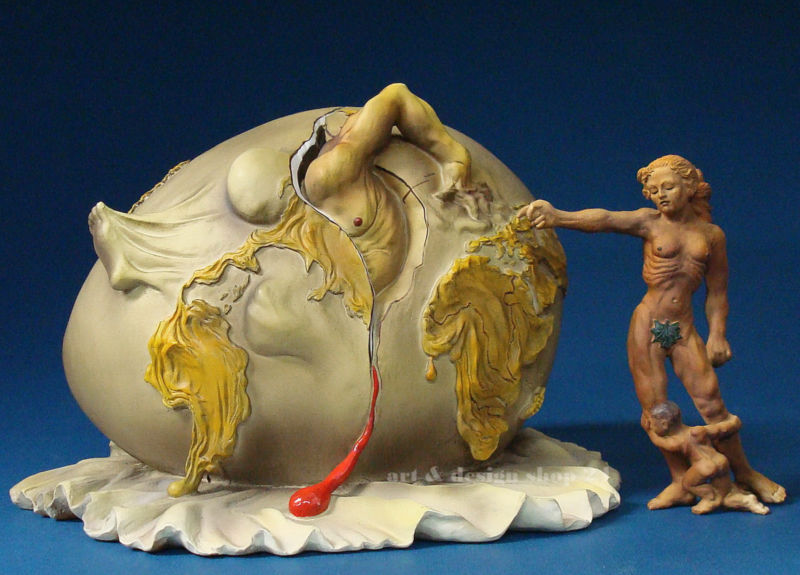 Just like the Hieronymus Bosch figurines we featured last month, these come from the UK manufacturer Parastone, and you can browse the selection on their Dalí page (or get them on Amazon). At the top of the post we have one of the tigers leaping from the mouth of a fish originally painted in 1944's Dream Caused by the Flight of a Bee Around a Pomegranate a Second Before Awakening (another dorm-room favorite, incidentally). The folks at Parastone describe it as "a Freudian image based on a dream from Gala, Dalí's wife." Their figurine drawn from the previous year's Geopoliticus Child Watching the Birth of the New Man, however, bears a message: "The new human must free itself from its oppressive entwinement with the past."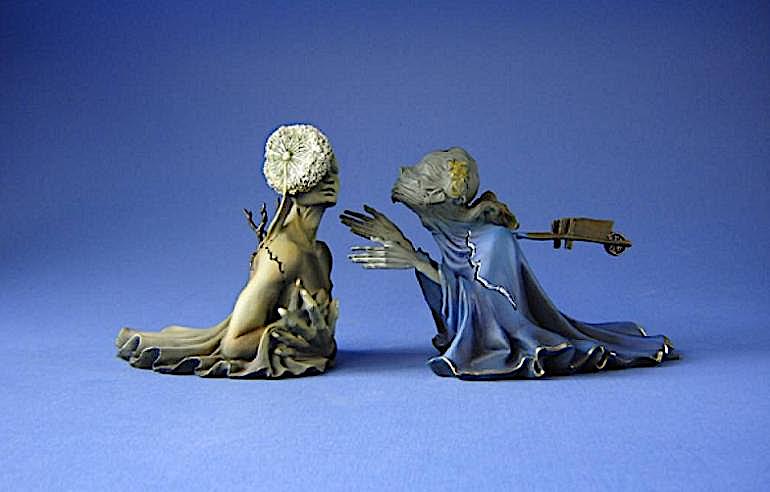 Or perhaps you'd prefer to add not just a touch of Dalí to your home, but a touch of Dalí depicting Dalí. In that case you might consider Parastone's three-dimensional version of his 1941 Soft Self-Portrait with Grilled Bacon. Salvador-Dali.org describes the image as "a spectre full of irony, where an amorphous, soft face appears, supported by crutches" — the face of Dalí himself — "with a pedestal that bears the inscription of the title of the work and, above, a slice of fried bacon, a symbol of organic matter and of the everyday nature of his breakfasts in New York's Saint Regis Hotel." Not only does the figurine thus feature a vogue meat of the early 21st-century, it renders it in a manner that perhaps even Dalí, also a noted cookbook author, would consider good enough to eat. See the full figurine collection here.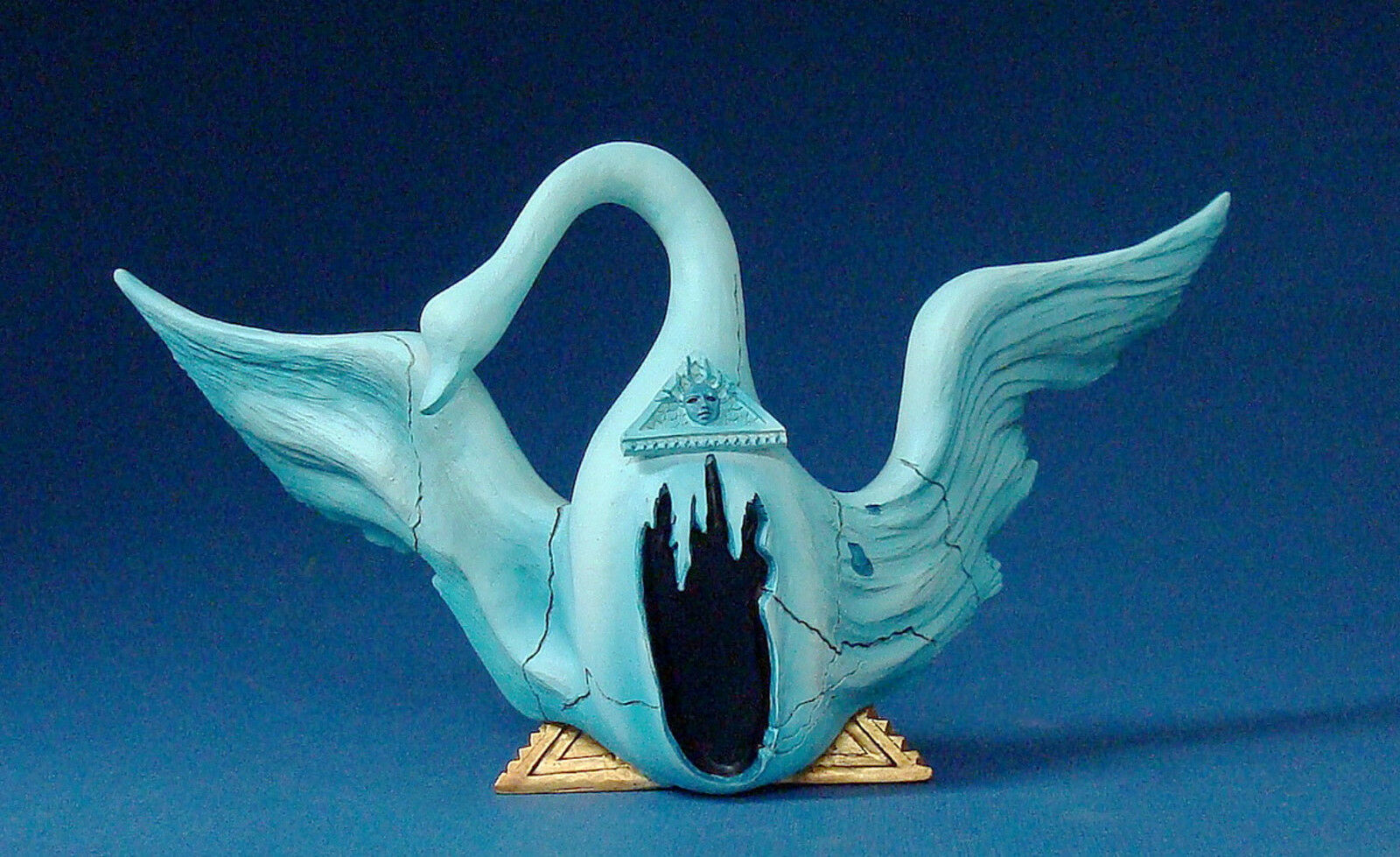 via Dangerous Minds
Related Content:
The Tarot Card Deck Designed by Salvador Dalí
Salvador Dalí's 1973 Cookbook Gets Reissued: Surrealist Art Meets Haute Cuisine
Salvador Dalí's Avant-Garde Christmas Cards
Walk Inside a Surrealist Salvador Dalí Painting with This 360º Virtual Reality Video
Hieronymus Bosch Figurines: Collect Surreal Characters from Bosch's Paintings & Put Them on Your Bookshelf
Based in Seoul, Colin Marshall writes and broadcasts on cities and culture. He's at work on a book about Los Angeles, A Los Angeles Primer, the video series The City in Cinema, the crowdfunded journalism project Where Is the City of the Future?, and the Los Angeles Review of Books' Korea Blog. Follow him on Twitter at @colinmarshall or on Facebook.