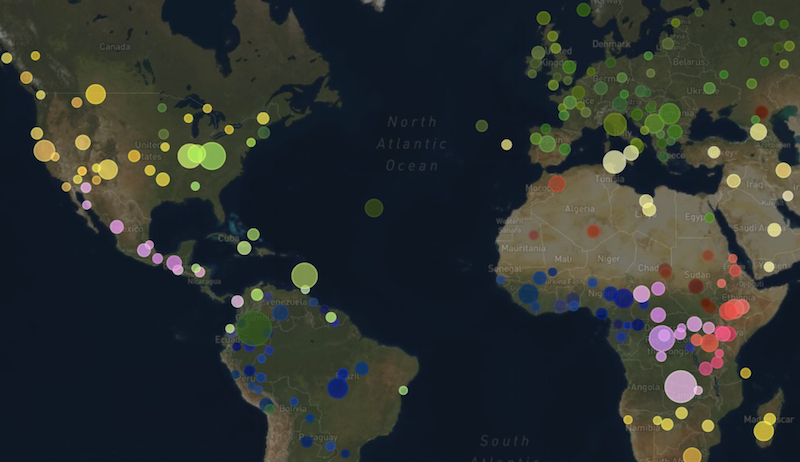 These days everyone's hung up on iden­ti­ty. But I don't mean to talk pol­i­tics, though my point is maybe inescapably polit­i­cal: the iden­ti­ties our jobs and incomes give us—the sta­tus or lack thereof—become so cen­tral to who we are in the world that they eclipse oth­er essen­tial aspects, eclipse the things we do strict­ly because it gives us plea­sure to do them.
Music, dance, art, poet­ry.… These fall under what Alan Lomax called an expe­ri­ence of "the very core" of exis­tence, "the adap­tive style" of cul­ture, "which enables its mem­bers to cohere and sur­vive." Cul­ture, for Lomax, was nei­ther an eco­nom­ic activ­i­ty nor a racial cat­e­go­ry, nei­ther an exclu­sive rank­ing of hier­ar­chies nor a redoubt for nation­al­ist inse­cu­ri­ties. Cul­tures, plur­al, were pecu­liar­ly region­al expres­sions of shared human­i­ty across one inter­re­lat­ed world.
Lomax did have some pater­nal­is­tic atti­tudes toward what he called "weak­er peo­ples," not­ing that "the role of the folk­lorist is that of the advo­cate of the folk." But his advo­ca­cy was not based in the­o­ries of suprema­cy but of his­to­ry. We could mend the rup­tures of the past by adding "cul­tur­al equi­ty… to the humane con­di­tion of lib­er­ty, free­dom of speech and reli­gion, and social jus­tice," wrote the ide­al­is­tic Lomax. "The stuff of folk­lore," he wrote else­where, "the oral­ly trans­mit­ted wis­dom, art and music of the peo­ple, can pro­vide ten thou­sand bridges across which men of all nations may stride to say, 'You are my broth­er.'"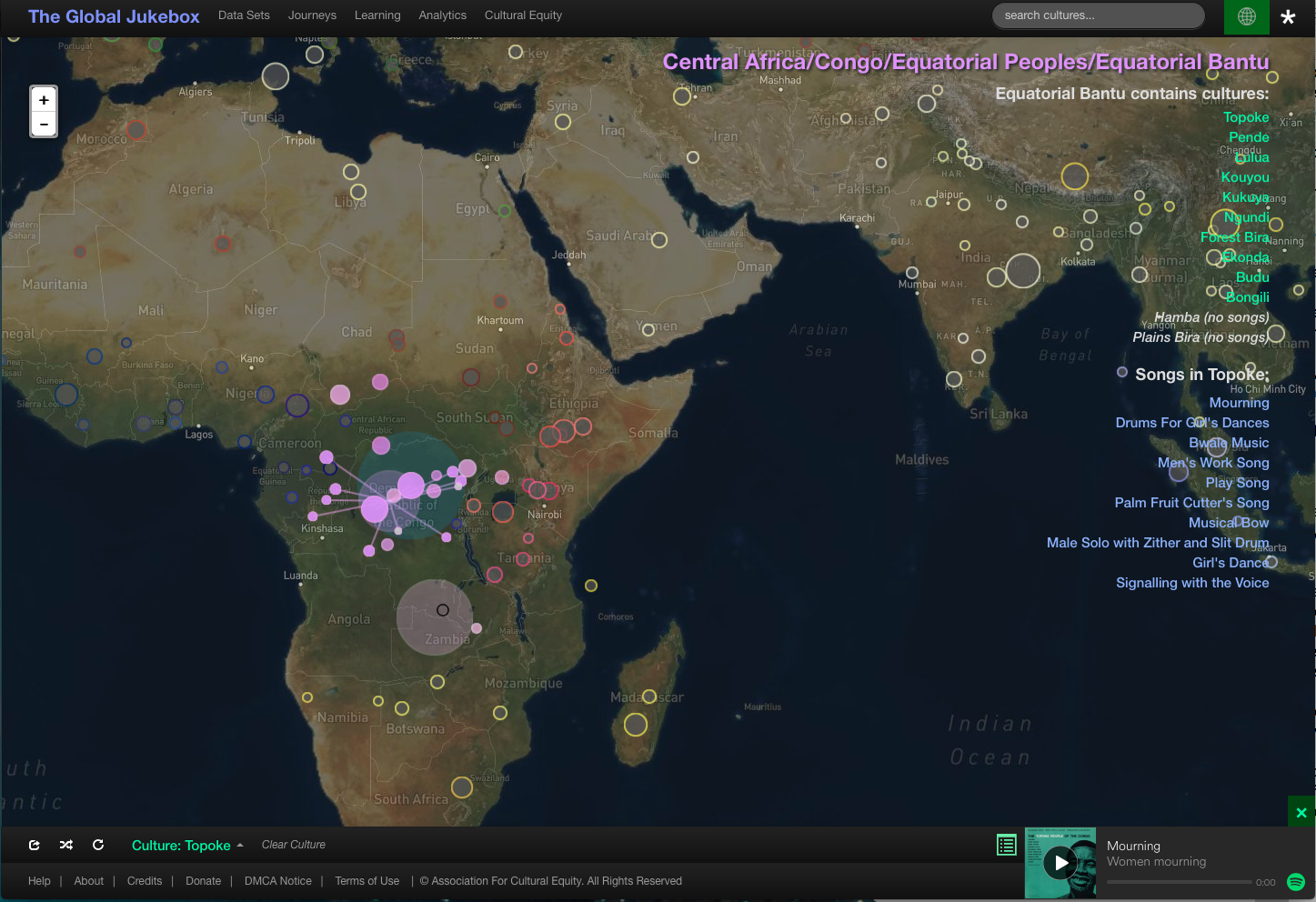 Lomax's ide­al­ism may seem to us quaint at best, but I dare you to con­demn its results, which include con­nect­ing Lead Bel­ly and Woody Guthrie to their glob­al audi­ences and pre­serv­ing a good deal of the folk music her­itage of the world through tire­less field and stu­dio record­ing, doc­u­men­ta­tion and mem­oir, and insti­tu­tions like the Asso­ci­a­tion for Cul­tur­al Equi­ty (ACE), found­ed by Lomax in 1986 to cen­tral­ize and make avail­able the vast amount of mate­r­i­al he had col­lect­ed over the decades.
In anoth­er archival project, Lomax's Glob­al Juke­box, we get to see rig­or­ous schol­ar­ly meth­ods applied to exam­ples from his vast library of human expres­sions. The online project cat­a­logues the work in musi­col­o­gy of Lomax and his father John, who both took on a "life long mis­sion to doc­u­ment not only America's cul­tur­al roots, but the world's as well," notes an online brochure for the Glob­al Juke­box. Lomax believed that "music, dance and folk­lore of all tra­di­tions have equal val­ue" and are equal­ly wor­thy of study. The Glob­al Juke­box car­ries that belief into the 21st cen­tu­ry.
Since 1990, the Glob­al Juke­box has func­tioned as a dig­i­tal repos­i­to­ry of music from Lomax's glob­al archive, as you can see in the very dat­ed 1998 video above, fea­tur­ing ACE direc­tor Gideon D'Arcangelo. Now, updat­ed and put online, the new­ly-launched Glob­al Juke­box web site pro­vides an inter­ac­tive inter­face, giv­ing you access to detailed analy­ses of folk music from all over the world, and high­ly tech­ni­cal "descrip­tive data" for each song. You can learn the sys­tems of "Chore­o­met­rics and Cantometrics"—specialized ana­lyt­i­cal tools for scientists—or you can casu­al­ly browse the incred­i­ble diver­si­ty of music as a layper­son, through a beau­ti­ful­ly ren­dered map view or the col­or­ful­ly attrac­tive graph­ic "tree view," below.
Stop by the Glob­al Jukebox's "About" page to learn much more about its tech­ni­cal speci­fici­ties and his­to­ry, which dates to 1960 when Lomax began work­ing with anthro­pol­o­gist Con­rad Arens­berg at Colum­bia and Hunter Uni­ver­si­ties to study "the expres­sive arts" with sci­en­tif­ic tools and emerg­ing tech­nolo­gies. The Glob­al Juke­box rep­re­sents a high­ly schemat­ic way of look­ing at Lomax's body of work, and its ease of use and lev­el of detail make it easy to leap around the world, sam­pling the thrilling vari­ety of folk music he col­lect­ed.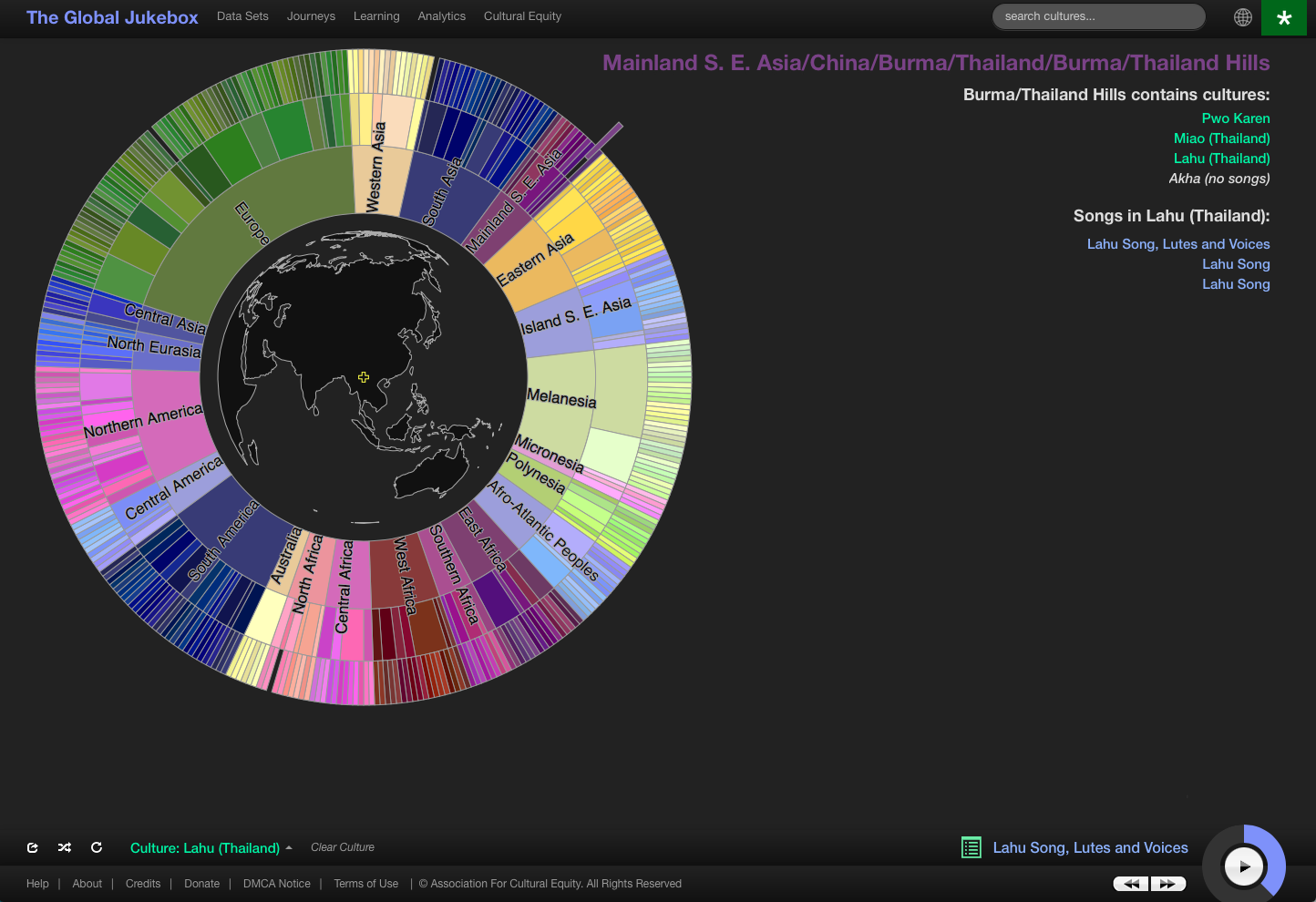 It is not, and is not meant as, a sub­sti­tute for the liv­ing tra­di­tions Lomax helped safe­guard, and the incred­i­ble music they have inspired pro­fes­sion­al and ama­teur musi­cians to make over the years. But the Glob­al Juke­box gives us sev­er­al unique ways of orga­niz­ing and dis­cov­er­ing those traditions—ways that are still evolv­ing, such as a com­ing func­tion for build­ing your own cul­tur­al fam­i­ly tree with a playlist of songs from your musi­cal ances­try.
Relat­ed Con­tent:
Hear 17,000+ Tra­di­tion­al Folk & Blues Songs Curat­ed by the Great Musi­col­o­gist Alan Lomax
The British Library's "Sounds" Archive Presents 80,000 Free Audio Record­ings: World & Clas­si­cal Music, Inter­views, Nature Sounds & More
Leg­endary Folk­lorist Alan Lomax: 'The Land Where the Blues Began'
Josh Jones is a writer and musi­cian based in Durham, NC. Fol­low him at @jdmagness