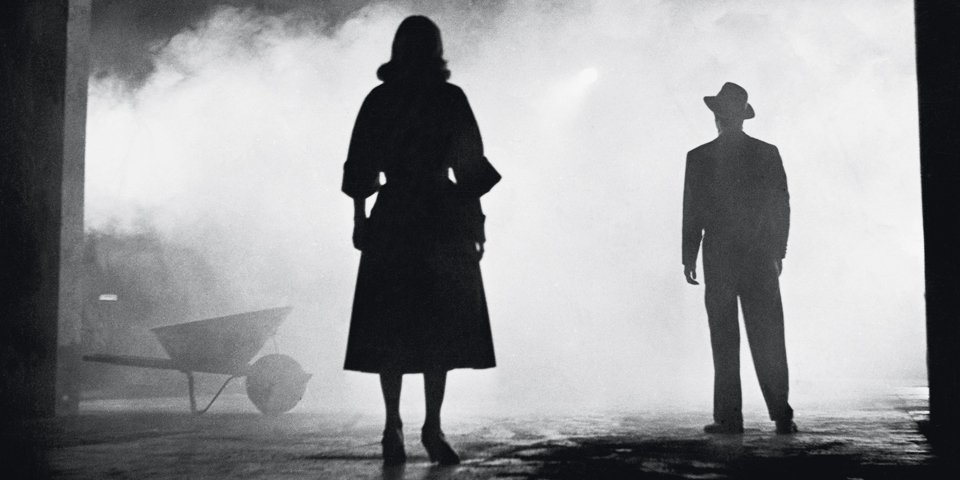 Image from The Big Combo, via Wikimedia Commons
Nowadays few crowds seem less likely to harbor criminal intent than the ones gathered to listen to jazz, but seventy, eighty years ago, American culture certainly didn't see it that way. Back then, jazz accompanied the life of urban outsiders: those who dabbled in forbidden substances and forbidden activities, those influenced by the alien morality of Europe or even farther-away lands, those belonging to feared and mistreated social groups. That image stuck as much or even more firmly to jazz musicians as it did to jazz listeners, and when a new cinematic genre arose specifically to tell stories of urban outsiders — the lowlifes, the anti heroes, the femmes fatales — jazz provided the ideal soundtrack.
"Jazz dominates assumptions about the music used in film noir," write Andre Spicer and Helen Hanson in A Companion to Film Noir, "and it is particularly prevalent in contemporary references to and recreations of film noir."
And "although the number of films noir to employ jazz in their scores was relatively small, it was still notable in terms of the overall use of jazz in Hollywood films of the era — if jazz was an integral part of a film's score then those productions tended to be films noir or social problem films." The music first crept in diegetically, in the 1940s, by way of "club scenes, illicit jazz sessions, or on record players and jukeboxes," and later, in the 50s, continued its "established association of sex and violence" even as changing attitudes "contributed to jazz being more acceptable in Hollywood films."
A few years ago we featured classic works of "crime jazz" by Miles Davis, Count Basie, Duke Ellington and others, all meant to set the scene for the lawless worlds of films and television shows like Anatomy of a Murder, Elevator to the Gallows, Peter Gunn, and The M Squad. The two playlists we have for you today take a wider view, collecting more than four hours of "jazz noir" on Spotify (if you don't have Spotify's software, you can download it here). It features tracks by Miles Davis, Chet Baker, Benny Golson, Tom Waits and more. While listening — maybe with the lights dimmed, maybe with your preferred highball in hand — you might consider browsing the r/jazznoir, an entire subreddit dedicated to this "mysterious, melancholy and menacing music by swingin' sax men and sultry sirens for hardboiled hepcats and leggy lookers," this "late-night listening for luckless losers, and the soundtrack to strolls under street lights on foggy nights."
Related Content:
Crime Jazz: How Miles Davis, Count Basie & Duke Ellington Created Soundtracks for Noir Films & TV
The 5 Essential Rules of Film Noir
Roger Ebert Lists the 10 Essential Characteristics of Noir Films
The Essential Elements of Film Noir Explained in One Grand Infographic
Based in Seoul, Colin Marshall writes and broadcasts on cities and culture. He's at work on a book about Los Angeles, A Los Angeles Primer, the video series The City in Cinema, the crowdfunded journalism project Where Is the City of the Future?, and the Los Angeles Review of Books' Korea Blog. Follow him on Twitter at @colinmarshall or on Facebook.