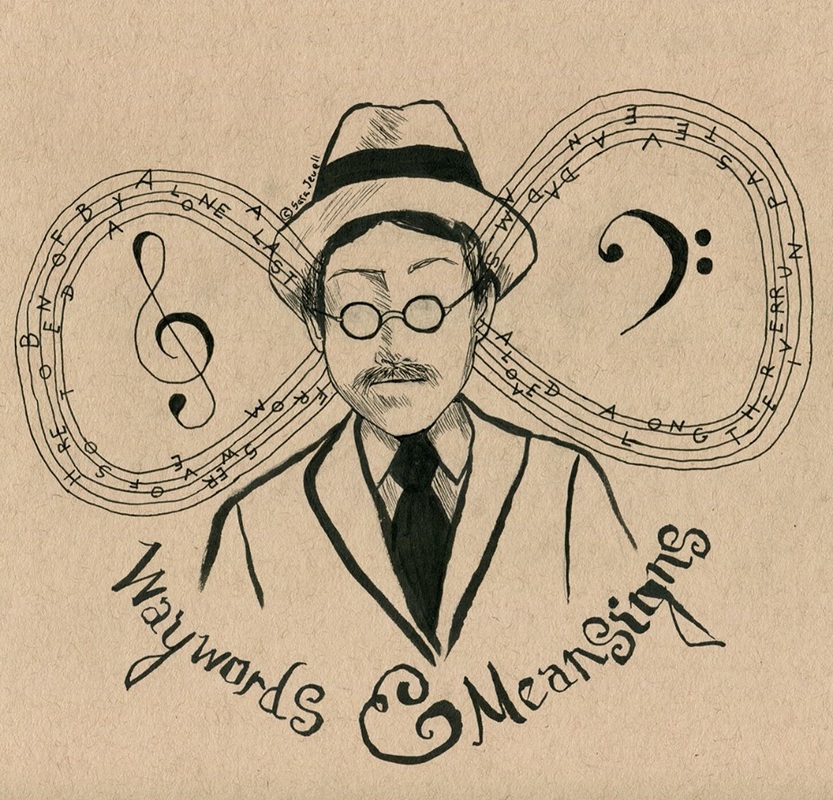 In a post last year on an ambitious musical adaptation of Finnegans Wake, I noted that—when most in bafflement over the Irish writer's final, seemingly uninterpretable, work—I turn to Anthony Burgess, who not only presumed to abridge the book, but wrote more lucid commentary than any other scholarly critic or writerly admirer of Joyce. In his study ReJoyce, Burgess described the novel—or whatever-you-call-it—as a "man-made mountain… as close to a work of nature as any artist ever got—massive, baffling, serving nothing but itself, suggesting a meaning but never quite yielding anything but a fraction of it, and yet (like a tree) desperately simple."
Joyce did seem to aspire to omniscience and the power of godlike creation, to supplant the "old father, old artificer" he beseeches at the end of A Portrait of the Artist as a Young Man. And if Finnegans Wake is a work of nature, it seems to me that we might approach it like naturalists, looking for its inner laws and mechanisms, performing dissections and mounting it, flayed open, on display boards.
Or we might approach it like poets, painters, field recordists—like artists, in other words. We might leave its innards intact, and instead represent what it does to our minds when we confront its nigh-inscrutable ontology.
This latter approach is the one adopted by Waywords and Meansigns' latest release, which brings together recordings from over 100 artists from 15 different countries—some semi-famous, most thrillingly obscure. Joyce's book, explains project director Derek Pyle, is "the kind of thing that demands creative approaches—from jazz and punk musicians to sound artists and modern composers, each person hears and performs the text in a way that's totally unique and endlessly exciting." We first commented on the endeavor two years ago, when it released 31 hours of unabridged Joyce interpretation. Last year's second edition greatly expanded on the singing, reading, and experimental noodling of and around Finnegans Wake.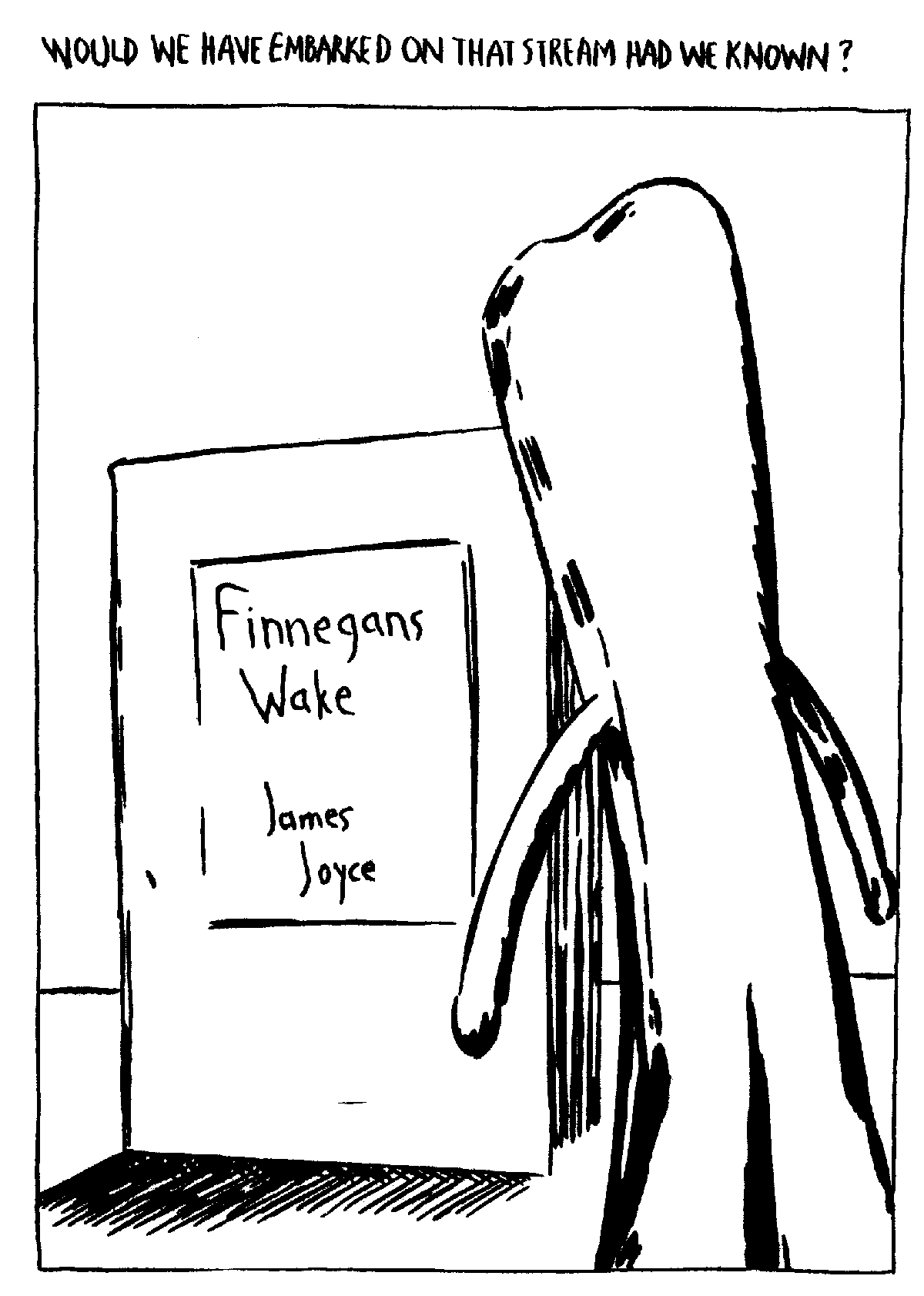 The third edition continues what has becoming a very fine tradition, and perhaps one of the most appropriate responses to the novel in the 78 years since its publication. This release (streamable above, or on Archive.org) adds to the second edition a belated contribution from iconic bassist and songwriter Mike Watt (of The Minutemen, fIREHOSE, and solo fame) and "actor and 'JoyceGeek" Adam Harvey. (And a Gumby-starring illustration, above, by punk rock cover artist Raymond Pettibon). The third unabridged collection of interpretative musical readings, further up, offers contributions from:
Mercury Rev veterans Jason Sebastian Russo and Paul Dillon, Joe Cassidy of Butterfly Child, Railroad Earth's Tim Carbone and Lewis & Clarke's Lou Rogai, psych-rockers Kinski, vocalist Phil Minton, poet S.A. Griffin, translator Krzysztof Bartnicki, "krautrock" pioneer Jean-Hervé Péron of faUSt, British fringe musician Neil Campbell, Martyn Bates of Eyeless in Gaza, Little Sparta with Sally Timms (Mekons) and Martin Billheimer, composer Seán Mac Erlaine, indietronica pioneer Schneider TM, and many more.
If something on that list doesn't grab you, you may have stumbled into the wrong party. In any case, you'll find hundreds other readings, songs, etc. to choose from in the expanding three-volume compilation. Or you can listen to it straight through, from the first edition, to the second, to the third. Like the book, this project celebrates, imitates, reflects, and refracts, Waywords and Meansigns admits entry at any point, and nearly always charms even as it perplexes. The fact that no one can really grasp the slippery nature of Finnegans Wake perhaps makes the book, and its best creative interpretations, all the more genuinely for everyone.
Related Content:
James Joyce's Ulysses: Download as a Free Audio Book & Free eBook
Hear All of Finnegans Wake Read Aloud: A 35 Hour Reading
James Joyce's Finnegans Wake Gets Turned into an Interactive Web Film, the Medium It Was Destined For
H.G. Wells Reads Finnegans Wake & Tells James Joyce: It's "A Dead End," "You Have Turned Your Back on Common Men" (1928)
Josh Jones is a writer and musician based in Durham, NC. Follow him at @jdmagness