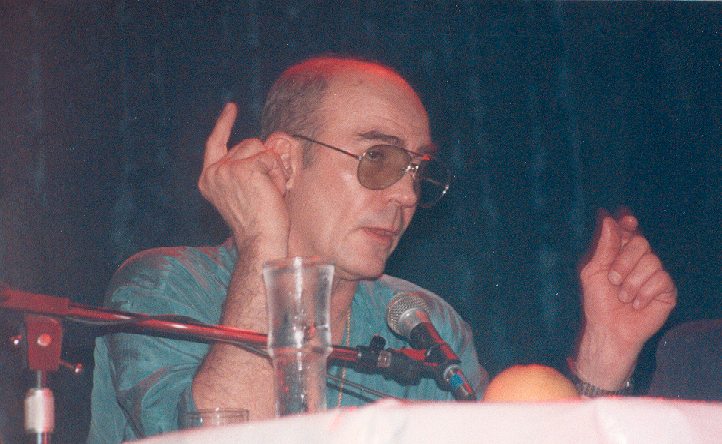 Hunter S. Thompson, the writer who gave vivid, inimitable form to "gonzo journalism," honed his literary chops the hard way, using rigorous techniques including but not limited to retyping the entire texts of The Great Gatsby and A Farewell to Arms himself. But he would let no one claim that his artistic appreciation extended only to the printed word: "I resent your assumption that Music is Not My Bag," he wrote in late 1970 to Rolling Stone editor John Lombardo, "because I've been arguing for the past few years that music is the New Literature, that Dylan is the 1960s' answer to Hemingway, and that the main voice of the '70s will be on records & videotape instead of books."
In this same letter, collected in his second volume of correspondence Fear and Loathing in America, Thompson included a list of the best albums of the "rock age" of the 1960s, "because the '60s are going to go down like a repeat, somehow, of the 1920s; the parallels are too gross for even historians to ignore."
The list didn't come from Thompson, strictly speaking, but "from Raoul Duke," the hard-living alter-ego who would star in Fear and Loathing in Las Vegas, published the following year. You can find a slightly cleaned-up version of the list in this Beatdom post by David S. Willis:
Herbie Mann's 1969 Memphis Underground ("which may be the best album ever cut by anybody")
Bob Dylan's 1965 Bringing It All Back Home
Dylan's 1965 Highway 61 Revisited
The Grateful Dead's 1970 Workingman's Dead ("the heaviest thing since Highway 61 and 'Mr. Tambourine Man'")
The Rolling Stones' 1969 Let it Bleed
Buffalo Springfield's 1967 Buffalo Springfield
Jefferson Airplane's 1967 Surrealistic Pillow
Roland Kirk's "various albums"
Miles Davis's 1959 Sketches of Spain
Sandy Bull's 1965 Inventions
You can also hear most of Thompson/Duke's Best Albums of the 1960s selections gathered in the Spotify playlist embedded above. (If you don't have Spotify's free software, you can download it here.) Unfortunately, Spotify hasn't yet incorporated into its collection the work of experimental solo folk guitarist Sandy Bull, whose 1965 Inventions takes tenth place. (You can hear it on YouTube, however.) Bull, whose life was as abundant with creativity as it was with substances, cut something of a Thompsonian — or Dukean? — figure himself. His long-form compositions "Blend" and "Blend II," the latter of which opens Inventions, will give you a sense of how far he pushed the boundaries of his tradition.
"Jesus, what a hassle to even think quickly about a list like that," wrote Thompson, bringing the characteristically expansive letter to a close, still trying to convince Lombardi that such a then-untested concept as a 1960s top-ten-albums list could work. "Even now I can think of 10 more I might have added… but what the fuck, it's only a rude idea. But a good one, I think."
If you would like to sign up for Open Culture's free email newsletter, please find it here.
If you would like to support the mission of Open Culture, consider making a donation to our site. It's hard to rely 100% on ads, and your contributions will help us continue providing the best free cultural and educational materials to learners everywhere. You can contribute through PayPal, Patreon, and Venmo (@openculture). Thanks!
Related Content:
Hunter S. Thompson Interviews Keith Richards, and Very Little Makes Sense
Hunter S. Thompson's Harrowing, Chemical-Filled Daily Routine
Hunter S. Thompson's Ballsy & Hilarious Job Application Letter (1958)
Hunter S. Thompson, Existentialist Life Coach, Gives Tips for Finding Meaning in Life
Read 10 Free Articles by Hunter S. Thompson That Span His Gonzo Journalist Career (1965-2005)
Based in Seoul, Colin Marshall writes and broadcasts on cities and culture. He's at work on a book about Los Angeles, A Los Angeles Primer, the video series The City in Cinema, the crowdfunded journalism project Where Is the City of the Future?, and the Los Angeles Review of Books' Korea Blog. Follow him on Twitter at @colinmarshall or on Facebook.