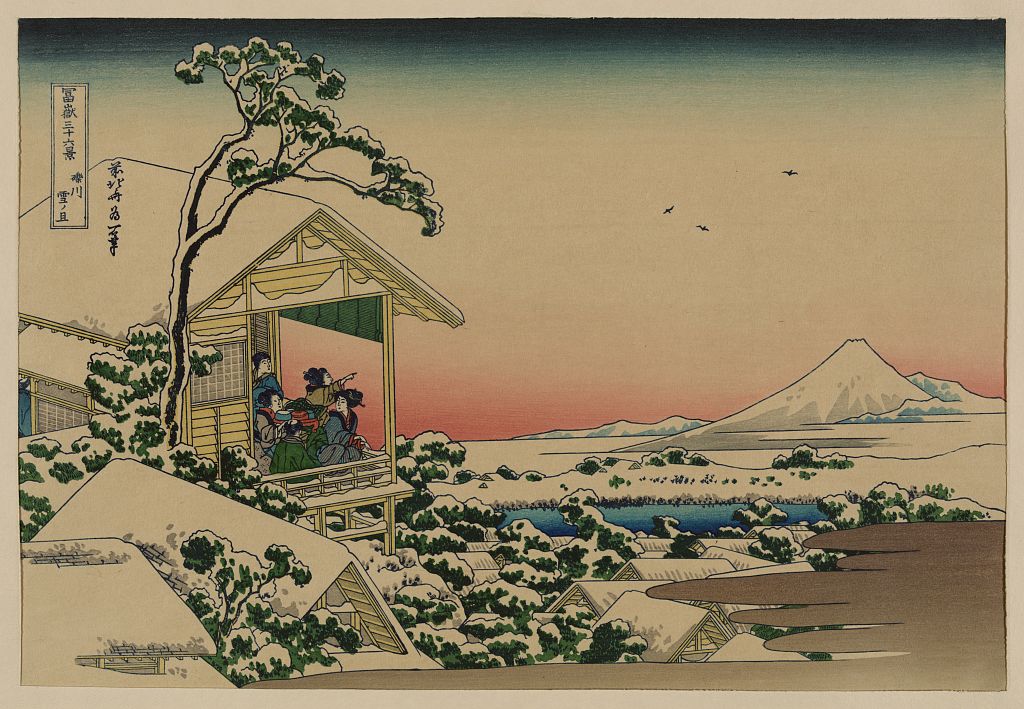 No one art form has done more to shape the world's sense of tra­di­tion­al Japan­ese aes­thet­ics than the wood­block print. But not so very long ago, in his­tor­i­cal terms, no such works had ever left Japan. That changed when, accord­ing to the Library of Con­gress, "Amer­i­can naval offi­cer Matthew Cal­braith Per­ry (1794–1858) led an expe­di­tion to Japan between 1852 and 1854 that was instru­men­tal in open­ing Japan to the West­ern world after more than 200 years of nation­al seclu­sion." As trav­el­ers, mate­ri­als, and prod­ucts began flow­ing between Japan and the West, so did art.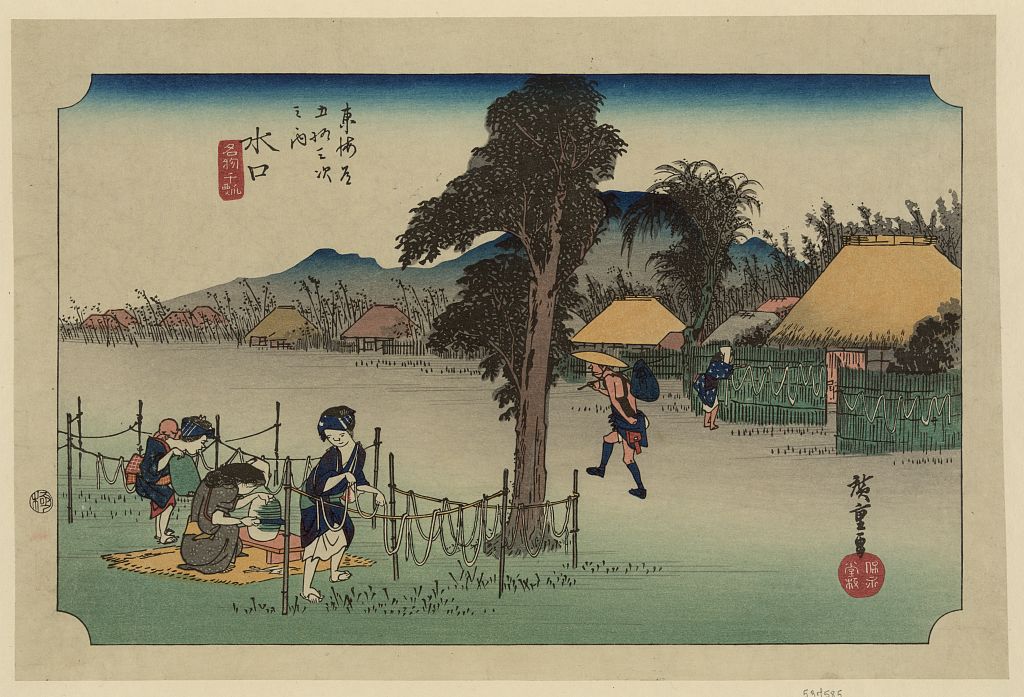 This flow hap­pened, of course, by sea, and so Japan­ese artists work­ing in wood­block and oth­er forms soon found that the port city of Yoko­hama had become "an incu­ba­tor for a new cat­e­go­ry of images that strad­dled con­ven­tion and nov­el­ty."
In their depic­tions of mod­ern Yoko­hama, "bewhiskered men and crino­line-clad women were shown strid­ing through the city, clam­ber­ing on and off ships, rid­ing hors­es, enjoy­ing local enter­tain­ments, and inter­act­ing with an end­less array of objects from gob­lets to loco­mo­tives." This new genre in an estab­lished tra­di­tion took on the name "Yokohama‑e," or "pic­tures of Yoko­hama."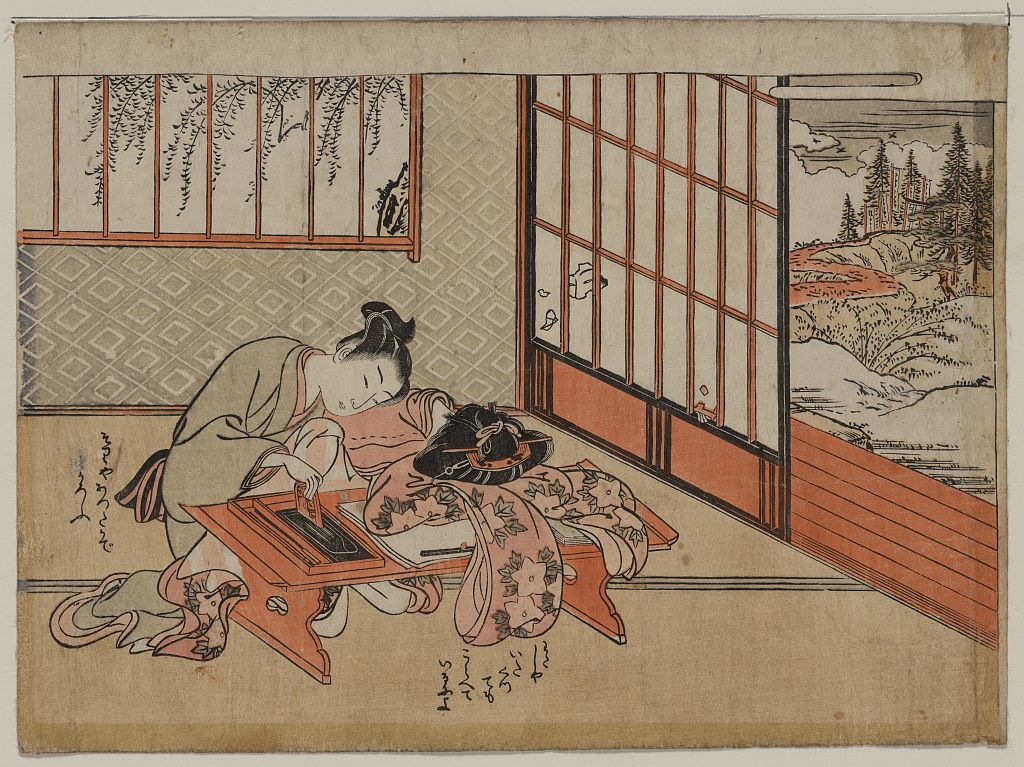 Hun­dreds of years ear­li­er, dur­ing the Toku­gawa Peri­od that began in the year 1600, that tra­di­tion had already pro­duced the now well-known genre of "Ukiyo‑e," or "pic­tures of the float­ing world," wood­block depic­tions of the plea­sure dis­tricts of Edo, now called Tokyo. "Var­i­ous forms of enter­tain­ment, par­tic­u­lar­ly kabu­ki the­ater and the plea­sure quar­ters, lured monied patrons who were eager in turn to acquire the vivid images of cel­e­brat­ed actors and beau­ti­ful cour­te­sans." Lat­er, "trav­el became a pop­u­lar form of leisure and the plea­sures of the nat­ur­al envi­ron­ment, inter­est­ing land­marks, and the adven­tures encoun­tered en route also became favorite Ukiyo‑e themes." Ukiyo‑e also looked to "Japan­ese myth, leg­end, lit­er­a­ture, his­to­ry, and dai­ly life" for sub­jects, and so its pro­lif­ic artists cap­tured the cul­ture near­ly whole.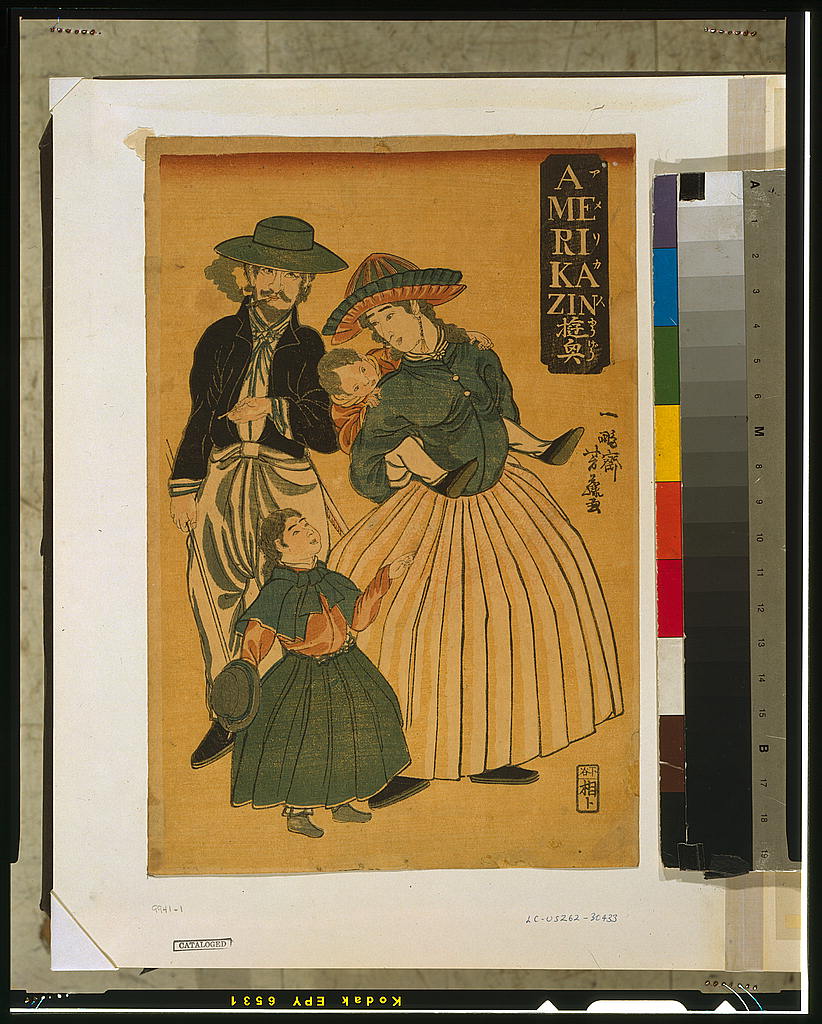 You can come as close as pos­si­ble to expe­ri­enc­ing that cul­ture by view­ing, and down­load­ing, more than 2,500 Japan­ese wood­block prints and draw­ings at the Library of Con­gress' online col­lec­tion "Fine Prints: Japan­ese, pre-1915." It includes work from such pro­lif­ic Ukiyo‑e artists as Hoku­sai Kat­sushi­ka (whose Tea­house at Koishikawa the Morn­ing After a Snow­fall appears at the top of the post), Andō Hiroshige (Minakuchi below that), Iso­da Koryū­sai (Kisara­gi, third from the top), and Uta­gawa Yoshi­fu­ji (whose Amerika­jin Yūgyō, one of his depic­tions of Amer­i­cans, appears just above). As much as Japan has changed since the hey­day of the Yokohama‑e, much less the Ukiyo‑e, any vis­i­tor to the coun­try in the 21st cen­tu­ry will first notice not how much the sur­faces of Japan's real urban and nat­ur­al land­scapes, domes­tic inte­ri­ors, and pub­lic scenes dif­fer from those in clas­si­cal wood­block prints, but how deeply they've remained the same.
Enter the col­lec­tion here.
Relat­ed Con­tent:
Down­load Hun­dreds of 19th-Cen­tu­ry Japan­ese Wood­block Prints by Mas­ters of the Tra­di­tion
What Hap­pens When a Japan­ese Wood­block Artist Depicts Life in Lon­don in 1866, Despite Nev­er Hav­ing Set Foot There
Splen­did Hand-Scroll Illus­tra­tions of The Tale of Gen­jii, The First Nov­el Ever Writ­ten (Cir­ca 1120)
Behold the Mas­ter­piece by Japan's Last Great Wood­block Artist: View Online Tsukio­ka Yoshitoshi's One Hun­dred Aspects of the Moon (1885)
The (F)Art of War: Bawdy Japan­ese Art Scroll Depicts Wrench­ing Changes in 19th Cen­tu­ry Japan
Hayao Miyazaki's Beloved Char­ac­ters Reimag­ined in the Style of 19th-Cen­tu­ry Wood­block Prints
Based in Seoul, Col­in Mar­shall writes and broad­casts on cities and cul­ture. He's at work on a book about Los Ange­les, A Los Ange­les Primer, the video series The City in Cin­e­ma, the crowd­fund­ed jour­nal­ism project Where Is the City of the Future?, and the Los Ange­les Review of Books' Korea Blog. Fol­low him on Twit­ter at @colinmarshall or on Face­book.