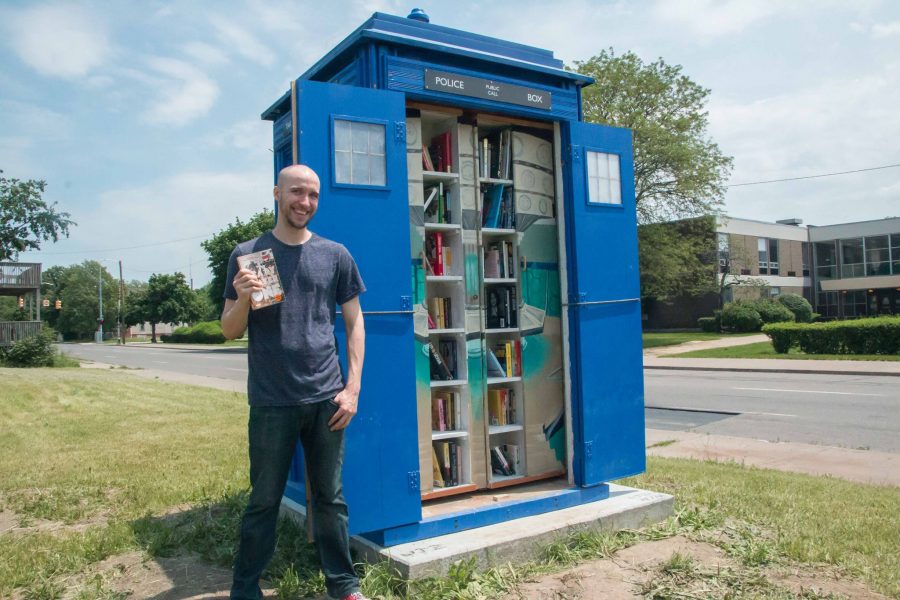 Image cour­tesy of Dan Zemke.
If you live in a major Amer­i­can city — and maybe even if you live in a major non-Amer­i­can one — you may well have come across a Lit­tle Free Library, those box­es of books open to the pub­lic for whomev­er would like to take one or leave one. Most Lit­tle Free Libraries, often put up on pri­vate prop­er­ty by the res­i­dents of that prop­er­ty, tend to look like over­sized bird­hous­es, but none of the pro­gram's rules requires them to look that way. A Tokyo sub­way sta­tion, for instance, built one to resem­ble a sub­way car. Oth­er indus­tri­ous Lit­tle Free Library mem­bers have used the oppor­tu­ni­ty to pay trib­ute to their obses­sions, and few obses­sions run as deep (deep­er, even, than the obses­sion for trains in Japan) as the one for Doc­tor Who.
The Eng­lish genre-bend­ing spec­u­la­tive-fic­tion show has, since its debut on the BBC back in 1963, fol­lowed the tit­u­lar Doc­tor (just "the Doc­tor," not "Doc­tor Who," and cer­tain­ly nev­er "Dr. Who") through many dra­mat­ic changes of set­tings, and even more notably changes of actors, as he falls into adven­tures with the var­i­ous Earth­lings he encoun­ters. Always on the move, the Doc­tor gets around by means of a machine called a TARDIS, which stands for "Time And Rel­a­tive Dimen­sion In Space." The­o­ret­i­cal­ly able to change its shape depend­ing on the peri­od of time it lands in, the TARDIS — in a neat demon­stra­tion of the cre­ativ­i­ty that aris­es from con­straints, in this case a severe­ly lim­it­ed pro­duc­tion bud­get — gets per­ma­nent­ly stuck in the shape of a Lon­don police call box, thus repur­pos­ing one of the best-known icons of Eng­lish cities into one of the best-known icons of Eng­lish tele­vi­sion.
The best-known TARDIS-shaped Lit­tle Free Library, which appears at the top of this post, entered ser­vice in a vacant lot in Detroit, a place by now well used to mak­ing urban improve­ments by hand. The father and son behind it "began work last Labor Day, and were aid­ed by an online build­ing com­mu­ni­ty called Tardis Builders," writes The Verge's Andrew Lip­tak.
"The final struc­ture stands almost 10 feet tall, weighs almost a ton, and its front shelves holds around 140 books." These videos show off oth­er book-lend­ing TARDIS­es in North Amer­i­ca, from Bloom­ing­ton, Indi­ana to Macon, Geor­gia to Saska­toon, Saskatchewan — all stand­ing evi­dence of how far Doc­tor Who's appeal has spread beyond its native cul­ture.
As much as it may seem like noth­ing more than the proud­ly nerdy pur­suit of wor­ship­ful fans, build­ing a Lit­tle Free Library (or in most of these cas­es, a not-so-Lit­tle Free Library) in the form of a TARDIS has a cer­tain con­cep­tu­al valid­i­ty in and of itself. As every Doc­tor Who view­er knows, the TARDIS, not just a device enabling trav­el to any point in time-space, accom­plish­es anoth­er kind of spa­tial feat by hav­ing an inte­ri­or much larg­er than its the exte­ri­or. "We thought it would be cool to fill the TARDIS with items that are large on the inside, like books that hold whole lit­er­ary worlds," says Dan Zemke, co-builder of the one in Detroit, in a Parade arti­cle. Borges, as well as all the oth­er most bril­liant spec­u­la­tive minds before Doc­tor Who and after it, would no doubt approve.
Relat­ed Con­tent:
Brit­Box Now Stream­ing Now Stream­ing 550 Episodes of Doc­tor Who and Many Oth­er British TV Shows
30 Hours of Doc­tor Who Audio Dra­mas Now Free to Stream Online
The BBC Cre­ates Step-by-Step Instruc­tions for Knit­ting the Icon­ic Doc­tor Who Scarf: A Doc­u­ment from the Ear­ly 1980s
Vin­cent van Gogh Vis­its a Mod­ern Muse­um & Gets to See His Artis­tic Lega­cy: A Touch­ing Scene from Doc­tor Who
The Fas­ci­nat­ing Sto­ry of How Delia Der­byshire Cre­at­ed the Orig­i­nal Doc­tor Who Theme
Based in Seoul, Col­in Mar­shall writes and broad­casts on cities and cul­ture. He's at work on the book The State­less City: a Walk through 21st-Cen­tu­ry Los Ange­les, the video series The City in Cin­e­ma, the crowd­fund­ed jour­nal­ism project Where Is the City of the Future?, and the Los Ange­les Review of Books' Korea Blog. Fol­low him on Twit­ter at @colinmarshall or on Face­book.