It's dif­fi­cult to appraise the com­pli­cat­ed lega­cy of Franklin D. Roo­sevelt. His New Deal poli­cies are cred­it­ed for lift­ing mil­lions out of des­ti­tu­tion, and they cre­at­ed oppor­tu­ni­ties for strug­gling artists and writ­ers, many of whom went on to become some of the country's most cel­e­brat­ed. But Roo­sevelt also com­pro­mised with racist south­ern sen­a­tors like Mississippi's Theodore Bil­bo, and under­wrote hous­ing seg­re­ga­tion, job and pay dis­crim­i­na­tion, and exclu­sions in his eco­nom­ic recov­ery aimed most square­ly at African-Amer­i­cans. He is laud­ed as a wartime leader in the fight against Nazism. But he built con­cen­tra­tion camps on U.S. soil when he interned over 100,000 Japan­ese Amer­i­cans after Pearl Har­bor. His com­mit­ment to iso­la­tion­ism before the war and his "moral failure—or indif­fer­ence" to the plight of Euro­pean Jews, thou­sands of whom were denied entry to the U.S., has come under jus­ti­fi­able scruti­ny from his­to­ri­ans.
Both blame and praise are well war­rant­ed, and not his alone to bear. Yet, for all his seri­ous laps­es and wartime crimes, FDR con­sis­tent­ly had an astute and ide­al­is­tic eco­nom­ic vision for the coun­try. In his 1944 State of the Union address, he denounced war prof­i­teers and "self­ish and par­ti­san inter­ests," say­ing, "if ever there was a time to sub­or­di­nate indi­vid­ual or group self­ish­ness to the nation­al good, that time is now."
He went on to enu­mer­ate a series of pro­pos­als "to main­tain a fair and sta­ble econ­o­my at home" while the war still raged abroad. These include tax­ing "all unrea­son­able prof­its, both indi­vid­ual and cor­po­rate" and enact­ing reg­u­la­tions on food prices. The speech is most extra­or­di­nary, how­ev­er, for the turn it takes at the end, when the pres­i­dent pro­pos­es and clear­ly artic­u­lates a "sec­ond Bill of Rights," argu­ing that the first one had "proved inad­e­quate to assure us equal­i­ty in the pur­suit of hap­pi­ness."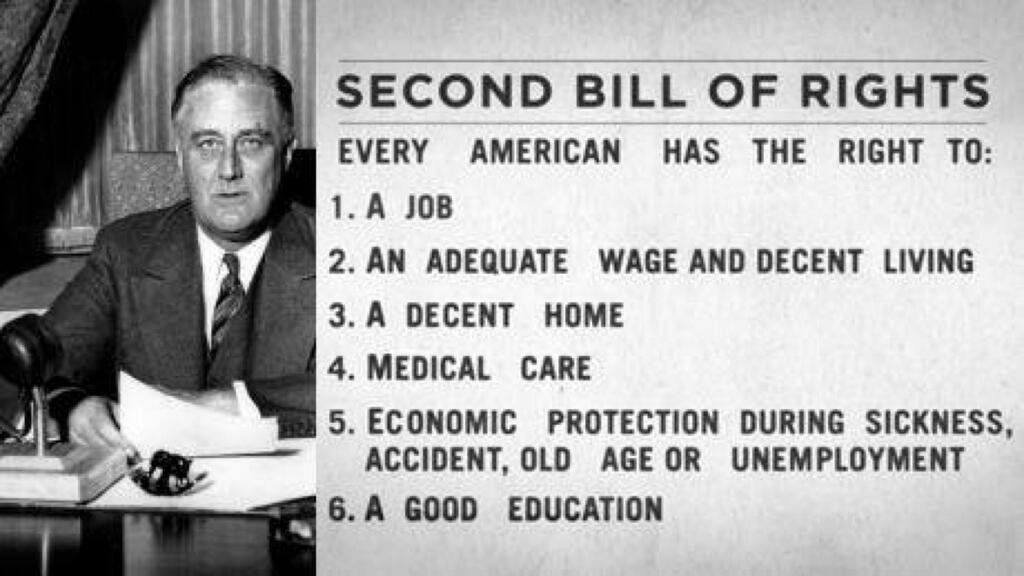 Roo­sevelt did not take the val­ue of equal­i­ty for grant­ed or mere­ly invoke it as a slo­gan. Though its role in his ear­ly poli­cies was sore­ly lack­ing, he showed in 1941 that he could be moved on civ­il rights issues when, in response to a march on Wash­ing­ton planned by Bayard Rustin, A. Philip Ran­dolph, and oth­er activists, he deseg­re­gat­ed fed­er­al hir­ing and the mil­i­tary. In his 1944 speech, Roo­sevelt strong­ly sug­gests that eco­nom­ic inequal­i­ty is a pre­cur­sor to Fas­cism, and he offers a pro­gres­sive polit­i­cal the­o­ry as a hedge against Sovi­et Com­mu­nism.
"We have come to a clear real­iza­tion," he says, "of the fact that true indi­vid­ual free­dom can­not exist with­out eco­nom­ic secu­ri­ty. 'Neces­si­tous men are not free men.' Peo­ple who are hun­gry and out of a job are the stuff of which dic­ta­tor­ships are made. In our day these eco­nom­ic truths have become accept­ed as self-evi­dent." In the footage at the top of the post, you can see Roo­sevelt him­self read his new Bill of Rights. Read the tran­script your­self just below:
We have accept­ed, so to speak, a sec­ond Bill of Rights under which a new basis of secu­ri­ty and pros­per­i­ty can be estab­lished for all regard­less of sta­tion, race, or creed.

Among these are:

The right to a use­ful and remu­ner­a­tive job in the indus­tries or shops or farms or mines of the Nation;

The right to earn enough to pro­vide ade­quate food and cloth­ing and recre­ation;

The right of every farmer to raise and sell his prod­ucts at a return which will give him and his fam­i­ly a decent liv­ing;

The right of every busi­ness­man, large and small, to trade in an atmos­phere of free­dom from unfair com­pe­ti­tion and dom­i­na­tion by monop­o­lies at home or abroad;

The right of every fam­i­ly to a decent home;

The right to ade­quate med­ical care and the oppor­tu­ni­ty to achieve and enjoy good health;

The right to ade­quate pro­tec­tion from the eco­nom­ic fears of old age, sick­ness, acci­dent, and unem­ploy­ment;

The right to a good edu­ca­tion.

All of these rights spell secu­ri­ty. And after this war is won we must be pre­pared to move for­ward, in the imple­men­ta­tion of these rights, to new goals of human hap­pi­ness and well-being.
Roo­sevelt died in office before the war end­ed. His suc­ces­sor tried to car­ry for­ward his eco­nom­ic and civ­il rights ini­tia­tives with the "Fair Deal," but con­gress blocked near­ly all of Tru­man's pro­posed leg­is­la­tion. We might imag­ine an alter­nate his­to­ry in which Roo­sevelt lived and found a way through force of will to enact his "sec­ond Bill of Rights," hon­or­ing his promise to every "sta­tion, race" and "creed." Yet in any case, his fourth term was near­ly at an end, and he would hard­ly have been elect­ed to a fifth.
But FDR's pro­gres­sive vision has endured. Many seek­ing to chart a course for the coun­try that tacks away from polit­i­cal extrem­ism and toward eco­nom­ic jus­tice draw direct­ly from Roosevelt's vision of free­dom and secu­ri­ty. His new bill of rights is strik­ing for its polit­i­cal bold­ness. Its pro­pos­als may have had their clear­est artic­u­la­tion three years ear­li­er in the famous "Four Free­doms" speech. In it he says, "the basic things expect­ed by our peo­ple of their polit­i­cal and eco­nom­ic sys­tems are sim­ple. They are:
Equal­i­ty of oppor­tu­ni­ty for youth and for oth­ers.

Jobs for those who can work.

Secu­ri­ty for those who need it.

The end­ing of spe­cial priv­i­lege for the few.

The preser­va­tion of civ­il lib­er­ties for all.

The enjoy­ment of the fruits of sci­en­tif­ic progress in a wider and con­stant­ly ris­ing stan­dard of liv­ing.

These are the sim­ple, the basic things that must nev­er be lost sight of in the tur­moil and unbe­liev­able com­plex­i­ty of our mod­ern world. The inner and abid­ing strength of our eco­nom­ic and polit­i­cal sys­tems is depen­dent upon the degree to which they ful­fill these expec­ta­tions.
Guar­an­tee­ing jobs, if not income, for all and a "con­stant­ly ris­ing stan­dard of liv­ing" may be impos­si­ble in the face of automa­tion and envi­ron­men­tal degra­da­tion. Yet, most of Roo­sevelt's prin­ci­ples may not only be real­iz­able, but per­haps, as he argued, essen­tial to pre­vent­ing the rise of oppres­sive, author­i­tar­i­an states.
Relat­ed Con­tent:
Franklin D. Roo­sevelt Says to Mon­eyed Inter­ests (EG Bankers) in 1936: "I Wel­come Their Hatred!"
Rare Footage: Home Movie of FDR's 1941 Inau­gu­ra­tion
Strik­ing Poster Col­lec­tion from the Great Depres­sion Shows That the US Gov­ern­ment Once Sup­port­ed the Arts in Amer­i­ca
Josh Jones is a writer and musi­cian based in Durham, NC. Fol­low him at @jdmagness