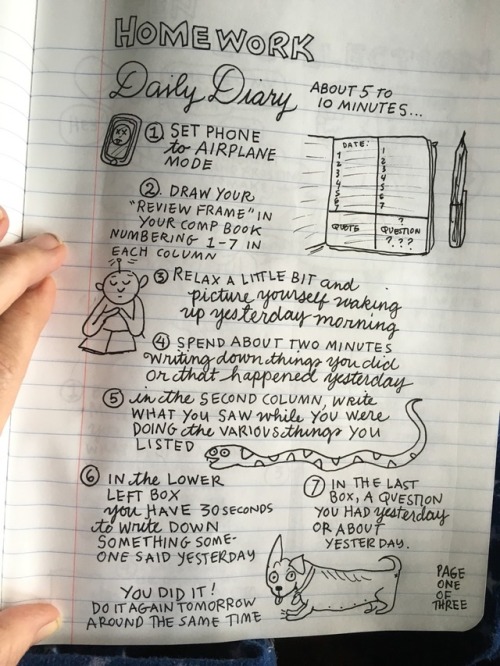 Pro­fes­sor Skeletor—aka car­toon­ist and edu­ca­tor Lyn­da Bar­ry—is at it again. Mak­ing Comics (& oth­er Graph­ic For­ma­tions), her fall offer­ing at the Uni­ver­si­ty of Wisconsin's Insti­tute for Dis­cov­ery is just get­ting under­way.
Those of us who can't study in per­son with an edu­ca­tor whose depart­ment chair called her "the best class­room teacher" that he's ever seen can hap­pi­ly fol­low along online.
As always, her hand­writ­ten home­work assign­ments will be post­ed to her Near­sight­ed Mon­key tum­blr account, along with in-class reflec­tions and inspi­ra­tional bits and bobs pulled off the Inter­net.
The first task, famil­iar to read­ers of her Syl­labus work­book, is to begin a dai­ly diary prac­tice, fill­ing in a tem­plate frame of Barry's own devis­ing.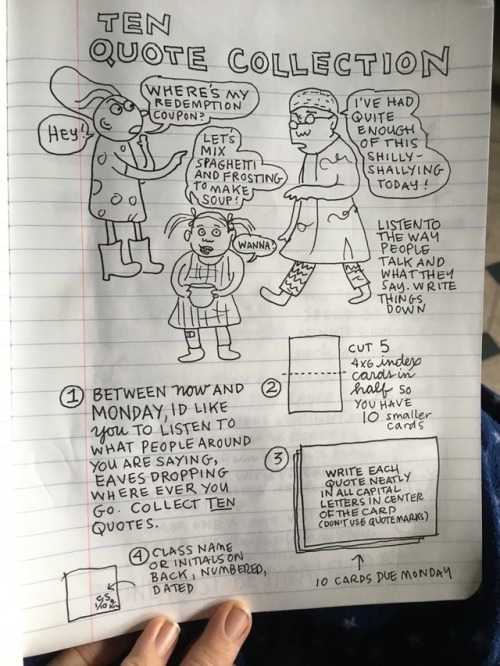 Begin by putting your phone on air­plane mode. "The phone gives us a lot but it takes away three key ele­ments of dis­cov­ery: lone­li­ness, uncer­tain­ty and bore­dom," she stat­ed last year, on a vis­it to NASA's God­dard Space Flight Cen­ter. "Those have always been where cre­ative ideas come from."
Amen.
Any one of the exer­cis­es will renew your pow­ers of obser­va­tion and sense of con­nec­tion with the world around you. Don't be sur­prised if you find your­self get­ting up ear­ly or skip­ping some must-see TV in order to ful­ly com­ply with Pro­fes­sor Skeletor's feel-good assign­ments. There are no wrong answers, pro­vid­ed you go at the assign­ments with ener­gy and a will­ing­ness to play. As Bar­ry said in an inter­view:
Because we tend to give up on the arts so ear­ly in life, I became real­ly inter­est­ed in what would hap­pen if we rein­tro­duce the arts with­out the thought of 'you're going to do this to become a great writer or painter,' but rather that it might help peo­ple with the oth­er work in their field.
For added val­ue, com­plete your first dai­ly diary frame to an audio record­ing of Barry's timed instruc­tion here. (Ignore the back­ground noise of your teacher's life—her sneez­ing cat, her hap­py pet birds—or bet­ter yet, let her household's zesty ener­gy seep into your work.)
Relat­ed Con­tent:
Lyn­da Barry's Illus­trat­ed Syl­labus & Home­work Assign­ments from Her New UW-Madi­son Course, "Mak­ing Comics"
Lyn­da Barry's Won­der­ful­ly Illus­trat­ed Syl­labus & Home­work Assign­ments from Her UW-Madi­son Class, "The Unthink­able Mind"
Join Car­toon­ist Lyn­da Bar­ry for a Uni­ver­si­ty-Lev­el Course on Doo­dling and Neu­ro­science
Ayun Hal­l­i­day is an author, illus­tra­tor, the­ater mak­er and Chief Pri­ma­tol­o­gist of the East Vil­lage Inky zine. Fol­low her @AyunHalliday.