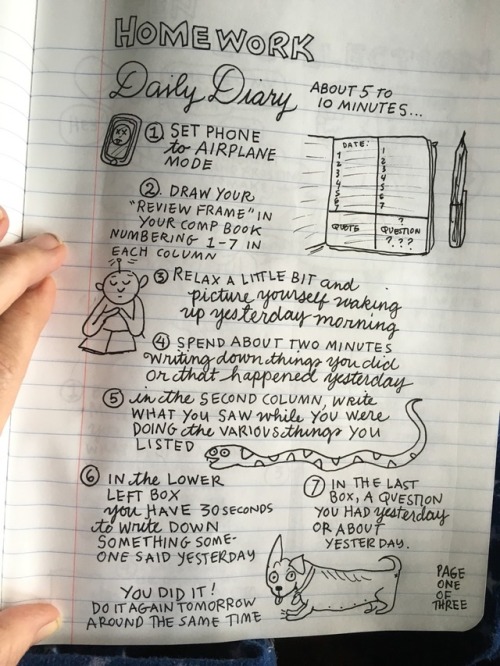 Professor Skeletor—aka cartoonist and educator Lynda Barry—is at it again. Making Comics (& other Graphic Formations), her fall offering at the University of Wisconsin's Institute for Discovery is just getting underway.
Those of us who can't study in person with an educator whose department chair called her "the best classroom teacher" that he's ever seen can happily follow along online.
As always, her handwritten homework assignments will be posted to her Nearsighted Monkey tumblr account, along with in-class reflections and inspirational bits and bobs pulled off the Internet.
The first task, familiar to readers of her Syllabus workbook, is to begin a daily diary practice, filling in a template frame of Barry's own devising.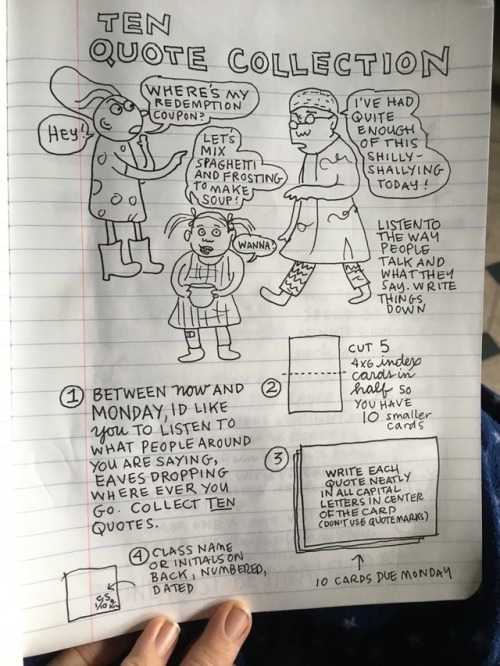 Begin by putting your phone on airplane mode. "The phone gives us a lot but it takes away three key elements of discovery: loneliness, uncertainty and boredom," she stated last year, on a visit to NASA's Goddard Space Flight Center. "Those have always been where creative ideas come from."
Amen.
Any one of the exercises will renew your powers of observation and sense of connection with the world around you. Don't be surprised if you find yourself getting up early or skipping some must-see TV in order to fully comply with Professor Skeletor's feel-good assignments. There are no wrong answers, provided you go at the assignments with energy and a willingness to play. As Barry said in an interview:
Because we tend to give up on the arts so early in life, I became really interested in what would happen if we reintroduce the arts without the thought of 'you're going to do this to become a great writer or painter,' but rather that it might help people with the other work in their field.
For added value, complete your first daily diary frame to an audio recording of Barry's timed instruction here. (Ignore the background noise of your teacher's life—her sneezing cat, her happy pet birds—or better yet, let her household's zesty energy seep into your work.)
Related Content:
Lynda Barry's Illustrated Syllabus & Homework Assignments from Her New UW-Madison Course, "Making Comics"
Lynda Barry's Wonderfully Illustrated Syllabus & Homework Assignments from Her UW-Madison Class, "The Unthinkable Mind"
Join Cartoonist Lynda Barry for a University-Level Course on Doodling and Neuroscience
Ayun Halliday is an author, illustrator, theater maker and Chief Primatologist of the East Village Inky zine.  Follow her @AyunHalliday.