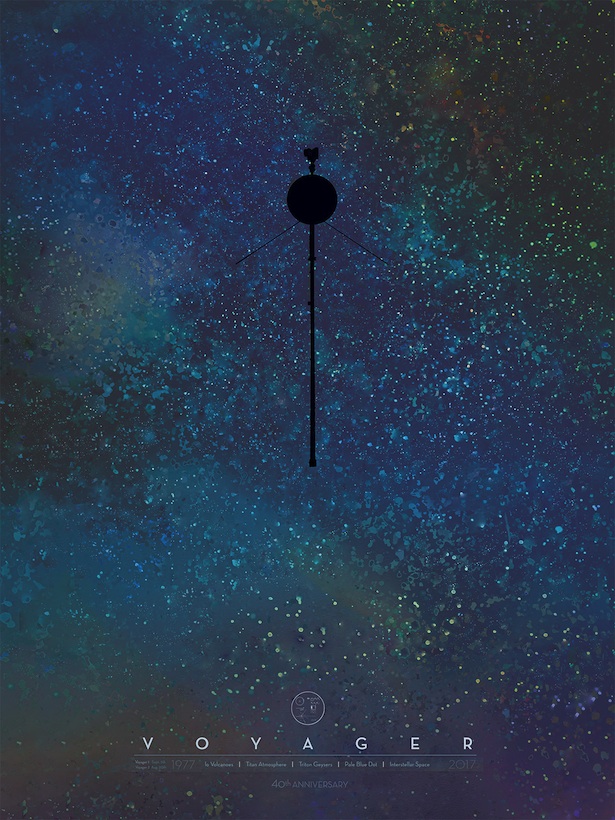 A quick fyi: Last year, NASA released 14 Free Posters That Depict the Future of Space Travel in a Captivatingly Retro Style. Now, on the 40th anniversary of the Voyager missions (Aug. 20 and Sept. 5, 1977), the space agency has issued three attractive new posters to celebrate our "ambassadors to the rest of the Milky Way." All are free to download and print here. Writes Space.com: "One of the Voyager posters is an image of a starry night sky [see above], and another advertises the mission using the flamboyant design style of the 1970s, the decade when the probes launched. A third poster honors the probes' 'grand tour' of the planets, on their way to the edge of the solar system." Happy downloading!
Would you like to support the mission of Open Culture? Please consider making a donation to our site. It's hard to rely 100% on ads, and your contributions will help us continue providing the best free cultural and educational materials to learners everywhere.
Also consider following Open Culture on Facebook and Twitter and sharing intelligent media with your friends. Or sign up for our daily email and get a daily dose of Open Culture in your inbox. 
Related Content:
How the Iconic 1968 "Earthrise" Photo Was Made: An Engrossing Visualization by NASA
NASA Archive Collects Great Time-Lapse Videos of our Planet
Ray Bradbury Reads Moving Poem on the Eve of NASA's 1971 Mars Mission
NASA Presents "The Earth as Art" in a Free eBook and Free iPad App
NASA Sends Image of the Mona Lisa to the Moon and Back
Free Interactive e-Books from NASA Reveal History, Discoveries of the Hubble & Webb Telescopes
Leonard Nimoy Narrates Short Film About NASA's Dawn: A Voyage to the Origins of the Solar System
The Best of NASA Space Shuttle Videos (1981-2010)