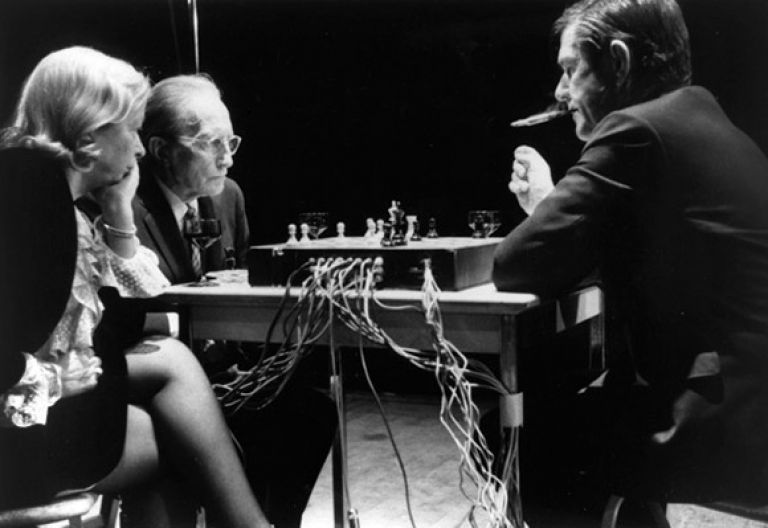 Photograph by Lynn Rosenthal
When is a chess game not a chess game?
When it's played between Marcel Duchamp and John Cage.
Both the man who turned a urinal into a piece of modern art and the man who reduced musical composition all the way down to silence were fans of taking things to absurd conclusions. And they were both fans of chess; Duchamp the grand master and Cage the dutiful student. Asked in 1974 whether Duchamp was a good teacher, Cage replied, "I was using chess as a pretext to be with him. I didn't learn, unfortunately, while he was alive to play well."
But Cage seemed to have little interest in competition. "Duchamp once watched me playing and became indignant when I didn't win," he said. "He accused me of not wanting to win." Instead, he approached chess as he approached the piano—as a decoy, a feint, that leads into another kind of game entirely. In a 1944 tribute to Duchamp, he painted a chessboard that was actually a musical score, and, in 1968, he arranged a public game as a pretext for a musical performance called Reunion, performed in Toronto with Duchamp and his wife Teeny (we have no film of the game-slash-concert; you can see Cage play Teeny in the video above).
Cage was an admirer of the elder artist for over 20 years, playing chess with him frequently. But he "didn't want to bother Duchamp with his friendship," writes Sylvere Lotringer, "until he realized that Duchamp's health was failing. Then he decided to actively seek his company." Playing on an electronic chess board designed by Lowell Cross, known as the inventor of the laser light show, the two created an extemporaneous composition that lasted as long as the audience, and Duchamp, could tolerate. "The concert," Cross remembered on the fortieth anniversary of the piece, "began shortly after 8:30 on the evening of March 5, 1968, and concluded at approximately 1:00 a.m. the next morning."
Debunking a number of misconceptions about the chessboard, Cross explains that its operation "depended upon the covering or uncovering of its 64 photoresistors." It also contained contact microphones so that "the audience could hear the physical moves of the pieces of the board." When either player made a move, it triggered one of several electronic "sound-generating systems" created by composers David Behrman, Gordan Mumma, David Tudor, and Cross himself. Additionally, "oscilloscopic images emanated from… modified monochrome and color television screens, which provided visual monitoring of some of the sound events passing through the chessboard."
As Lotringer describes the scene, the two modernist giants "played until the room emptied. Without a word said, Cage had managed to turn the chess game (Duchamp's ostensive refusal to work) into a working performance…. Playing chess that night extended life into art—or vice versa. All it took was plugging in their brains to a set of instruments, converting nerve signals into sounds. Eyes became ears, moves music." Duchamp had given the impression he was done making art. "Cage found a way to lure him into one final public appearance as an artist," notes the Toronto Dreams Project blog.
Indeed, Cage may have been formulating the idea for over twenty years, each time he sat down to play a game with Duchamp, and lost. When Duchamp arrived in Canada for the performance at what was called the Sightsoundsystems Festival, he had no idea that he would be participating in the headlining event.
What he found when he arrived was a surreal scene. Two of the greatest artists of the twentieth century took their seats in the middle of the stage at the Ryerson Theatre, bathed in bright light and the gaze of the audience. Photographers circled around them, shutters snapping; a movie camera whirred. The stage was a mess of gadgets. There were wires everywhere; a tangle of them plugged right into side of the chessboard. A pair of TV screens was set up on either side of the stage. The Toronto Star called it "a cross between an electronic factory and a movie set."
Cage lost, as usual, though he was more evenly matched when he played Duchamp's wife. The three of them, wrote the Globe, were "like figures in a Beckett play, locked in some meaningless game. The audience, staring silently and sullenly at what was placed before it, was itself a character; and its role was as meaningless as the others. It was total non-communication, all around." The wires running from the chessboard connected to "tuners, amplifiers and all manner of electronic gadgetry," the Star wrote, filling the room with "screeches, buzzes, twitters and rasps."
The Star pronounced the event "infinitely boring," a widely shared critical assessment of the night. (Cage explains the Zen of boredom in his voice-over at the top.) But we can hardly expect most reviewers of either artist's most experimental work to respond with less than bewilderment, if not outright hostility. It was to be Duchamp's last public appearance. He passed away a few months later. For Cage, the evening had been a success. As Cross put it, Reunion was "a public celebration of Cage's delight in living everyday life as an art form."
Everyday life with Duchamp meant playing chess, and there were few greater influences than Duchamp on Cage's conceptual approach to what music could be—and what could be music. "Like Duchamp," writes PBS, "Cage found music around him and did not necessarily rely on expressing something from within." Further up, see Cage's 1944, Duchamp-inspired "Chess Pieces" performed on harp and accordion, and above hear a piece he wrote for Duchamp for a sequence in Hans Richter's 1947 surrealist film Dreams that Money Can Buy.
To delve deeper, you can explore the book, Marcel Duchamp: The Art of Chess by Francis M. Naumann.
Related Content:
Marcel Duchamp, Chess Enthusiast, Created an Art Deco Chess Set That's Now Available via 3D Printer
Play Chess Against the Ghost of Marcel Duchamp: A Free Online Chess Game
The Music of Avant-Garde Composer John Cage Now Available in a Free Online Archive
Josh Jones is a writer and musician based in Durham, NC. Follow him at @jdmagness