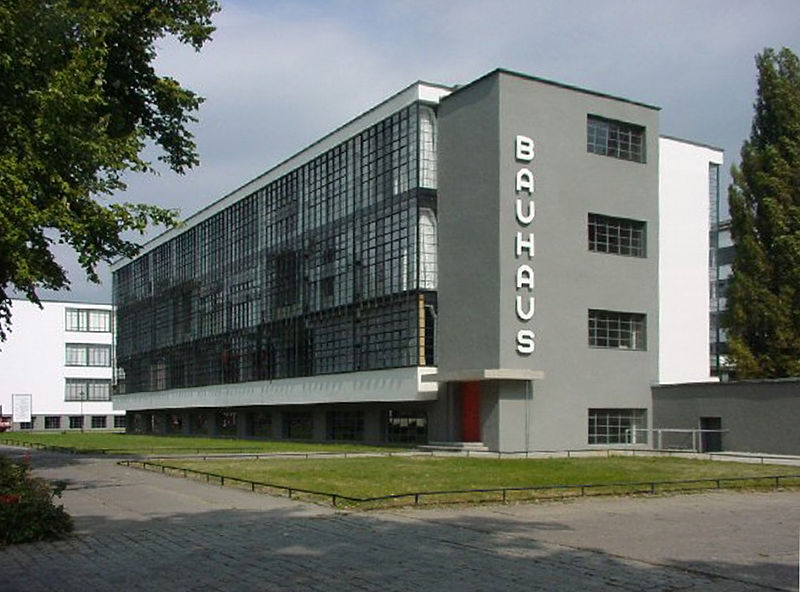 Image by Detief Mewes, via Wikimedia Commons
The Bauhaus, which operated as an influential school in Germany between 1919 and 1933 but lives on as a kind of aesthetic ideal, has its strongest associations with highly visual work, like textiles, graphic design, industrial design, and especially architecture. But a good deal of thought went into establishing the kind of rationality- and functionality-oriented philosophical basis that would produce all that visual work, and you can hear some of the leading lights of the Bauhaus discuss it, in English, on the record Bauhaus Reviewed: 1919 to 1933, now available on Spotify. (If you don't have Spotify's software, you can download it here.) You can also purchase your own copy online.
"The bulk of the narrative is by [Walter] Gropius, an articulate and passionate advocate for this remarkable experiment in education," writes All Music Guide's Stephen Eddins. "Artist Josef Albers and architect [Ludwig] Mies van der Rohe also contribute commentary. [LTM Records founder] James Nice is credited with 'curating' the CD, and it must be his editing that gives the album such a clear and informative narrative structure — one comes away with a vivid understanding of the development of the movement, both philosophically and pragmatically."
In between the spoken passages on the origins of the Bauhaus, form and totality, handling and texture, utopianism, and other topics besides, Bauhaus Reviewed 1919-1933 offers musical compositions by such Bauhaus-associated composers as Arnold Schoenberg, Josef Matthias Hauer, and George Antheil. You can hear some of the sound from the record repurposed in Architecture as Language, the short about Mies by Swiss filmmaker Alexandre Favre just below. In it that pioneer of modernism discusses the Bauhaus as well as his own individual work, all of it interesting to anyone with an inclination toward midcentury European-American architecture and design, none of it ultimately more relevant than the final words the master speaks: "I don't want to be interesting. I want to be good."
via Monoskop
Related Content:
Download Original Bauhaus Books & Journals for Free: Gropius, Klee, Kandinsky, Moholy-Nagy & More
The Female Pioneers of the Bauhaus Art Movement: Discover Gertrud Arndt, Marianne Brandt, Anni Albers & Other Forgotten Innovators
32,000+ Bauhaus Art Objects Made Available Online by Harvard Museum Website
The Nazi's Philistine Grudge Against Abstract Art and The "Degenerate Art Exhibition" of 1937
Based in Seoul, Colin Marshall writes and broadcasts on cities and culture. His projects include the book The Stateless City: a Walk through 21st-Century Los Angeles and the video series The City in Cinema. Follow him on Twitter at @colinmarshall or on Facebook.