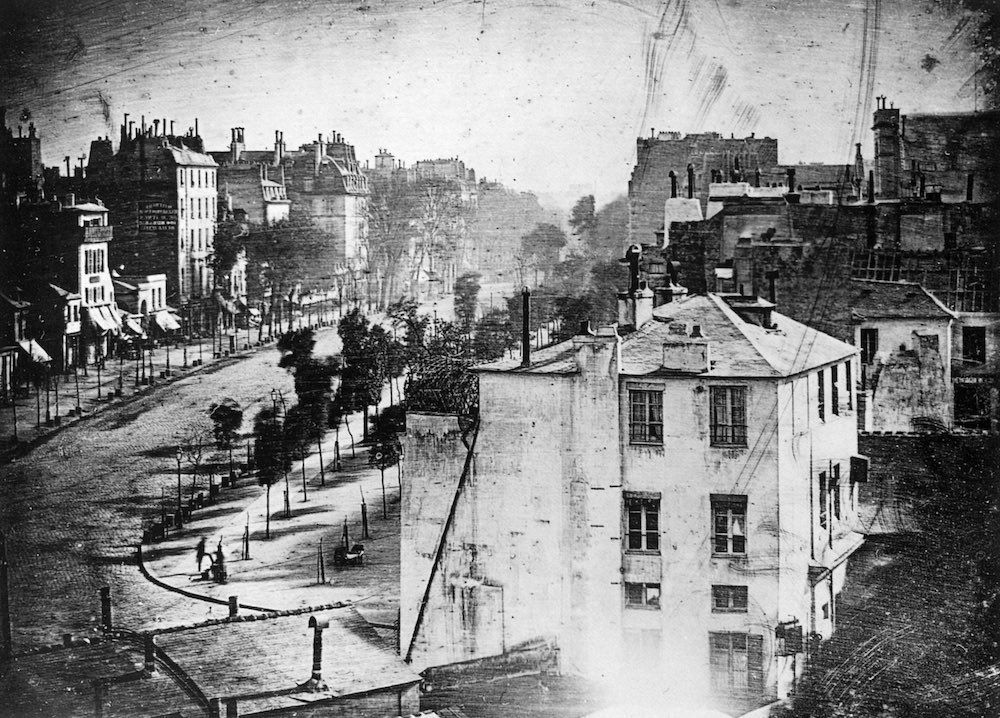 You've likely heard the reason people never smile in very old photographs. Early photography could be an excruciatingly slow process. With exposure times of up to 15 minutes, portrait subjects found it impossible to hold a grin, which could easily slip into a pained grimace and ruin the picture. A few minutes represented marked improvement on the time it took to make the very first photograph, Nicéphore Niépce's 1826 "heliograph." Capturing the shapes of light and shadow outside his window, Niépce's image "required an eight-hour exposure," notes the Christian Science Monitor, "long enough that the sunlight reflects off both sides of the buildings."
Niépce's business and inventing partner is much more well-known: Louis-Jacques-Mandé Daguerre, who went on after Niépce's death in 1833 to develop the Daguerreotype process, patenting it in 1839. That same year, the first selfie was born. And the year prior Daguerre himself took what most believe to be the very first photograph of a human, in a street scene of the Boulevard du Temple in Paris. The image shows us one of Daguerre's early successful attempts at image-making, in which, writes NPR's Robert Krulwich, "he exposed a chemically treated metal plate for ten minutes. Others were walking or riding in carriages down that busy street that day, but because they moved, they didn't show up."
Visible, however, in the lower left quadrant is a man standing with his hands behind his back, one leg perched on a platform. A closer look reveals the fuzzy outline of the person shining his boots. A much finer-grained analysis of the photograph shows what may be other, less distinct figures, including what looks like two women with a cart or pram, a child's face in a window, and various other passersby. The photograph marks a historically important period in the development of the medium, one in which photography passed from curiosity to revolutionary technology for both artists and scientists.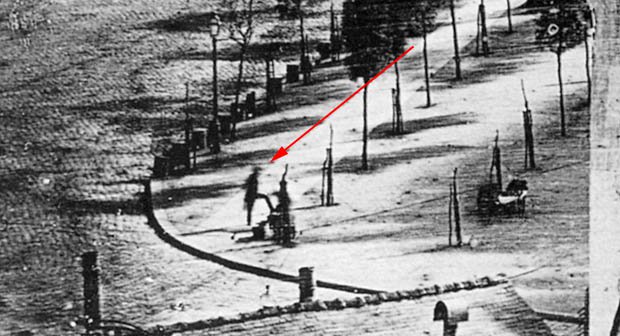 Although Daguerre had been working on a reliable method since the 1820s, it wasn't until 1838, the Metropolitan Museum of Art explains, that his "continued experiments progressed to the point where he felt comfortable showing examples of the new medium to selected artists and scientists in the hope of lining up investors." Photography's most popular 19th century use—perhaps then as now—was as a means of capturing faces. But Daguerre's earliest plates "were still life compositions of plaster casts after antique sculpture," lending "the 'aura' of art to pictures made by mechanical means." He also took photographs of shells and fossils, demonstrating the medium's utility for scientific purposes.
If portraits were perhaps less interesting to Daguerre's investors, they were essential to his successors and admirers. Candid shots of people moving about their daily lives as in this Paris street scene, however, proved next to impossible for several more decades. What was formerly believed to be the oldest such photograph, an 1848 image from Cincinnati, shows what appears to be two men standing at the edge of the Ohio River. It seems as though they've come to fetch water, but they must have been standing very still to have appeared so clearly. Photography seemed to stop time, freezing a static moment forever in physical form. Blurred images of people moving through the frame expose the illusion. Even in the stillest, stiffest of images, there is movement, an insight Eadweard Muybridge would make central to his experiments in motion photography just a few decades after Daguerre debuted his world-famous method.
Related Content:
The First Photograph Ever Taken (1826)
See The First "Selfie" In History Taken by Robert Cornelius, a Philadelphia Chemist, in 1839
Eadweard Muybridge's Motion Photography Experiments from the 1870s Presented in 93 Animated Gifs
Josh Jones is a writer and musician based in Durham, NC. Follow him at @jdmagness