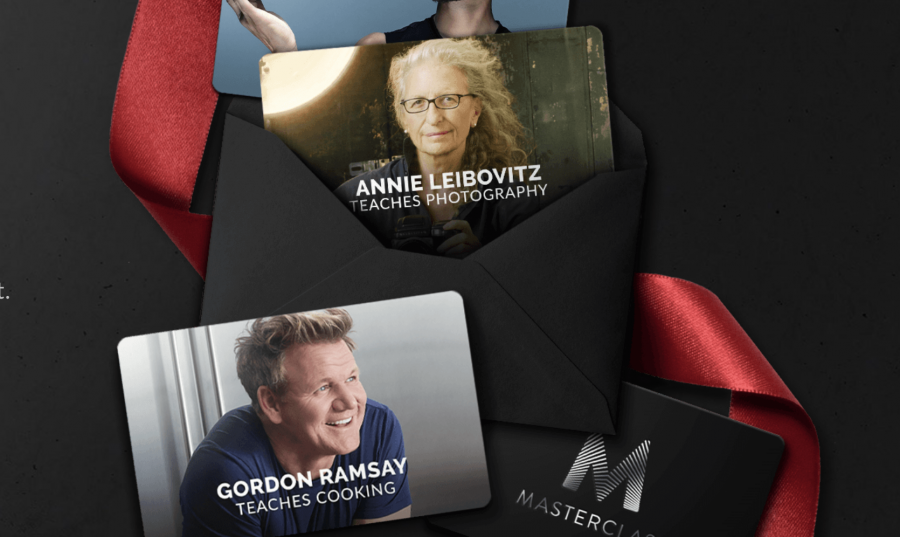 FYI: If you sign up for a MasterClass course by clicking on the affiliate links in this post, Open Culture will receive a small fee that helps support our operation.
If you're looking for a last minute gift for a thoughtful person in your life, here's one option to consider. MasterClass lets you electronically purchase online courses and give them as gifts to family members and friends. For $90, you could give the gift of a single course. (The recipient gets to choose which particular course they want to take.) Or, for $180, you can give the recipient a year-long pass to every course in the MasterClass catalogue. You can get started with the gift-giving process here. And find a list of available courses below.
Annie Leibovitz Teaches Photography
Gordon Ramsay Teaches Cooking
Frank Gehry Teaches Architecture & Design
Samuel Jackson Teaches Acting
Judy Blume Teaches Writing
Steve Martin Teaches Comedy
Jane Goodall Teaches Conservation
Herbie Hancock Teaches Jazz
Garry Kasparov Teaches Chess
Werner Herzog Teaches Filmmaking
Aaron Sorkin Teaches Screenwriting
David Mamet Teaches Dramatic Writing
James Patterson Teaches Writing
Hans Zimmer Teaches Film Scoring
Thomas Keller Teaches Cooking Techniques
Stephen Curry Teaches Shooting, Ball-Handling, Scoring
Christina Aguilera Teaches Singing
Deadmau5 Teaches Electronic Music Production
Shonda Rhimes Teaches Writing for Television
Marc Jacobs Teaches Fashion Design
Usher Teaches the Art of Performance
Serena Williams Teaches Tennis
Reba McEntire Teaches Country Music
Note: MasterClasss and Open Culture have a partnership. If you sign up for a MasterClass course, it benefits not just you and MasterClass. It benefits Open Culture too. So consider it win-win-win.
If you would like to sign up for Open Culture's free email newsletter, please find it here.
If you would like to support the mission of Open Culture, consider making a donation to our site. It's hard to rely 100% on ads, and your contributions will help us continue providing the best free cultural and educational materials to learners everywhere. You can contribute through PayPal, Patreon, and Venmo (@openculture). Thanks!