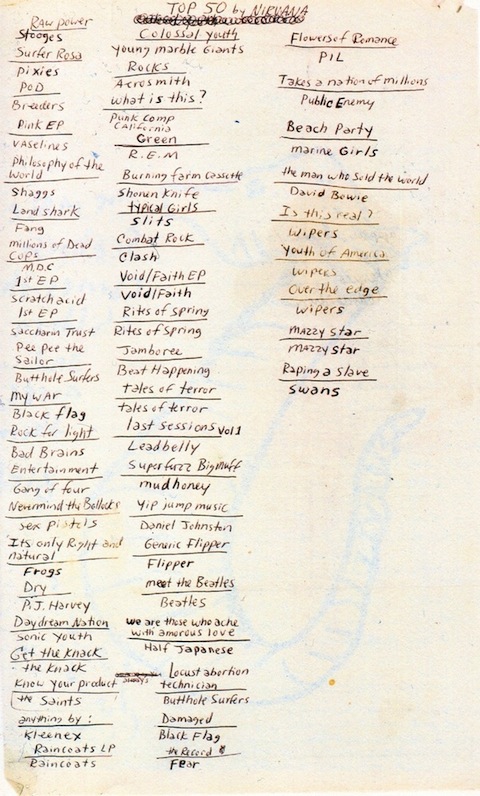 Sev­er­al years ago, we fea­tured a list Kurt Cobain made of his top 50 albums, which appeared in his jour­nals, pub­lished in 2002. It's most­ly a typ­i­cal list of stan­dards one would find in any young punk's record col­lec­tion in the late 80s/90s. As we wrote then, his "'Top 50 by Nir­vana'… seems like the ide­al code for pro­duc­ing a 90s alter­na­tive star." But these sources were not wide­ly acces­si­ble at the time. Cobain's influ­ence was such that he turned mil­lions of peo­ple on to music they'd nev­er heard before. That influ­ence con­tin­ues, of course, and you can par­take of it your­self in the playlist below.
Amid the clas­sic rock and clas­sic punk—the Bea­t­les, the Clash, the Sex Pistols—are a few slabs of clas­sic DC hard­core, then and now pret­ty obscure. Dave Grohl—stalwart of the DC scene before Cobain recruit­ed him to move across the coun­try and join Nirvana—may have added these albums to the list, or Cobain might have done so him­self. In any case, his men­tions of them, and their posthu­mous appear­ance in his let­ters and notes, brought bands like long-defunct Faith and Void new recog­ni­tion, as well as post-hard­core pio­neers Rites of Spring, who helped inspire the emo and screamo to come, for bet­ter or worse.
Along­side Iggy Pop, Black Flag, and Bad Brains are less­er-known punk bands like the Rain­coats, the Vase­lines, and the Saints, play­ful lo-fi weirdos like Daniel John­son, the Shag­gs, and Half Japan­ese; the coun­try blues of Lead Bel­ly, caus­tic noise of But­t­hole Surfers, thun­der­ous, pun­ish­ing nihilism of Swans…. Cobain may have helped them all sell a few records, and he def­i­nite­ly inspired new bands that sound like them by turn­ing peo­ple on to their music for the first time. (When Cobain cov­ered David Bowie, how­ev­er, fans start­ed to mis­take "The Man Who Sold the World" for a Nir­vana song, to Bowie's under­stand­able con­ster­na­tion.)
Cobain's list is lim­it­ed to a fair­ly nar­row range of styles, with some rare excep­tions: Lead Bel­ly, Pub­lic Ene­my, Aero­smith (!)—it's an almost purist punk and punk-derived palate, the DNA of Nir­vana. In the age of the inter­net, one can cob­ble togeth­er a list like this—with no real pri­or knowledge—in an hour or so, sim­ply by googling around and doing a bit of research. Dur­ing Cobain's for­ma­tive years on the out­skirts of Seat­tle, when a lot of this music cir­cu­lat­ed only on lim­it­ed cas­sette runs and poor­ly record­ed mix­tapes and copies, on record labels financed by veg­an bake sales and loans from the 'rents—it could be very hard to come by.
While Cobain's list may look, in hind­sight, like stan­dard fare to many long­time fans, what it rep­re­sents for those who came of age musi­cal­ly in the years just before the Web is a phys­i­cal jour­ney through all of the rela­tion­ships, con­certs, and record shops one had to move through to dis­cov­er the bands that spoke direct­ly to you and your friends.
Relat­ed Con­tent:
Kurt Cobain's Home Demos: Ear­ly Ver­sions of Nir­vana Hits, and Nev­er-Released Songs
Watch Nir­vana Per­form "Smells Like Teen Spir­it," Just Two Days After the Release of Nev­er­mind (Sep­tem­ber 26, 1991)
Watch The Last 48 Hours of Kurt Cobain on the 20th Anniver­sary of the Musician's Sui­cide
Josh Jones is a writer and musi­cian based in Durham, NC. Fol­low him at @jdmagness