It takes no small amount of inquiry, from no few angles, to tru­ly under­stand a form of art. This goes even more so for forms of art with which most of us in the 21st cen­tu­ry have lit­tle direct expe­ri­ence. Take, for exam­ple, the illu­mi­nat­ed man­u­script: its his­to­ry stretch­es back to the fifth cen­tu­ry and it has arguably shaped all the forms of visu­al-tex­tu­al sto­ry­telling we enjoy today, yet sure­ly not one of a mil­lion of us under­stands how the arti­sans that made them did it.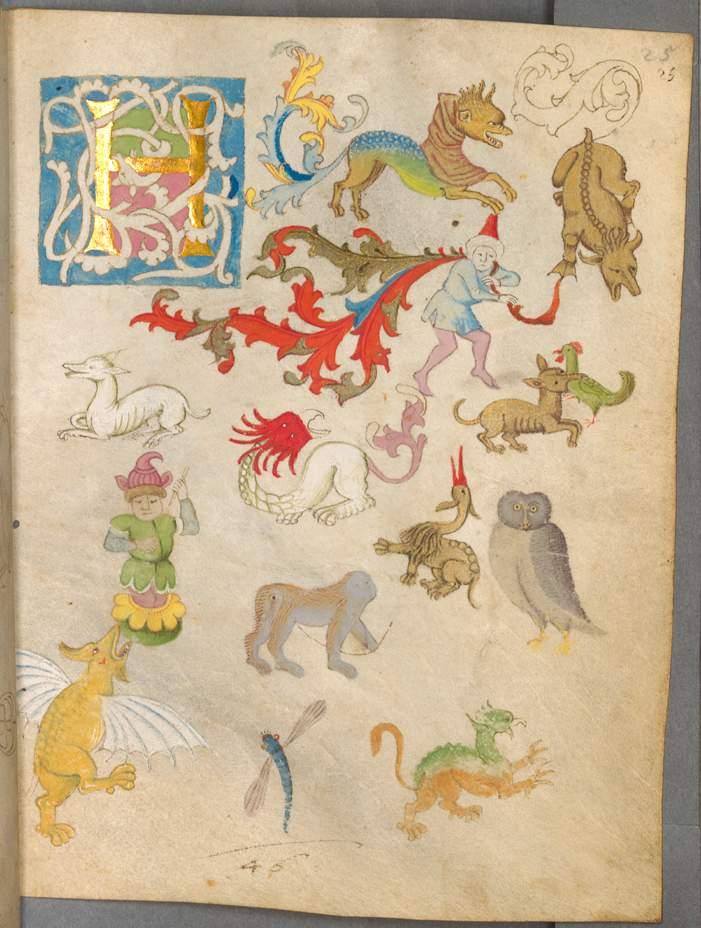 The Pub­lic Domain Review did their bit to cor­rect this when they post­ed the illu­mi­nat­ed sketch­book of Stephan Schriber, a series of pages dat­ing from 1494 in which "ideas and lay­outs for illu­mi­nat­ed man­u­scripts were tried out and skills devel­oped" by the author, a monk in the south­west of Ger­many. "The monk-artist pro­duced this sketch­book at the tail end of the 1,000-year age of illu­mi­nat­ed man­u­scripts," write's Slate's Rebec­ca Onion, "a type of book pro­duc­tion that was to die out as the Renais­sance moved for­ward and the print­ing press took over."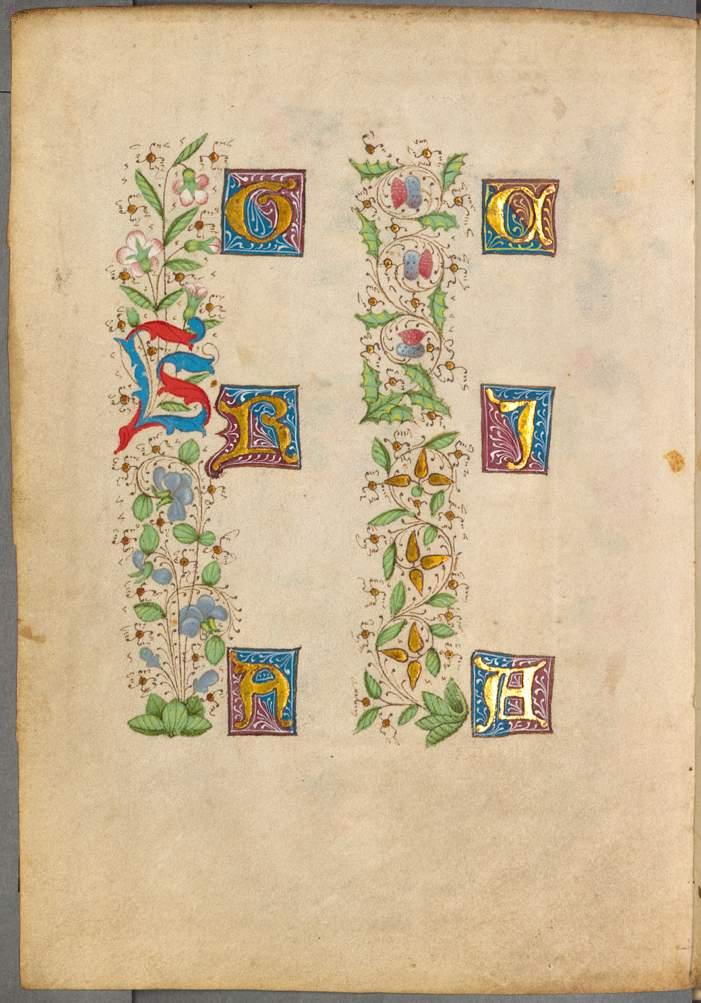 As print­ed books began to dis­place illu­mi­nat­ed man­u­scripts, the pro­duc­tion of the lat­ter went com­mer­cial, no longer pro­duced only by the hands of indi­vid­ual monks. But some of those monks, like Schriber, kept up their ded­i­ca­tion to the craft: "These pages show an artist try­ing out ani­mal motifs, prac­tic­ing curlicued embell­ish­ments, and draft­ing beau­ti­ful pre­sen­ta­tions of the cap­i­tal let­ters that would begin a sec­tion, page, or para­graph."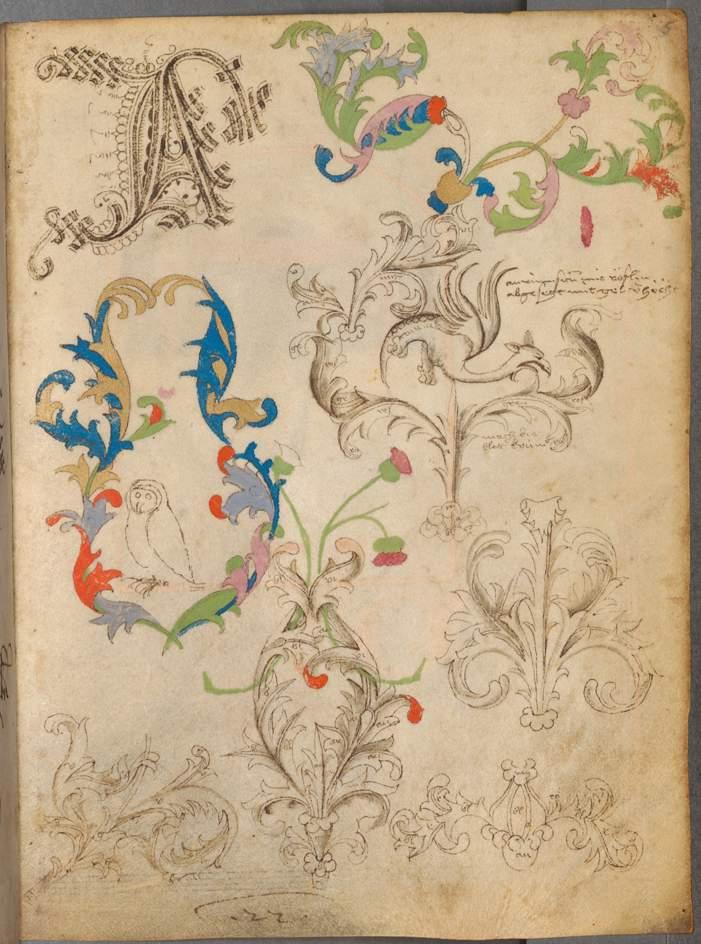 Bib­liOdyssey points out that the book, "ded­i­cat­ed to Count Eber­hard (Eber­hard the beard­ed, lat­er first Duke) of Würt­tem­berg," appears to be "a man­u­al of tem­plates and/or a prac­tice book con­tain­ing par­tial­ly com­plet­ed sketch­es, paint­ed and cal­lig­ra­phy ini­tals, stylised flo­ral dec­o­ra­tive motifs, plant foliage ten­drils, fan­tas­tic beast bor­der drol­leries" — yes, a real term from the field of illu­mi­nat­ed man­u­scripts — "togeth­er with some gold and sil­ver illu­mi­na­tion work."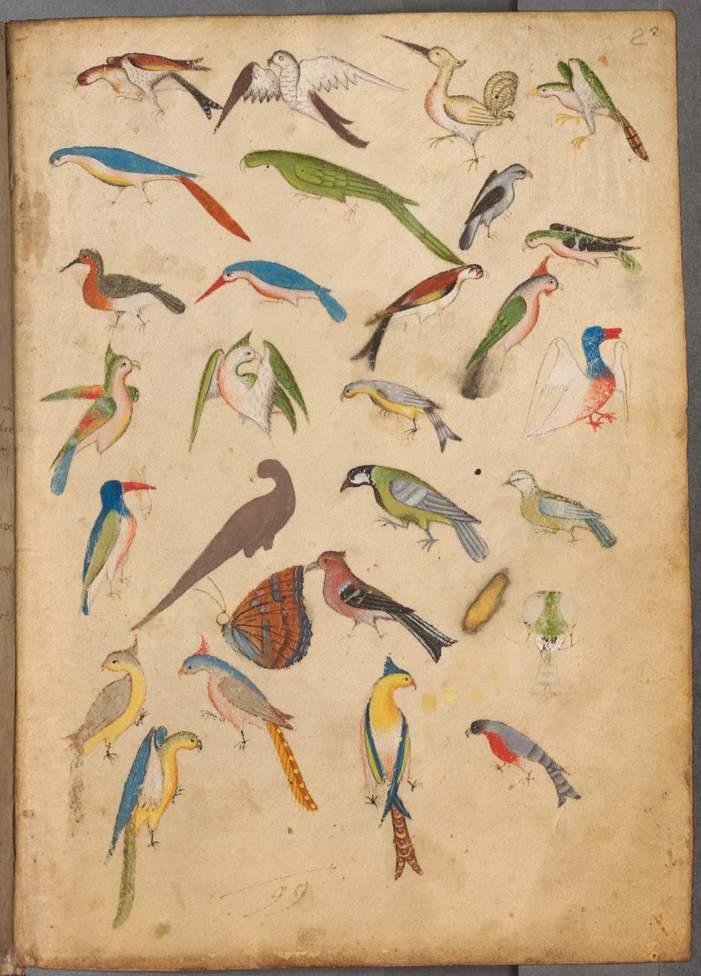 You can browse more images from Schriber's sketch­book at this Flickr account, or you can have a look at each and every page at the Munich Dig­i­ti­Za­tion Cen­ter. The images repay close study not just for their own beau­ty, but for what their seem­ing­ly delib­er­ate incom­plete­ness reveals about how a mas­ter of man­u­script illu­mi­na­tions would go about com­pos­ing their art. Even the cre­ation of a form whose hey­day passed more than half a mil­len­ni­um ago has some­thing to teach us today.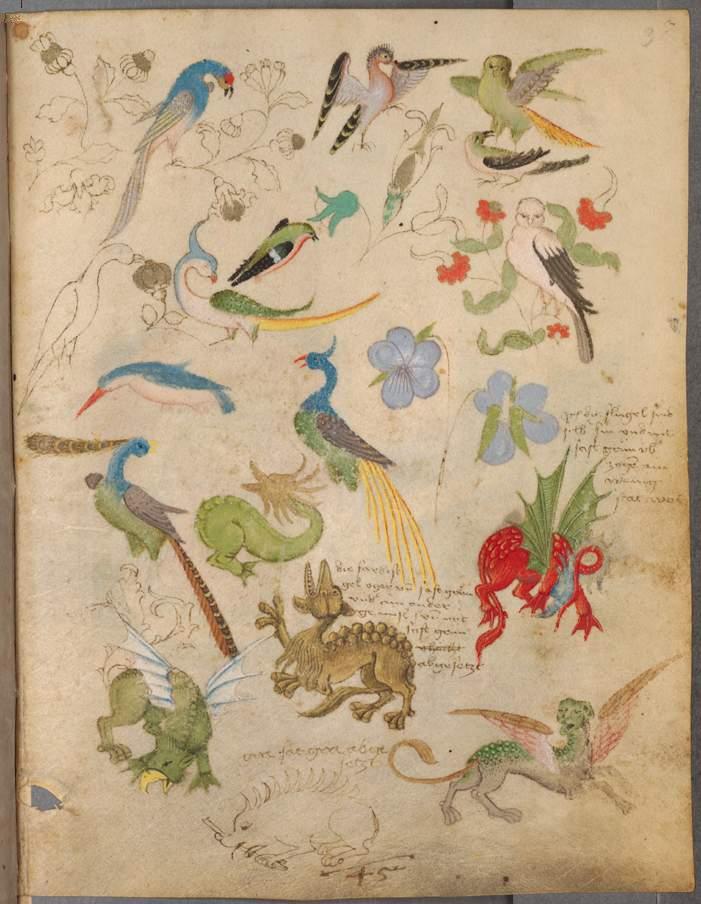 via The Pub­lic Domain Review/Slate
Relat­ed Con­tent:
The Aberdeen Bes­tiary, One of the Great Medieval Illu­mi­nat­ed Man­u­scripts, Now Dig­i­tized in High Res­o­lu­tion & Made Avail­able Online
Behold the Mys­te­ri­ous Voyn­ich Man­u­script: The 15th-Cen­tu­ry Text That Lin­guists & Code-Break­ers Can't Under­stand
1,600-Year-Old Illu­mi­nat­ed Man­u­script of the Aeneid Dig­i­tized & Put Online by The Vat­i­can
Dante's Divine Com­e­dy Illus­trat­ed in a Remark­able Illu­mi­nat­ed Medieval Man­u­script (c. 1450)
Won­der­ful­ly Weird & Inge­nious Medieval Books
1,000-Year-Old Illus­trat­ed Guide to the Med­i­c­i­nal Use of Plants Now Dig­i­tized & Put Online
Based in Seoul, Col­in Mar­shall writes and broad­casts on cities and cul­ture. His projects include the book The State­less City: a Walk through 21st-Cen­tu­ry Los Ange­les and the video series The City in Cin­e­ma. Fol­low him on Twit­ter at @colinmarshall or on Face­book.