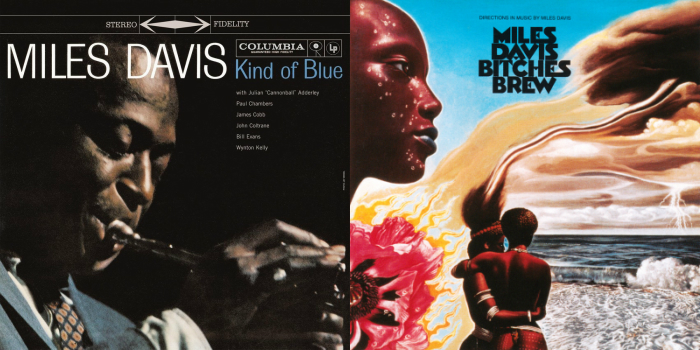 When Miles Davis attended a White House dinner in 1987, he was asked what he had done to deserve to be there. No modest man, Davis, he responded "Well, I've changed music five or six times."
Is it bragging when it's absolutely true? In this recent Spotify playlist, Steve Henry takes on the Miles Davis discography in roughly a chronological order, a stunning 569 songs and 65 hours of music. That makes that, what, over 90 tracks per revolution in music?
Technically, Davis' first recorded appearance was as a member of Charlie Parker's quintet in 1944, and his first as a leader was a 1946 78rpm recording of "Milestones" on the Savoy label. But this playlist starts with the 1951 Prestige album The New Sounds (which later made up the first side of Conception). By this time, Davis had taken the jaunty bebop of mentor and idol Parker and helped create a more relaxed style, a "cool" jazz that would come to dominate the 1950s. Privately he swung between extremes: a health nut who got into boxing, or a heroin addict and hustler/pimp, and he would oscillate between health and illness for the rest of his life.
During the 1950s however, he also created some of his most stunning classics, first for Prestige and Blue Note, where he developed the style to be known as "hard bop; then for Columbia, a label relationship that would result in some of his most revolutionary music. (Note: to get out of his Prestige contract that wanted four more albums out of him, Davis and his Quintet booked two session dates and recorded four albums worth of material, the Cookin' Relaxin' Workin' and Steamin' albums that in no way sounds like an obligation.)
At Columbia, Davis made history with 1959's Kind of Blue, considered by many as one of the greatest jazz albums of all time, along with his collaborations with arranger Gil Evans (Sketches of Spain, Porgy and Bess, Miles Ahead). After a lull in the mid-'60s where the music press expected either a resurgence or a tragic end, Davis returned with second quintet (Wayne Shorter, Herbie Hancock, Ron Carter, Tony Williams) for another run of albums in his then "time, no changes" free jazz style, including Miles Smiles, Sorcerer, and Filles de Kilimanjaro.
But none of those prepared anybody for the giant leap beyond jazz itself into proto-ambient with In a Silent Way and the menacing misterioso-funk of Bitches Brew of 1970. Davis had watched rock and funk go from teenager pop music at the beginning of the decade to literally changing the world. He responded by creating one of the densest, weirdest albums which both owed some of its sound to rock and at the same time refuted almost everything about the genre (as well as the history of jazz). He was 44 years old.
His band members went on to shape jazz in the '70s: Wayne Shorter and Joe Zawinul formed Weather Report; John McLaughlin formed the Mahavishnu Orchestra; Herbie Hancock, although already established as a solo artist, brought forth the Headhunters album; Chick Corea helped form Return to Forever.
As for Davis, he delved deeper into funk and fusion with a series of albums, including On the Corner, that would go unappreciated at the time, but are now seen as influential in the world of hip hop and beyond. By the '80s, after a few years where he just disappeared into reclusion, he returned with some final albums that are all over the map: covering pop hits by Cyndi Lauper and Michael Jackson much in the same way that Coltrane covered The Sound of Music; experimental soundtracks; and experimenting with loops, sequencers, beats, and hip hop. Having struggled with illness and addiction all his life, he passed away at 65 years old in 1991, leaving behind this stunning discography, still offering up surprises to those looking to explore his legacy.
Related Content:
Miles Davis Dishes Dirt on His Fellow Jazz Musicians: "The Trombone Player Should be Shot"; That Ornette is "F-ing Up the Trumpet"
The Night When Miles Davis Opened for the Grateful Dead in 1970: Hear the Complete Recordings
Ted Mills is a freelance writer on the arts who currently hosts the artist interview-based FunkZone Podcast and is the producer of KCRW's Curious Coast. You can also follow him on Twitter at @tedmills, read his other arts writing at tedmills.com and/or watch his films here.