The pur­pose of the mon­u­men­tal druidi­cal struc­ture known as Stone­henge has been lost to us, but many the­o­ries abound, "from the ratio­nal to the irra­tional to the mag­i­cal." On the mag­i­cal end of the scale, we have the giant stones asso­ci­at­ed with King Arthur and the wiz­ard Mer­lin. On the more ratio­nal side, spec­u­la­tion that the struc­ture func­tioned as a cal­en­dar for reli­gious cer­e­monies or agri­cul­tur­al sea­sons.
While the search for answers may be irre­sistible, we may nev­er know exact­ly what the builders of Stone­henge intend­ed. But we learn much by study­ing how oth­ers have approached the ancient mon­u­ment in the past. Exis­tent stud­ies of Stone­henge with illus­tra­tions date back to the 14th cen­tu­ry. These Medieval rep­re­sen­ta­tions tried to sit­u­ate the stones in a "Chris­t­ian view of world his­to­ry," as Art His­to­ry pro­fes­sor Sam Smiles writes at the British Library.
A cen­tu­ry lat­er, draw­ings of the stones show more of an inter­est in its archi­tec­tur­al fea­tures. One man­u­script includes "a tiny illus­tra­tion of four trilithons (two ver­ti­cal stones sup­port­ing a lin­tel)." Remark­ably, writes Smiles, "the artist has under­stood how the lin­tels were fixed to the uprights by a mor­tise and tenon joint." The draw­ing may rep­re­sent "the ear­li­est sur­viv­ing rep­re­sen­ta­tion of Stone­henge based on direct obser­va­tion."
The prac­tice of draw­ing Stone­henge from life con­tin­ued, and in the water­col­or above by Flem­ish painter Lucas de Heere, dat­ing from cir­ca 1573, we see "a more topo­graph­i­cal approach." Relat­ed to oth­er sim­i­lar images cre­at­ed around the same time, the paint­ing shows us an ear­ly exam­ple of what came to be called "chorog­ra­phy," which archae­ol­o­gist Michael Shanks describes as refer­ring to "anti­quar­i­an works that dealt in topog­ra­phy, place, com­mu­ni­ty, his­to­ry, mem­o­ry."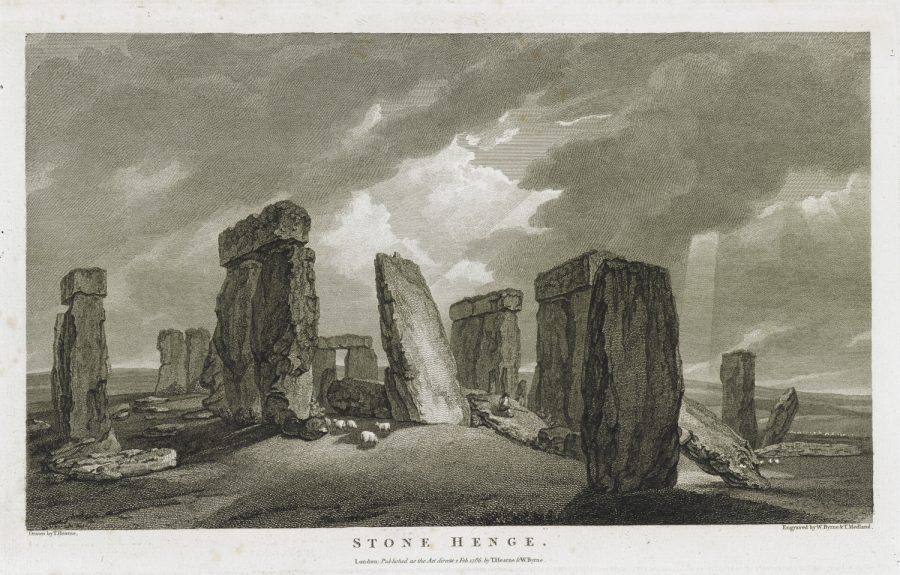 Rather than con­sid­er­ing it only as a mys­ti­cal or sacred site or an archi­tec­tur­al mar­vel, de Heere's depic­tion of Stone­henge folds both of these inter­ests into a larg­er con­cern with Eng­lish land­scape and his­to­ry, of the kind exem­pli­fied by William Camden's 1586 Bri­tan­nia, a choro­graph­i­cal sur­vey of Britain and Ire­land. Works like de Heere's and Camden's are part of the "Re-Dis­cov­ery of Eng­land," as his­to­ri­an R.C. Richard­son argues, that took place under the reign of Eliz­a­beth I, and which pro­duced a new nation­al his­to­ry, "designed to extend the bound­aries of knowl­edge and under­stand­ing."
As chorog­ra­phy devel­oped as a dis­ci­pline, Stone­henge and oth­er ancient mon­u­ments con­tin­ued to exert a fas­ci­na­tion for their his­tor­i­cal, topo­graph­i­cal, and arche­o­log­i­cal fea­tures. By the "last quar­ter of the 18th cen­tu­ry," Smiles tells us, "pre­his­toric mon­u­ments began to be reg­u­lar­ly includ­ed in topo­graph­i­cal sur­veys," such as Thomas Hearne's 1779 Antiq­ui­ties of Great Britain, which includ­ed the engrav­ing just above as its final plate. Learn more about the devel­op­ment of topog­ra­phy and its inter­est in ancient British mon­u­ments, and see many more of these his­toric images, at the British Library's site.
Relat­ed Con­tent:
How Illu­mi­nat­ed Medieval Man­u­scripts Were Made: A Step-by-Step Look at this Beau­ti­ful, Cen­turies-Old Craft
1,000-Year-Old Man­u­script of Beowulf Dig­i­tized and Now Online
A Free Yale Course on Medieval His­to­ry: 700 Years in 22 Lec­tures
Josh Jones is a writer and musi­cian based in Durham, NC. Fol­low him at @jdmagness