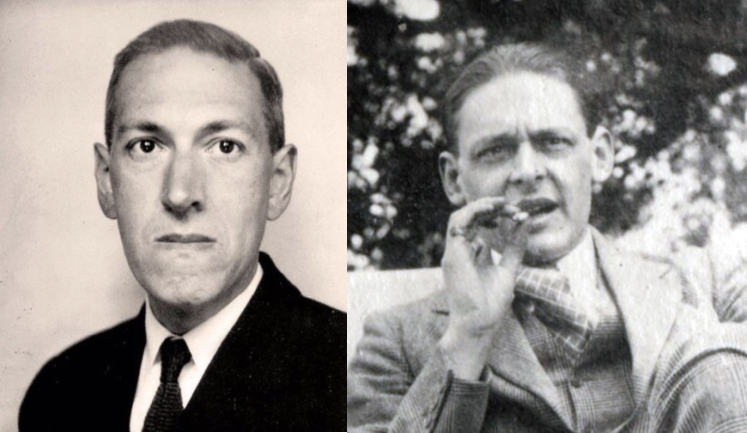 Image by Lucius B. Truesdell and Lady Morrell, via Wikimedia Commons
Howard Phillips Lovecraft, as his ever-growing fan base knows, seldom spared his characters — or at least their sanity — from the vast, unspeakable horrors lurking beneath his imagined reality. Not that he showed much more mercy as a critic either, as his assessment of "The Waste Land" (1922) reveals. Though now near-universally respected, T.S. Eliot's best-known poem failed to impress Lovecraft, who, in his journal The Conservative, wrote in 1923 that
We here behold a practically meaningless collection of phrases, learned allusions, quotations, slang, and scraps in general; offered to the public (whether or not as a hoax) as something justified by our modern mind with its recent comprehension of its own chaotic triviality and disorganisation. And we behold that public, or a considerable part of it, receiving this hilarious melange as something vital and typical; as "a poem of profound significance", to quote its sponsors.
Eliot's work, Lovecraft argued, simply couldn't hold up in the modern world, where "man has suddenly discovered that all his high sentiments, values, and aspirations are mere illusions caused by physiological processes within himself, and of no significance whatsoever in an infinite and purposeless cosmos." Science, in his view, has made nonsense of tradition and "a rag-bag of unrelated odds and ends" of the soul. A poet like Eliot, it seems, "does not know what to do about it; but compromises on a literature of analysis, chaos, and ironic contrast."
Looking on even this hatchet job, Lovecraft must have felt he'd failed to slay the beast, and so he composed a parody of "The Waste Land" entitled "Waste Paper" in late 1922 or early 1923. This "Poem of Profound Insignificance," which Lovecraft scholar S.T. Joshi calls the writer's "best satirical poem," begins thus:
Out of the reaches of illimitable light
The blazing planet grew, and forc'd to life
Unending cycles of progressive strife
And strange mutations of undying light
And boresome books, than hell's own self more trite
And thoughts repeated and become a blight,
And cheap rum-hounds with moonshine hootch made tight,
And quite contrite to see the flight of fright so bright
You can read the whole thing, including its probably apocryphal half-epigraph from the Greek poet Glycon, at the H.P. Lovecraft Archive. "In many parts of this quite lengthy poem," Joshi writes, "he has quite faithfully parodied the insularity of modern poetry — its ability to be understood only by a small coterie of readers who are aware of intimate facts about the poet."
Lovecraft also tried his hand at non-parodic poetry, though history remembers him much less for that than for striking a more primal chord with his sui generis "weird fiction," whose parameters he was determining at the same time he was savaging his contemporary Eliot. And though scientific progress has marched much farther on since the 1920s, especially as regards the understanding of the human mind and whatever now passes for a soul, both men's bodies of work have only gained in resonance.
via Dangerous Minds
Related Content:
H.P. Lovecraft's Classic Horror Stories Free Online: Download Audio Books, eBooks & More
H.P. Lovecraft's Monster Drawings: Cthulhu & Other Creatures from the "Boundless and Hideous Unknown"
H.P. Lovecraft Gives Five Tips for Writing a Horror Story, or Any Piece of "Weird Fiction"
Lovecraft: Fear of the Unknown (Free Documentary)
T.S. Eliot Reads His Modernist Masterpieces "The Waste Land" and "The Love Song of J. Alfred Prufrock"
Based in Seoul, Colin Marshall writes and broadcasts on cities and culture. His projects include the book The Stateless City: a Walk through 21st-Century Los Angeles and the video series The City in Cinema. Follow him on Twitter at @colinmarshall or on Facebook.