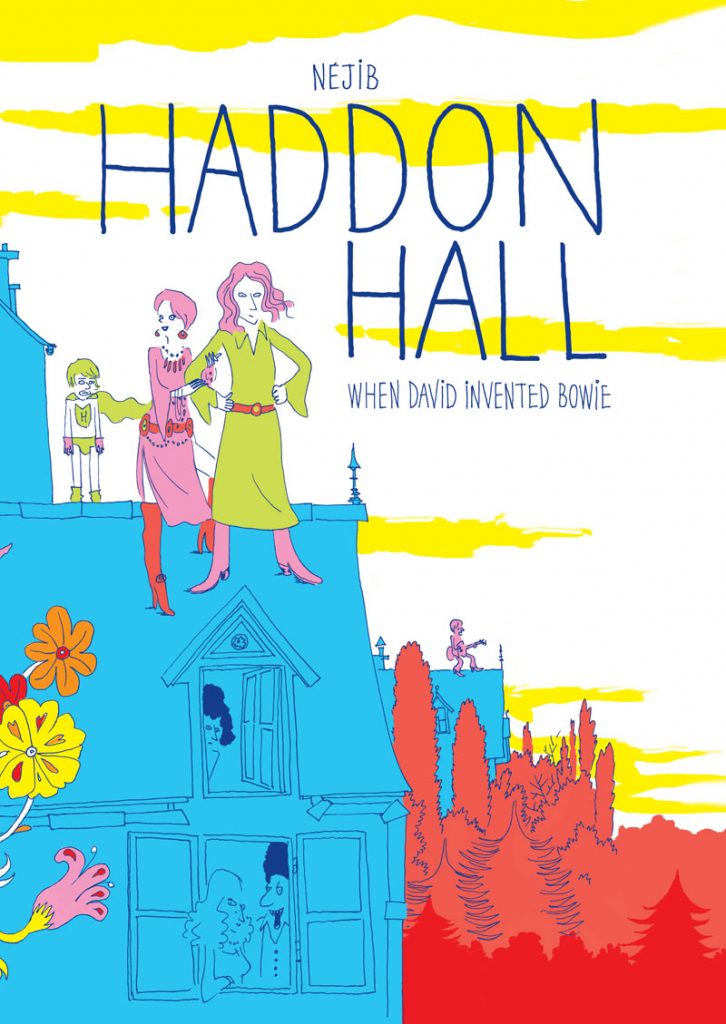 What, exactly, turned David Jones into David Bowie? Observers have been asking that question ever since the artistically inclined rock star — who, we might say, made rock stardom into a viable art form in the first place — began his high-profile experimentation with his own image in the early 1970s. Having put out his first big hit "Space Oddity" a few years before that, in 1969, he spent the period in between living, with his then-wife Angie, at a Victorian villa in South London called Haddon Hall. "The couple rented a ground-floor flat for £7 a week – the Spiders from Mars were, I think, sequestered around an upstairs landing – and in one of its cavernous rooms, their ceilings painted silver, Angie cut David's hair and stitched the first Ziggy outfit."
Those words come from the Guardian's Rachel Cooke, reviewing the biographical graphic novel Haddon Hall: When David Invented Bowie. "Its author, the Tunisian-born French cartoonist Nejib, puts Bowie's lost house centre stage, David and Angie having fallen instantly in love with its discreet decrepitude, its towers and mouldings and preposterously long corridors," she writes. "Nejib is wonderfully alive to the influences on Bowie in this crucial period, from the final illness of his father, John, to Stanley Kubrick's 1971 film adaptation of A Clockwork Orange (leaving the cinema after seeing it, the still struggling Bowie suddenly sees what he should be: a rock star 'who's all destruction and the future')."
A Bowie scholar could argue that his and Angie's Haddon Hall years provided the space for the most crucial gestation period and space in his career. In an interview with the Herald, Nejib relates his dissatisfaction with extant Bowie biographies, and how one biographer even admits that writing a satisfying one may be "rather impossible because Bowie is a fiction created by David Jones, a very secret man. I loved that idea and I consider Bowie as one of the most powerful fictional creations of this period. That was very liberating for me to make this 'portrait' of Bowie in a graphic novel," which he describes as "not a documentary, but a fiction," based on more than just facts and as a result "a mix of many things."
More fascinated by "fragility and doubt than success and stardom," Nejib — whose art style brings to mind cartoons seen in magazines of the late 1960s and early 1970s — focuses on a "gap" in Bowie's life as its story has previously been told: "The man is close to becoming the genius we know, but he is full of doubt. I was inspired by an interview in which he said that he felt that all his influences were merging and he felt that it was the moment for him to make the big jump!" And make the big jump he did, not just once but over and over again throughout the course of his life, reinventing himself both musically and as a persona whenever necessary. Whatever importance any given Bowie fan grants his time in Haddon Hall, they've got to admit that those years make for a tale best told visually.
You can pick up your own copy of Nejib's graphic novel, Haddon Hall: When David Invented Bowie.
Related Content:
The Story of Ziggy Stardust: How David Bowie Created the Character that Made Him Famous
David Bowie & Brian Eno's Collaboration on "Warszawa" Reimagined in a Comic Animation
96 Drawings of David Bowie by the "World's Best Comic Artists": Michel Gondry, Kate Beaton & More
50 Years of Changing David Bowie Hair Styles in One Animated GIF
How Leonard Cohen & David Bowie Faced Death Through Their Art: A Look at Their Final Albums
Based in Seoul, Colin Marshall writes and broadcasts on cities and culture. His projects include the book The Stateless City: a Walk through 21st-Century Los Angeles and the video series The City in Cinema. Follow him on Twitter at @colinmarshall or on Facebook.