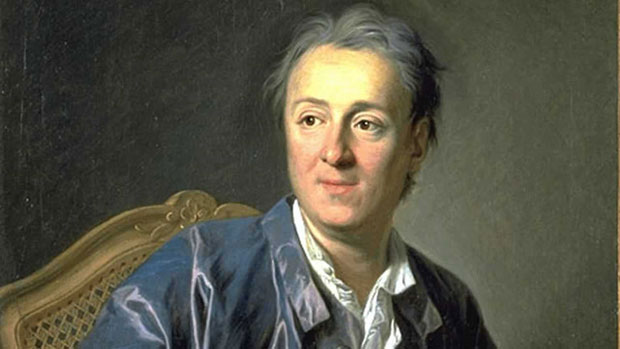 In pointing out the clear and present dangers posed by out-of-control consumerism, there is no need for Marxism 101 terms like "commodity fetishism." Simply state in plain terms that we revere cheaply-mass-produced goods, made for the sake of endless growth and consumption, for no particular reason other than perpetual novelty and the creation of wealth for a few. Everyone nods in agreement, then gets back to scrolling through their social media feeds and inboxes, convincing themselves, as I convince myself, that targeted advertising in digital networks—what Jaron Lanier calls "mass behavior-modification regimes"—could not possibly have any effect on me!
While 18th-century French philosophe Denis Diderot in no way predicted (as Lanier largely did) the mass behavior-modification schemes of the internet, he understood something critically important about human behavior and the nascent commodity culture taking shape around him, a culture of anxious disquiet and games of one-upmanship, played, if not with others, then with oneself. Renowned, among other things, for co-founding the Encyclopédie (the first Wikipedia!), Diderot has also acquired a reputation for the insights in his essay "Regrets on Parting with My Old Dressing Gown," which inspired the concept of the "Diderot Effect."
This principle states that modern consumption requires us to "identify ourselves using our possessions," as Esther Inglis-Arkell writes at io9. Thus, when persuaded by naked lust or the enticements of advertising to purchase something new and shiny, we immediately notice how out of place it looks amongst our old things. "Once we own one thing that stands out, that doesn't fit our current sense of unity, we go on a rampage trying to reconstruct ourselves" by upgrading things that worked perfectly well, in order to maintain a coherent sense of who we are in relation to the first new purchase.
The phenomenon, "part psychological, and part deliberate manipulation," drives heedless shopping and creates needless waste. Diderot describes the effect in terms consistent with the tastes and prejudices of an educated gentleman of his time. He does so with perspicacious self-awareness. The essay is worth a read for the rich hyperbole of its rhetoric. Beginning with a comparison between his old bathrobe, which "molded all the folds of my body" and his new one ("stiff, and starchy, makes me look stodgy"), Diderot builds to a near-apocalyptic scenario illustrating the "ravages of luxury."
The purchase of a new dressing gown spoiled his sense of himself as "the writer, the man who works." The new robe strikes a jarring, dissociative note. "I now have the air of a rich good for nothing. No one knows who I am…. All now is discordant," he writes, "No more coordination, no more unity, no more beauty." Rather than get rid of the new purchase, he feels compelled to become the kind of person who wears such a thing, by means of further purchases which he could only newly afford, after receiving an endowment from Catherine the Great. Before this windfall, points out James Clear, he had "lived nearly his entire life in poverty."
Clear gives several examples of the Diderot effect that take it out of the realm of 18th century aesthetics and into our modern big-box/Amazon reality. "We are rarely looking to downgrade, to simplify," he writes, "Our natural inclination is always to accumulate." To counter the tendency, he recommends corrective behaviors such as making sure new purchases fit in with our current possessions; setting self-imposed limits on spending; and reducing exposure to "habit triggers." This may require admitting that we are susceptible to the ads that clutter both our physical and digital environments, and that limiting time spent on ad-driven platforms may be an act not only of self-care, but of social and environmental care as well. Algorithms now perform Diderot effects for us constantly.
Is the Diderot effect universally bad? Inglis-Arkell argues that "it's not pure evil… there's a difference between an Enlightenment screed and real life." So-called green consumerism—"replacing existing wasteful goods with more durable, cleaner, more responsibly-made goods"—might be a healthy use of Diderot-like avarice. Besides, she says, "there's nothing wrong with wanting to communicate one's sense of self through aesthetic choices" or craving a unified look for our physical spaces. Maybe, maybe not, but we can take responsibility for how we direct our desires. In any case, Diderot's essay is hardly a "screed," but a light-hearted, yet candid self examination. He is not yet so far gone, he writes: "I have not been corrupted…. But who knows what will happen with time?"
Related Content:
Bertrand Russell & Buckminster Fuller on Why We Should Work Less, and Live & Learn More
How Information Overload Robs Us of Our Creativity: What the Scientific Research Shows
Everyday Economics: A New Course by Marginal Revolution University Where Students Create the Syllabus
Josh Jones is a writer and musician based in Durham, NC. Follow him at @jdmagness