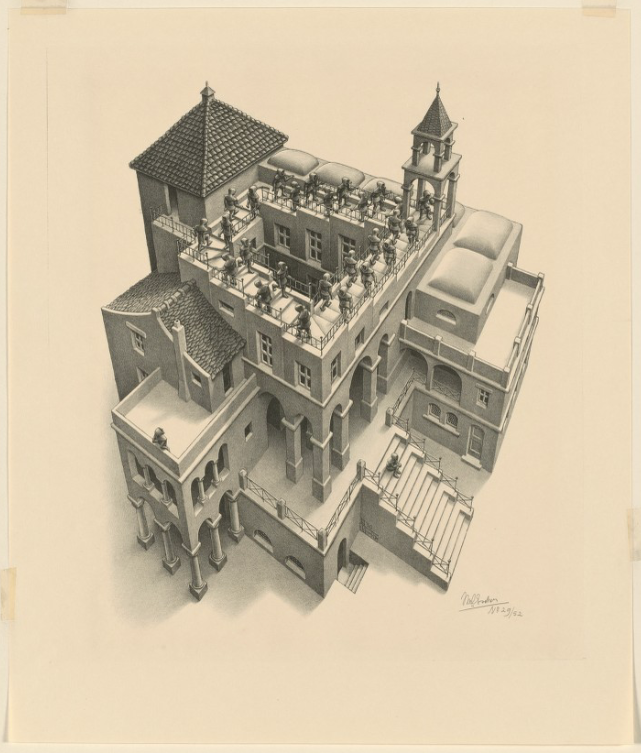 In addi­tion to the icon­ic scene in Jim Henson's Labyrinth, or appear­ances in ani­mat­ed TV shows and video games, M.C. Escher's work has adorned the cov­ers of albums like Mott the Hoople's 1969 debut and the spec­u­la­tive fic­tion of Ita­lo Calvi­no and Jorge Luis Borges. A big hit with hip­pies and 1960s col­lege stu­dents, writes Heavy Music Art­work, his mind-bend­ing prints became asso­ci­at­ed with "ques­tion­ing accept­ed views of nor­mal expe­ri­ence and test­ing the lim­its of per­cep­tion with hal­lu­cino­genic drugs." While he appre­ci­at­ed his cult fol­low­ing, Esch­er "did not encour­age their mys­ti­cal inter­pre­ta­tions of his images." Reply­ing to one enthu­si­as­tic fan of his print Rep­tiles, who claimed to see in it an image of rein­car­na­tion, Esch­er replied, "Madame, if that's the way you see it, so be it."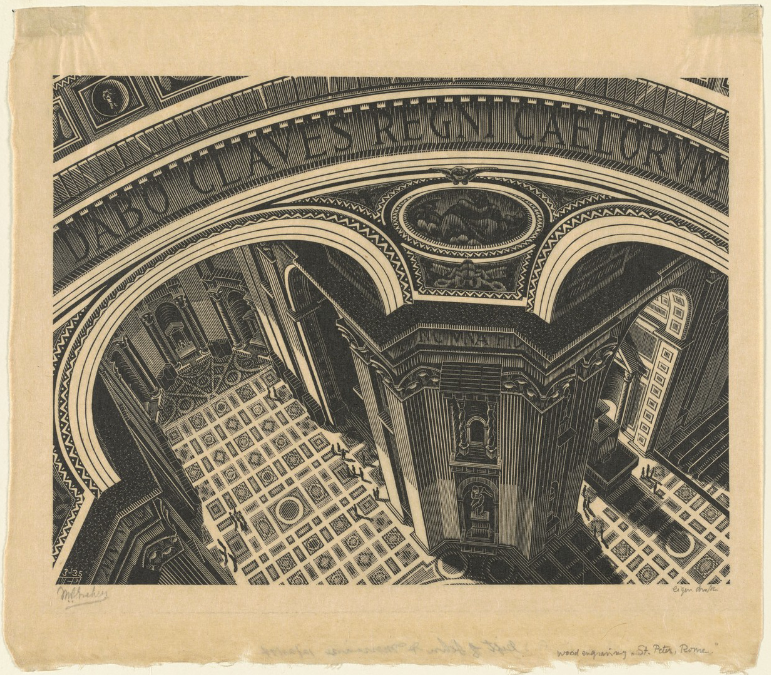 Rather than illus­trate high­er states of con­scious­ness or meta­phys­i­cal enti­ties, Bruno Ernst writes in The Mag­ic Mir­ror of M.C. Esch­er, the artist intend­ed to cre­ate prac­ti­cal, "pic­to­r­i­al rep­re­sen­ta­tion of intel­lec­tu­al under­stand­ing." Illus­tra­tions, that is, of philo­soph­i­cal and sci­en­tif­ic thought exper­i­ments. The son of a civ­il engi­neer, Esch­er began his stud­ies in archi­tec­ture before mov­ing to draw­ing and print­mak­ing.
The chal­lenge of cre­at­ing built environments—even seem­ing­ly impos­si­ble ones—always seemed to occu­py his mind. Along with themes from the nat­ur­al world, a high per­cent­age of his works cen­ter on buildings—inspired by for­ma­tive ear­ly years in Rome and his admi­ra­tion for Islam­ic art and Span­ish archi­tec­ture.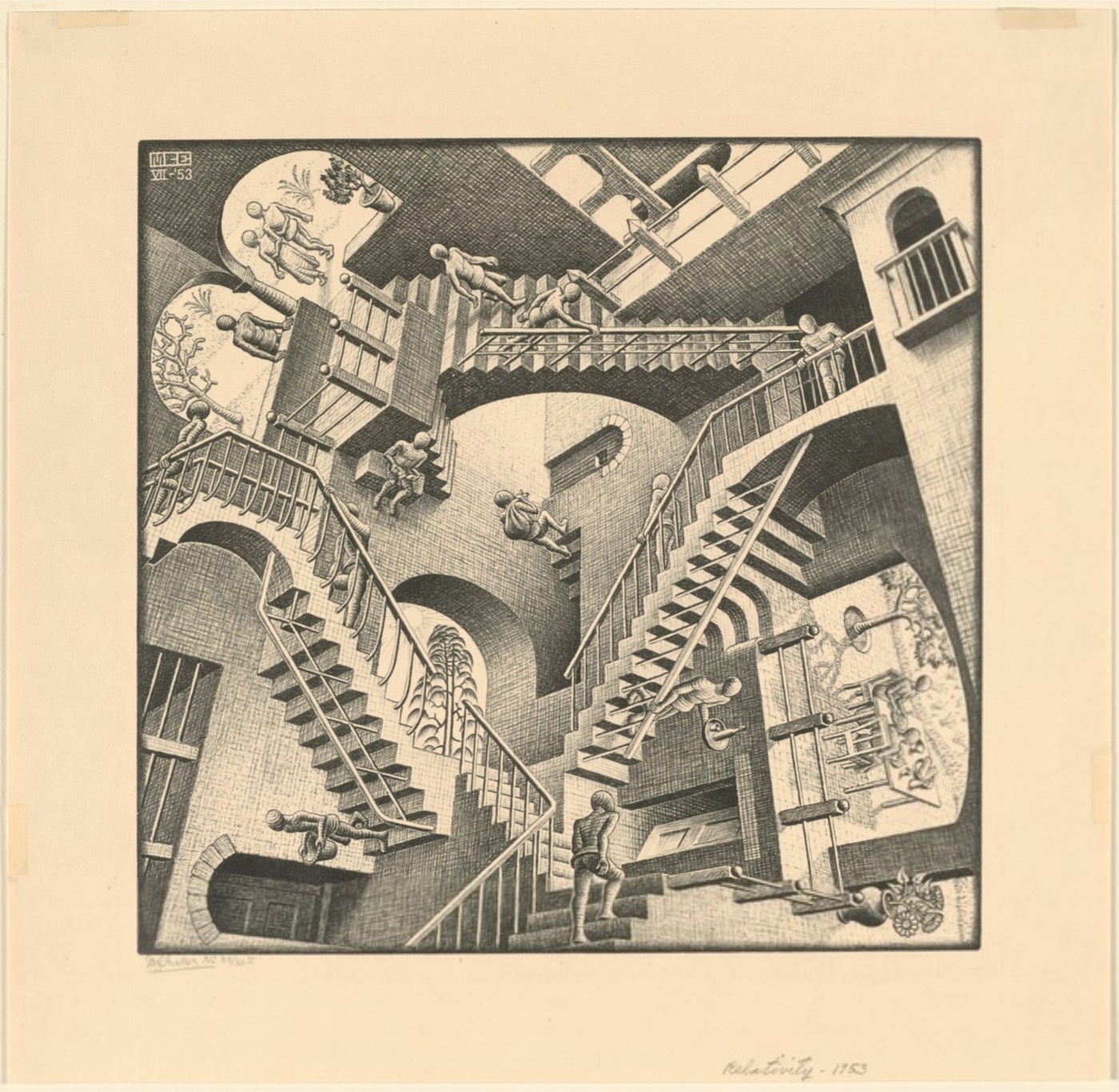 In the 50s and 60s Escher's art piqued the inter­est of aca­d­e­mics and math­e­mati­cians, an audi­ence he found more con­ge­nial to his vision. He cor­re­spond­ed with sci­en­tists and incor­po­rat­ed their ideas into his work, mean­while claim­ing to be "absolute­ly inno­cent of train­ing or knowl­edge in the exact sci­ences." In the 50s, Esch­er "daz­zled" the likes of math­e­mati­cians like Roger Pen­rose and HSM Cox­eter. In turn, notes Maev Kennedy, he "was inspired by Penroses's per­spec­ti­val tri­an­gle and Coxeter's work on crys­tal sym­me­try."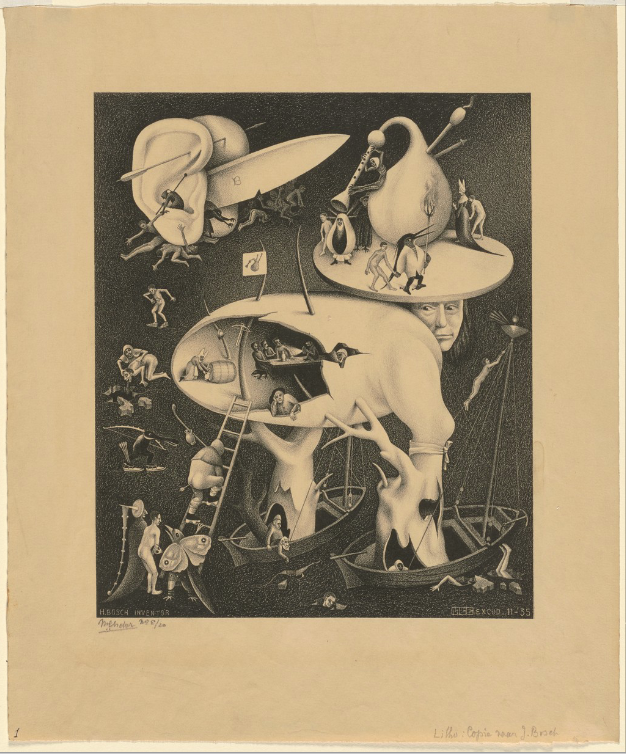 For all the excite­ment he cre­at­ed among math­e­mati­cians, it took a bit longer for Esch­er to get noticed in the art world. When Penrose's uncle showed Escher's ver­sion of the per­spec­ti­val tri­an­gle to Picas­so, "Picas­so had heard of the British math­e­mati­cian but not of the Dutch artist." Escher's fame spread out­side of the sci­ences in part through the inter­ests of the coun­ter­cul­ture. He may have shrugged off mys­ti­cal and psy­che­del­ic read­ings of his prints, but he had an innate pen­chant for the mar­velous­ly weird (see his copy of a scene, for exam­ple, from Hierony­mus Bosch, above, or his sur­re­al print Grav­i­ty, below).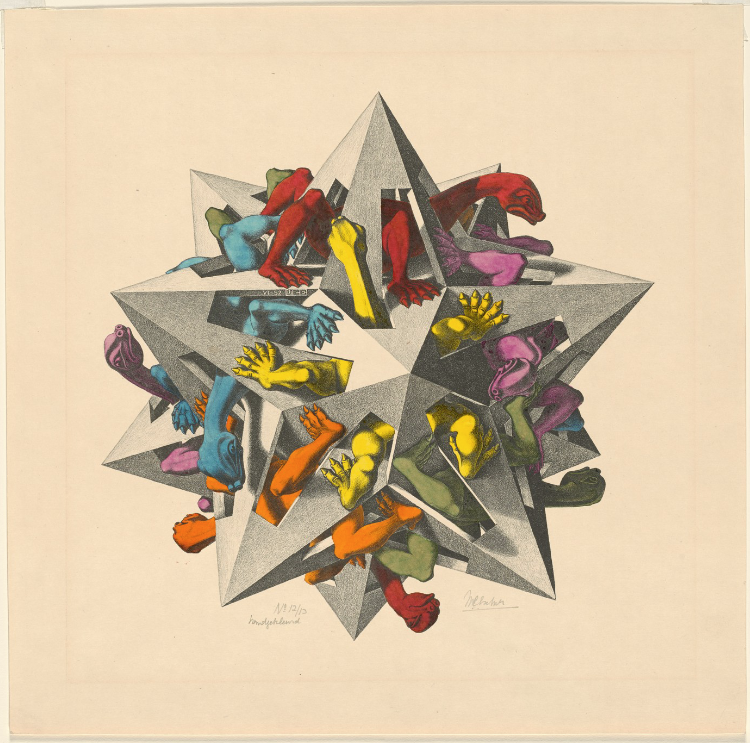 See the prints pic­tured here and a few dozen more dig­i­tized in high res­o­lu­tion at Dig­i­tal Com­mon­wealth, cour­tesy of Boston Pub­lic Library, who scanned their Esch­er col­lec­tion and made it avail­able to the pub­lic. Zoom into the fine details of prints like Inside Saint Peter's, fur­ther up—a fine­ly ren­dered but oth­er­wise not-espe­cial­ly-Esch­er-like work—and the labyrinthine Ascend­ing and Descend­ing at the top. Whether—as Har­vard Library cura­tor John Over­holt con­fess­es—you're a "nerd who loves M.C. Esch­er" for his math­e­mat­i­cal mind, an artist with a mys­ti­cal bent who loves him for his hal­lu­ci­na­to­ry qual­i­ties, or some mea­sure of both, you'll find exact­ly the Esch­er you're look­ing for in this dig­i­tal gallery.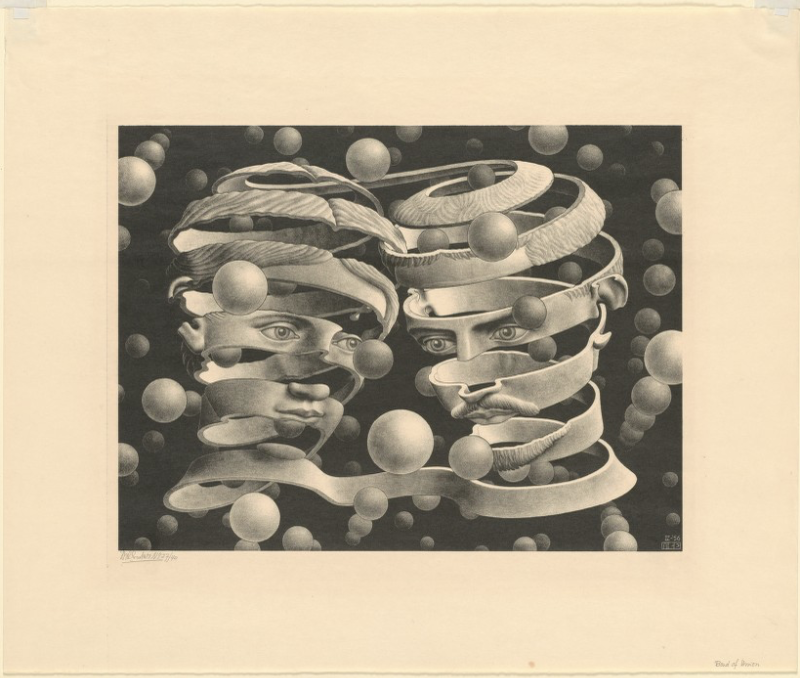 Relat­ed Con­tent:
Enter an Online Inter­ac­tive Doc­u­men­tary on M.C. Escher's Art & Life, Nar­rat­ed By Peter Green­away
M.C. Esch­er Cov­er Art for Great Books by Ita­lo Calvi­no, George Orwell & Jorge Luis Borges
Watch M.C. Esch­er Make His Final Artis­tic Cre­ation in the 1971 Doc­u­men­tary Adven­tures in Per­cep­tion
Josh Jones is a writer and musi­cian based in Durham, NC. Fol­low him at @jdmagness