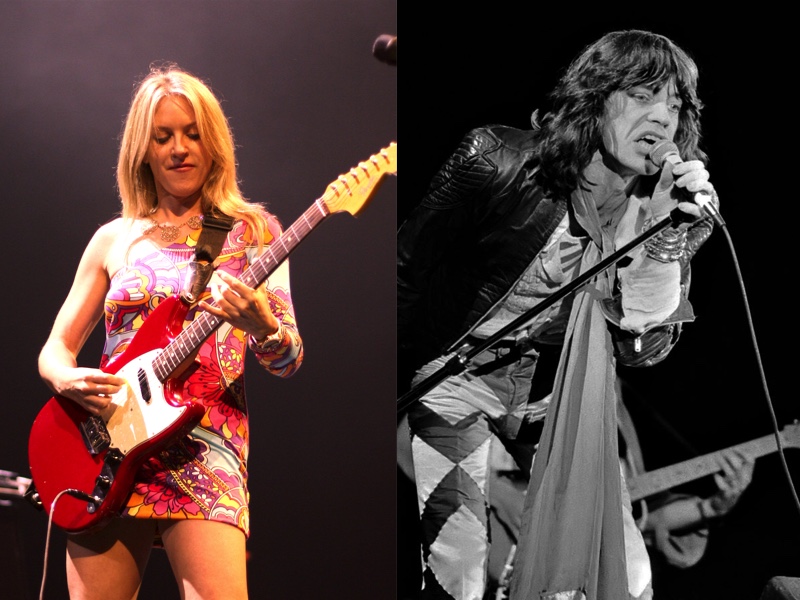 Images via Wikimedia Commons. Liz Phair left, Mick Jagger right
In 1971, post-Altamont fiasco, the Rolling Stones went into exile… not on some dusty small town drag, but on the French Riviera, where the band decamped for purposes of tax evasion and began recording in Keith Richards' rented villa near Nice. Everyone knows what happened next—a sloppy, soupy, ragged, glorious hash of country, blues, and country-blues, filtered through a haze of booze and heroin and the Stones' devotion to rock and roll as macho endurance exercise: Exile on Main Street.
The album, with its cover collage of Americana grotesquerie and kitsch, may have "killed the Rolling Stones," Jack Hamilton argues at The Atlantic, but it launched a thousand imitators in the ensuing decades, a thousand would-be Keith Richards getting strung out and making dirty, raunchy rock, "pitched perfectly between earnestness and irony." Fourteen years after the album's release, darlings of trashy New York noise rock, Pussy Galore, covered the album song-for-song. The effort "sounds like it was recorded in the tank of a Lower East Side toilet," writes Randall Roberts.
Pussy Galore guitarist Neil Hagerty surely deserves the Richards mantle—taking sex, drugs, rock 'n' roll, and lo-fi recording to absurd lengths with his later project Royal Trux. But one of the ironies of the testosterone-fueled Exile on Main Street's influence on these bands is that they featured two of the toughest women in underground music, Julie Cafritz and Jennifer Herrema—women who labored obscurely in a "complicated world of men with guitars," as Allison Stewart puts it at The Washington Post.
In 1993, Liz Phair stepped into this world with her career-defining Exile in Guyville, "one of the sharpest, boldest rock albums of its era, or any era," which just happens to be a song-for-song response to the Rolling Stones' opus. Next to the Stones, the production of Phair's Exile sounds pristine—you can actually make out the lyrics! Her explosive debut was a defiant conversation, "clearly in a tussle with the sort of male-dominated music scene," she tells The New York Times.
Using the Rolling Stones' "Exile on Main St" was sort of like using their avatar. I thought that was the quintessential guy rock band, you know? So I substituted in my head the characters from "Exile" with the characters I knew from around the neighborhood. Sort of talking to them vis-à-vis the conversation I was having with the Rolling Stones.
The exercise began with Phair taking Exile on Main Street as a textbook, of a sort: "I was a visual arts major and I concocted the idea that I needed a template—learn from the greats," she tells Rolling Stone. After her then-boyfriend sarcastically told her, "you should totally do that," she became intent on meeting the challenge of writing her own take on the album. But Guyville was about much more than the Stones, who provide an armature for her explorations of "a million Guyvilles," as she tells Stewart.
"It's in the studios, where you try to get movies made and cast. It's anyone being white-privileged, being whatever it is that gives you invisible safety or invisible benefits. 'Guyville' could be a catchphrase for any oblivious community that has no idea that they're shoving people to the side." Twenty-five years after the album's debut, Phair's commentary seems as trenchant as it was then, when she found herself one of a select few women in an industry dominated by a lot of sleazy guys: "The market forces… were gross. It was like, 'Look hotter! Get more naked!' Like as if it was a Jell-O wrestling contest."
The major difference now, she says, is that women have a significant presence in every genre: "I feel like every day on Twitter I find some new female band I'm interested in, and I can have my entire music diet be female songwriters and musicians." Though she was then and now a reluctant "feminist spokesmodel," Phair deserves ample credit for helping to break open the music industry's Guyville, by taking on one of its most sacred objects. Exile in Guyville was re-released in a box set this month by Matador. In the playlist above, you can hear the conversation in full, with each song on Exile on Main Street followed by Phair's Exile in Guyville rejoinder.
As you listen, be sure to read her interview at Rolling Stone, where she explains how she translated the early 70s classic into an early 90s idiom. She also tells the story of meeting Mick Jagger, who, she says, gave her a belittling look that said, "Yeah, all right, I'll let you off the hook this time for completely making a name for yourself off our name, but don't think I don't know." Her response: "I wasn't mad. He's Mick!"
Related Content:
Chrissie Hynde's 10 Pieces of Advice for "Chick Rockers" (1994)
Hear the 150 Greatest Albums by Women: NPR Creates a New Canon of Albums That Puts Women at the Center of Music History
Four Female Punk Bands That Changed Women's Role in Rock
Hear Demos of Keith Richards Singing Lead Vocals on Rolling Stones Classics: "Gimme Shelter," "Wild Horses" & More
Josh Jones is a writer and musician based in Durham, NC. Follow him at @jdmagness