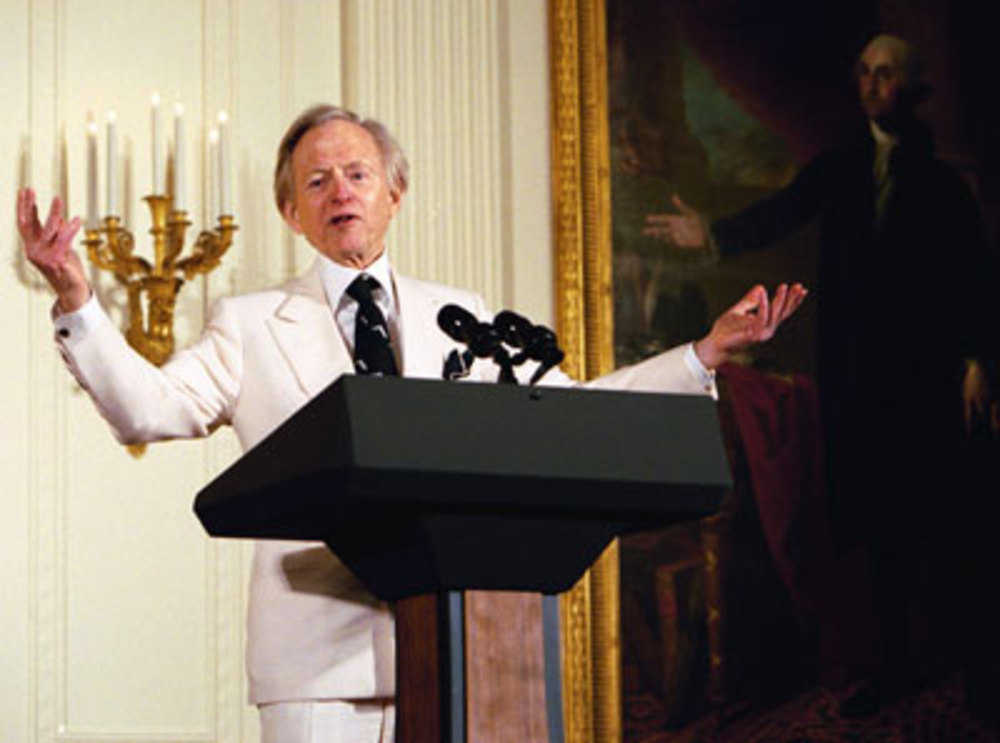 Pho­to by Susan Stern­er, via Wiki­me­dia Com­mons
Amer­i­can jour­nal­ism breaks down into two basic vari­eties: that which came before Tom Wolfe, and that which came after. The 1960s coun­ter­cul­ture, the space pro­gram, the mod­ern art scene, the influ­ence of Bauhaus archi­tec­ture: what­ev­er the sub­ject, read­ers could trust Wolfe–who died this past Mon­day after a more than six­ty-year career in letters–to con­vey it with great vivid­ness of imagery and inven­tive­ness of prose. He first devel­oped his style of "New Jour­nal­ism" in 1962, almost inad­ver­tent­ly: while strug­gling to shape his research on Cal­i­for­nia cus­tom car-cul­ture into an arti­cle for Esquire, he wrote a let­ter to his edi­tor describ­ing what he had seen. The edi­tor, so the leg­end goes, sim­ply removed the let­ter's salu­ta­tion and print­ed it — leav­ing its volu­mi­nous detail and casu­al, con­ver­sa­tion­al style untouched — as reportage.
That piece became the lead essay in 1965's The Kandy-Kolored Tan­ger­ine-Flake Stream­line Baby, a col­lec­tion now con­sid­ered one of the defin­ing books of the 1960s in Amer­i­ca (a list that also includes Wolfe's own The Elec­tric Kool-Aid Acid Test). After its pub­li­ca­tion, Wolfe made this appear­ance on the radio (part one, part two) across from Studs Terkel — a fel­low jour­nal­ist with an equal work eth­ic but a very dif­fer­ent sen­si­bil­i­ty indeed — to talk about the Cal­i­for­nia car cus­tomiz­er's high­ly spe­cial­ized enter­prise as well as his own.
"It's some­thing that's a real form of expres­sion," Wolfe says to Terkel. This is some­thing we've over­looked in this coun­try about the auto­mo­bile and the motor­cy­cle: that these things are forms of expres­sion. We thought we were being very sophis­ti­cat­ed a few years ago when we dis­cov­ered that the auto­mo­bile was a sta­tus sym­bol." Look­ing back, the realm of the Kandy-Kolored Tan­ger­ine-Flake Stream­line Baby-builders was Wolfe's ide­al start­ing point, vivid­ly crys­tal­liz­ing as it did phe­nom­e­na that would go on to num­ber among his major themes: style, sta­tus, sub­cul­ture, self-indul­gence.
Just as one can't imag­ine William Make­peace Thack­er­ay out­side mid-19th-cen­tu­ry Eng­land or Émile Zola out­side late 19th-cen­tu­ry France — two cit­ed inspi­ra­tions in Wolfe's lat­er efforts to write not just nov­el jour­nal­ism but jour­nal­is­tic nov­els — could Tom Wolfe have become Tom Wolfe any­where oth­er than post­war Amer­i­ca? Look­ing back, that vast coun­try plunged sud­den­ly into a brand new kind of moder­ni­ty, brim­ming as it was with wealth and won­der, vul­gar­i­ty and vio­lence, seemed to have been wait­ing for just the right chron­i­cler, one suf­fi­cient­ly (in the high­est sense) unortho­dox and (in an even high­er sense) undis­crim­i­nat­ing, to come along. That chron­i­cler came and now has gone, but the writ­ing he leaves behind will let gen­er­a­tion after gen­er­a­tion expe­ri­ence the over­whelm­ing­ly vital decades in Amer­i­ca he both observed and had a hand in cre­at­ing.
Relat­ed Con­tent:
The Begin­nings of New Jour­nal­ism: Capote's In Cold Blood
Read 11 Free Arti­cles by Hunter S. Thomp­son That Span His Gonzo Jour­nal­ist Career (1965–2005)
Hunter S. Thomp­son Chill­ing­ly Pre­dicts the Future, Telling Studs Terkel About the Com­ing Revenge of the Eco­nom­i­cal­ly & Tech­no­log­i­cal­ly "Obso­lete" (1967)
Read 12 Mas­ter­ful Essays by Joan Did­ion for Free Online, Span­ning Her Career From 1965 to 2013
Studs Terkel Inter­views Bob Dylan, Shel Sil­ver­stein, Maya Angelou & More in New Audio Trove
Based in Seoul, Col­in Mar­shall writes and broad­casts on cities and cul­ture. His projects include the book The State­less City: a Walk through 21st-Cen­tu­ry Los Ange­les and the video series The City in Cin­e­ma. Fol­low him on Twit­ter at @colinmarshall or on Face­book.