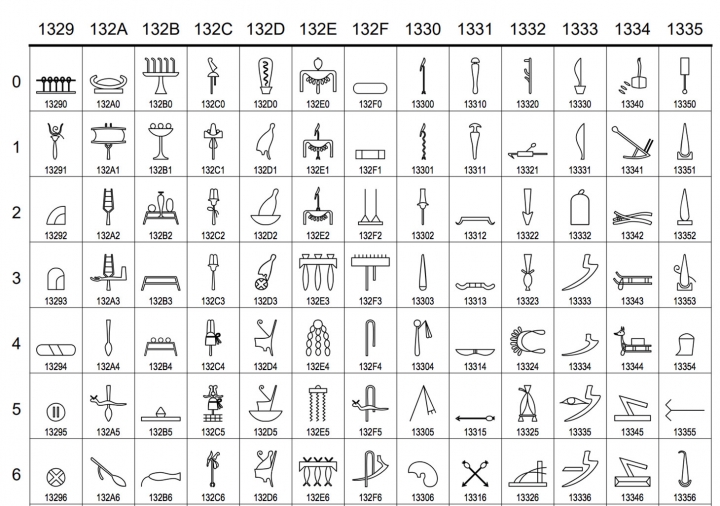 Growing up, I had a box set of Egyptian hieroglyphic stamps from the Metropolitan Museum of Art. For a few weeks I used it to write coded letters to a friend, possessed of the same box set, who lived elsewhere in the neighborhood. Today's smartphone-toting kids, of course, prefer text messaging, a medium which to date has offered little in the way of hieroglyphics, especially compared to the vast and ever-growing quasi-logographic library of emoji, all of them approved by the official emoji subcommittee of the Unicode Consortium. But Unicode itself, the industry-standard system for digitally encoding, representing, and handling text in the various writing systems of the world, may soon expand to include more than 2,000 hieroglyphics.
"Between 750 and 1,000 Hieroglyphs were used by Egyptian authors during the periods of the Old, Middle, and then New Kingdom (2687 BCE–1081 BCE)," writes Hyperallergic's Sarah E. Bond. "That number later greatly increased during the Greco-Roman period, likely to around 7,000."
During that time under Alexander the Great, the Ptolemies, and the Roman Empire, "the language grew, changed, and diversified over the course of thousands of years, a fact which can now be reflected through its digital encoding. Although Egyptian Hieroglyphs have been defined within Unicode since version 5.2, released in 2009, the glyphs were highly limited in number and did not stretch into the Greco-Roman period."
That situation could greatly improve if the Unicode Consortium approves its revised draft of standards for encoding Egyptian Hieroglyphs currently on the table, a scroll through which reveals how much more of the visual (not to mention semantic) richness of this ancient writing system that could soon come available to anyone with a digital device. Its rich variety of tools, animals, icons (in both the old and modern senses), humans, and elements of human anatomy could do much for the Egyptologists of the world needing to efficiently send the content of the texts they study to one another. And though I recall getting plenty communicated with those 24 rubber stamps, who dares predict to what use those texting kids will put these thousands of digital hieroglyphics when they get them at their fingertips?
via Hyperallergic
Related Content:
How the Egyptian Pyramids Were Built: A New Theory in 3D Animation
Try the Oldest Known Recipe For Toothpaste: From Ancient Egypt, Circa the 4th Century BC
The Turin Erotic Papyrus: The Oldest Known Depiction of Human Sexuality (Circa 1150 B.C.E.)
The Met Digitally Restores the Colors of an Ancient Egyptian Temple, Using Projection Mapping Technology
Based in Seoul, Colin Marshall writes and broadcasts on cities and culture. His projects include the book The Stateless City: a Walk through 21st-Century Los Angeles and the video series The City in Cinema. Follow him on Twitter at @colinmarshall or on Facebook.