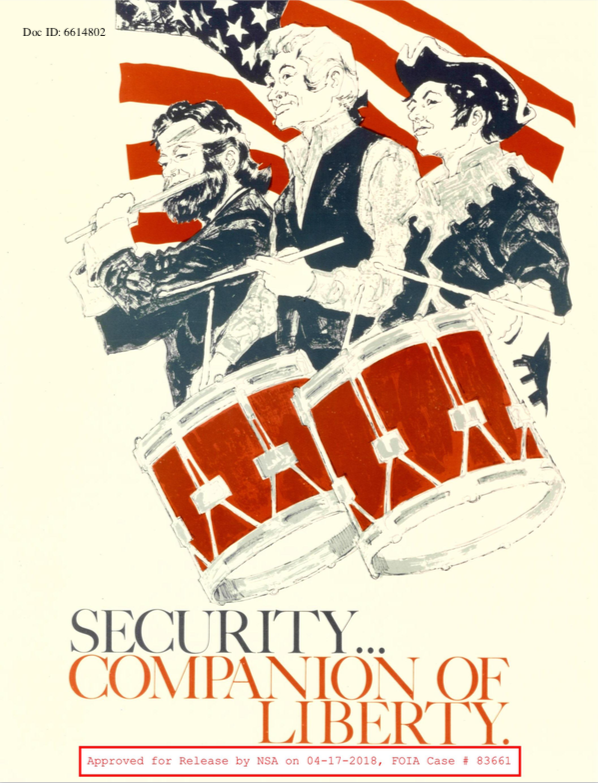 "Omg wow this is rly cool and unique like I never knew the govermnet was wacthing me."
So wrote an anonymous internet commenter on a Washington Post article about NSA mobile phone tracking, joking, or just emerging from a bunker somewhere off the grid. Everyone knows the government is watching or might be. Or at least we should since the infamous 2013 revelations about the massive scope of NSA domestic surveillance. Reports of domestic spying first appeared in 2005. In 2009, Alex Kingsbury at U.S. News and World Report described the Agency as "one of the most secretive fiefdoms inside the American government… probably familiar to most people only as the guys who may or may not be listening to your phone calls and reading your E-mails as they surveil terrorists."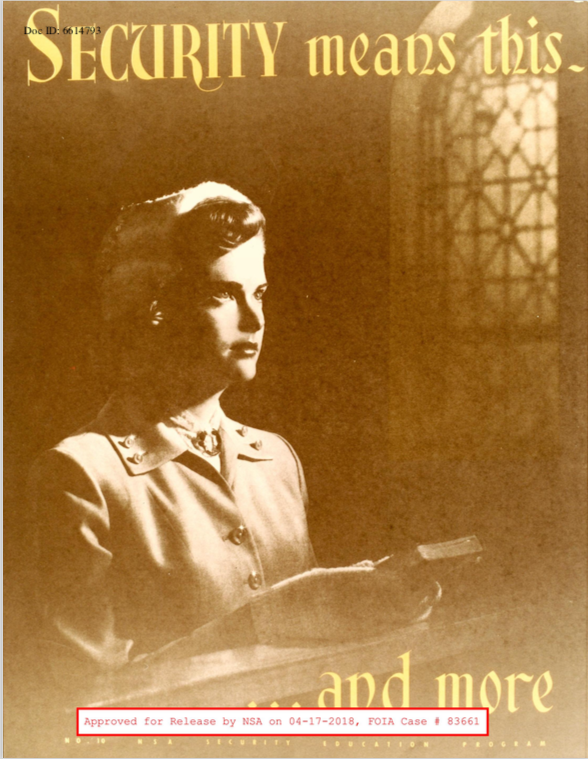 As is often the case when government overreach, abuse, or corruption become public knowledge, the question is not whether most Americans know, but whether they care. An often-misused Ben Franklin quote pops up frequently in arguments about a necessary balance between "liberty" and "security." The latter now seems to inevitably entail extra-constitutional spying (as well as torture, indefinite detention, police militarization and other totally normal government operations).
These days, as often as not, government surveillance takes place by proxy, by way of tech monopolies like AT&T, Amazon, and Google (which the NSA helped create). Maybe, when it comes to the government watching, resistance is futile, as a species of outer space cyborg totalitarians likes to say.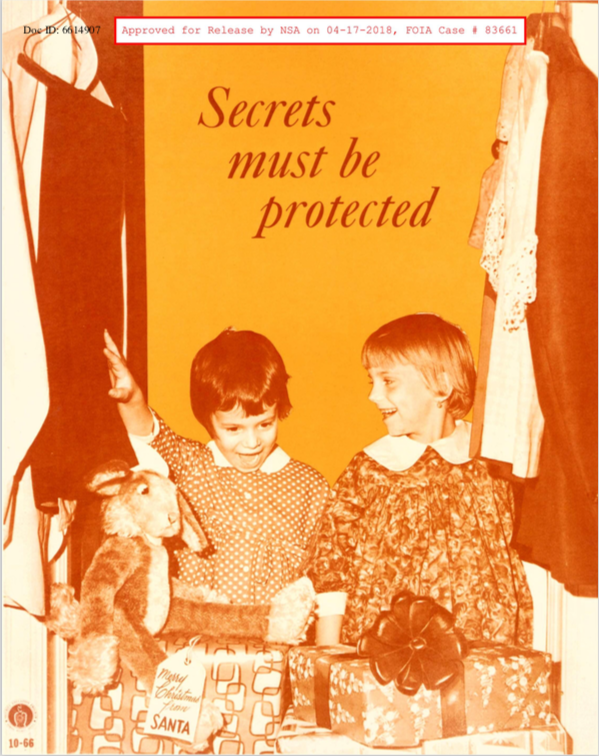 In any case, we might imagine that public debates about civil liberties and privacy are laughable to many a seasoned intelligence agent. A recently declassified trove of propaganda posters aimed at NSA employees, dating from the 50s, 60s, and 70s, shows that in the mind of the Agency, there is no conflict between liberty and security. Without security (or total secrecy), many of these posters suggest, all freedom is lost. They do so in some "super freaky" ways, to quote Jason Kottke, looking like "they were cooked up by Salvador Dali or the Dadaists. Or even Mad Magazine."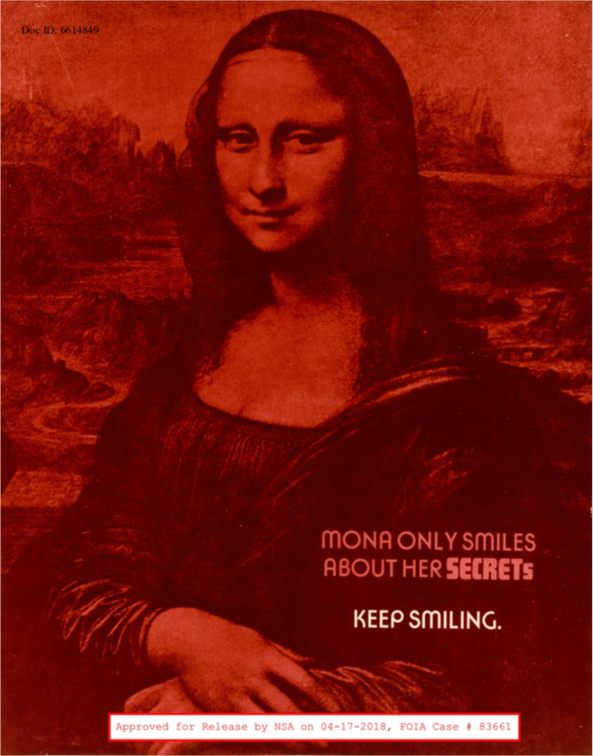 Some of the posters, especially those from the Cold War, look pretty chilling in hindsight, with their theocratic overtones and anti-Communist apocalypticism. Agency employees were to understand that not only might they risk their jobs and clearances if they happened to spill classified info, but that everything they held dear—Christmas, prayer, fishing, freedom of the press—might be destroyed. The posters get progressively groovier as things thawed between the superpowers, and they stop alluding to specific enemies and threats to Christian piety. Still, there's something a little creepy about an intelligence agency co-opting the Mona Lisa and Saturday Night Fever.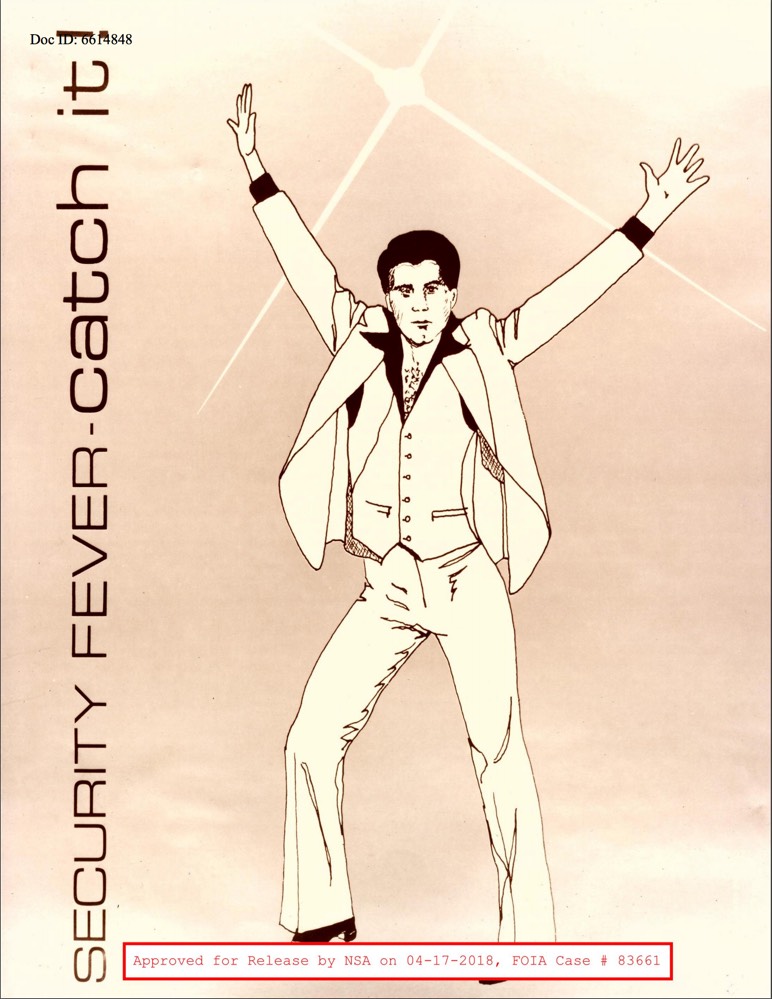 The agency was officially created in 1952 to monitor foreign electronic signals, which at the time meant radio and telephone traffic. The comparatively bronze-age technology available in the decades these posters were printed makes them seem all the more quaint, with their references to carelessly discarded documents and getting too chatty in the car pool. Is the government still warrantlessly spying on Americans? There may have been several recent "inadvertent compliance lapses," the NSA admits, but surely a secret court and trustworthy Congress will keep everyone honest.
See many more of these bizarre posters here.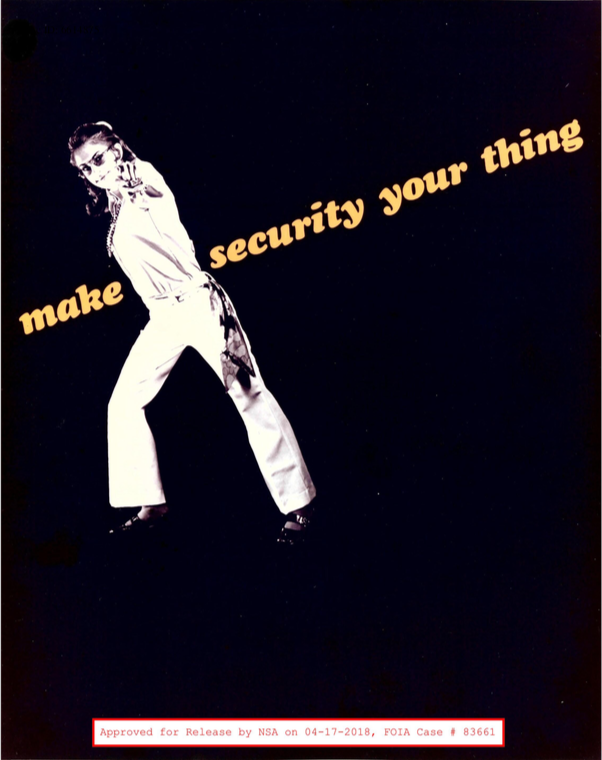 via Kottke
Related Content:
Hannah Arendt Explains How Propaganda Uses Lies to Erode All Truth & Morality: Insights from The Origins of Totalitarianism
"Glory to the Conquerors of the Universe!": Propaganda Posters from the Soviet Space Race (1958-1963)
When Soviet Artists Turned Textiles (Scarves, Tablecloths & Curtains) into Beautiful Propaganda in the 1920s & 1930s
Josh Jones is a writer and musician based in Durham, NC. Follow him at @jdmagness